Congress Drops Effort to Register Women for Military Service
The move is largely symbolic because the U.S. currently has a voluntary military.
By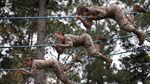 A year of debate over the role of women in the military ended today when the House passed a defense policy bill shorn of a requirement for female Selective Service registration.
The $619 billion defense policy bill also would authorize $440 million for a new amphibious ship -- a contract eyed by General Dynamics' Nassco unit and Huntington Ingalls Industries Inc. -- and approve the purchase of Boeing Co. and Lockheed Martin Corp. aircraft. After the 375-34 vote in the House, the bill goes to the Senate.
General Dynamics Corp. and Huntington Ingalls Industries Inc. could stand to benefit from approval of an additional $85 million for the Virginia-class submarine. New Balance Athletic Shoe Inc. would gain from a provision that could force the Pentagon to purchase the company's American-made sneakers for new military recruits.
The lawmakers who negotiated the final version of the legislation , S. 2943, had to work through conflicting congressional responses to Defense Secretary Ash Carter's decision to declare women eligible for all combat positions. The Senate version of the defense authorization bill contained a requirement for young women to register for the military draft, while the House-passed version, H.R. 4909, did not.
It all started with a protest gesture by Representative Duncan Hunter, who opposed Carter's decision. The California Republican had expected his proposal to be voted down in committee; instead it was added to the bill on a vote of 32-30. Republican House leaders resorted to a procedural maneuver to strip it from the bill.
The move is largely symbolic because the U.S. currently has a voluntary military, with Selective Service registration required for most men ages 18 through 25 in case a draft is imposed in a wartime emergency.
President Barack Obama supports requiring women registering for the draft, according to Ned Price, Obama's National Security Council spokesman, USA Today reported yesterday. Defense Secretary Ashton Carter also supports such a move. "While Secretary Carter strongly supports our all-volunteer approach and does not advocate returning to a draft, as he has said in the past, he thinks it makes sense for women to register for selective service just as men must," said Pentagon spokesman Peter Cook.
Troop Readiness
The legislation also would authorize a 2.1 percent pay raise for those in uniform and thwart planned troop reductions. The Pentagon had requested a 1.6 percent pay increase.
"It's important to do it now," House Armed Services Committee Chairman Mac Thornberry said in an interview. "This readiness problem is a real problem."
Increasing military pay and setting funding for weapons programs was a priority for negotiators, who said they didn't want troops to have to wonder about the impact of the transition from President Barack Obama to President-elect Donald Trump.
"A transition is inherently fraught with risk, and to the extent that you can eliminate risk, like military pay and procurement programs, getting this done is a very positive development," said Connecticut Democrat Joe Courtney, a senior member of the House Armed Services Committee.
Possible Veto Averted
The compromise version of the bill drops House-backed provisions that probably would have led to a presidential veto.
The final bill doesn't include language that would have allowed federal contractors to discriminate against workers on basis of sexual or gender orientation, and drops a provision that would have blocked the sage grouse from being listed on the endangered species list. It has become an issue because some Republicans contend that protecting the bird could impede training at military facilities.
The bill also would remove a restriction on an executive order intended to discourage wage and safety violations among federal contractors.
Funding Details
WAR FUNDS: Negotiators agreed on $67.8 billion in war funding, or overseas contingency operations, which isn't subject to budget caps. Of that, $8.3 billion would go for regular defense budget operations to boost military readiness and stave off personnel reductions. That's basically a $3.2 billion increase in war funds over the amount requested by the administration, including a recent budget adjustment request.
OVERALL FUNDING: The $611.2 billion in discretionary spending includes $523.7 billion for the Pentagon base budget, $19.4 billion for national security programs at the Department of Energy as well as the $67.8 billion in overseas contingency operations funds. In addition, the measure has jurisdiction over $7.5 billion in mandatory spending for an overall number authorized by the bill of $619 billion.
PERSONNEL: The bill would keep 476,000 active Army personnel, 323,900 Navy personnel, 185,000 Marines and 321,000 Air Force personnel.
With a growing threat of crippling Internet attacks, the bill would elevate U.S. Cyber Command to a stand-alone combatant command. Currently, Cyber Command reports to the U.S. Strategic Command which has a wide portfolio that also includes nuclear and space operations.
ACQUISITION: The measure would create a new Pentagon chief of technology and rename the Pentagon office for acquisition, technology and logistics (AT&L) as the office of Acquisition and Sustainment. Compromise language creates two undersecretary positions: a new undersecretary for Research and Engineering (R&E) and an undersecretary for acquisition and sustainment who is responsible for weapons buying. The R&E official would be considered senior to the acquisition official. The implementation of the new positions would deferred until February 2018. The changes are a result of a push by the Armed Services committees to revamp the acquisition process.
NATIONAL GUARD BONUSES: Negotiators also struck a compromise that could allow the Pentagon to forgive debts owed by thousands of California National Guard troops who received improper bonuses during the war operations in Iraq and Afghanistan. The revelation of fraud by recruiters and the Pentagon's demand that these soldiers repay their enlistment bonuses sparked a public outcry. The compromise legislation would essentially place the burden of proof on the Pentagon rather than the Guard members and hold the Defense Department responsible for reaching out to each impacted Guard member and notifying credit reporting agencies when debts have been forgiven.
PRESIDENT'S REQUEST: While the original House version of the bill sought to boost high-profile weapons systems such as Lockheed's F-35 Joint Strike Fighters and Boeing's Super Hornet aircraft, the conference committee decided to authorize those programs mostly at the level in the president's request. For example, it would authorize funding for a total of 63 F-35s and two Super Hornets. The administration asked for $10.8 billion for the F-35s and $185 million for the Super Hornets. The authorization also would back $1.9 billion for the Navy's new ballistic missile submarine. The Ohio-class replacement submarine is currently under contract with General Dynamics' Electric Boat unit. The measure would authorize about $929 million for 36 Sikorsky Black Hawk helicopters, a similar amount requested by the Pentagon.
Authorizers agreed to trim Boeing's P-8 maritime surveillance aircraft by $77 million to $1.86 billion, and to cut research and development funds for Sikorsky's CH-53K helicopter program by $31.5 million to $373 million. Sikorsky is a unit of Lockheed Martin.
ADDED MONEY: The measure would add $440 million for the Navy's amphibious ship replacement known as the LX(R). The Navy didn't request any money for the program. Nassco and Huntington Ingalls are doing preliminary designs for the ships. General Dynamics and Huntington Ingalls would also get a boost from an additional $85 million for the advance procurement of materials for the Virginia-class submarines. The negotiated measure would also boost Israeli missile defense programs by more than $400 million, including the Iron Dome missile defense system.
FIXED-PRICE CONTRACT: The measure retains a provision that calls for the use of fixed-priced contracts in the Air Force's upcoming $8 billion winner-take-all competition. Northrop Grumman Corp., Boeing, and Lockheed are competing to build as many as 16 new air-to-ground surveillance aircraft to replace aging Northrop JSTARS air-to-ground surveillance jet. The bill would allow the Defense secretary to waive the requirement if the Pentagon determined that use of a fixed-price contract wouldn't be in the best interest of national security.
SNEAKERS: The Pentagon would be given two years to change the way it provides sneakers to new recruits. New Balance long has lobbied the government to follow the letter of a 1941 buy-American law, arguing that it should be interpreted to require the military to give recruits U.S.-made athletic footwear. Instead, recruits have been given allowances to shop for the shoes they prefer.
WAGE AND SAFETY: An executive order intended to discourage wage and safety violations among federal contractors has been a top target of defense giants Lockheed Martin and Boeing, which pressed lawmakers this spring to block the rule's application to them. Lawmakers inserted restrictions on the order's application to military contractors in both the House and Senate defense authorization measures. Those restrictions were removed in the conference report.
GUANTANAMO: The authorization bill would continue a prohibition on closing the military prison at Guantanamo Bay, Cuba, and moving detainees to the continental U.S. The measure would also prohibit another round of base closures.
—With assistance from Tony Capaccio.
Before it's here, it's on the Bloomberg Terminal.
LEARN MORE