Brexit Brings Christmas Spending Gloom for Quarter of Britons
By
Millennials, Londoners more negative than rest of consumers

Britons plan to spend less on Christmas gifts this year: PWC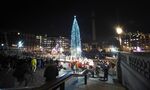 About a quarter of Britons say their holiday spending this year will be affected by the country's decision to leave the European Union.
Of 2,000 people interviewed in a PWC survey, 17 percent said Brexit is set to have a considerable impact on their Christmas outlay, while about 8 percent expect a slight effect. Two-thirds of Britons said the result of June's vote will make no difference to their plans. Overall, Britons are poised to spend slightly less on Christmas gifts this year, PWC found.

More than five months after Britain voted to leave the EU, the uncertainty of what Brexit may bring is having an influence on some consumers' spending decisions. Chancellor of the Exchequer Philip Hammond said last week that the U.K. economy will grow more slowly than previously forecast in 2017, while the weakening pound is set to drive up inflation.
"A little bit of caution is creeping in," Madeleine Thomson, head of PWC's retail and consumer practice, said in a phone interview.
Millennials and Londoners are set to have their Christmases spoiled by Brexit the most, showing that groups who were most strongly in favor of Britain remaining in the EU have the biggest holiday reservations. About 40 percent of 18-to-34 year-olds and 44 percent of those living in the capital expect either a slight or considerable impact on their spending.
Thomson said the broader decline in spending expectations reflects shoppers' growing wariness. According to the survey, U.K. adults plan to fork out 280 pounds ($349) on average. That's down from levels of at least 300 pounds in surveys conducted prior to the 2015 holiday, she said.
The PWC survey also found:
Regionally, Scotland has the highest expected spend at 329 pounds
The East Midlands, a region of central England, has the lowest expected spend at 231 pounds
About 53 percent of holiday spending is expected to be done online
Before it's here, it's on the Bloomberg Terminal.
LEARN MORE