Thiel-Backed 1517 Fund Is Stalking the Next Zuckerberg
The folks behind the $100K Thiel Fellowship finally discuss their new venture fund, which offers gifts, advice, and a party circuit for "social geeks."
By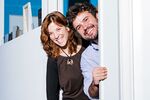 Keynote addresses at hackathons can reliably be expected to include certain buzzwords and catchphrases: innovate, iterate, optimize, Fritos. So Danielle Strachman stood out at one in San Diego earlier this fall, when she got onstage and asked the thousand-odd coders in attendance to join her in a guided meditation. Quiet yourselves, she said. Focus on your breathing. Connect with your bodies. Join the movement. Her high-stress audience proved receptive, she recalls. "I could hear the sound in the room go down."
If this sounds a little cultish, well, it is. Joining the movement means forsaking a formal education to start a company in the manner advocated by Peter Thiel, the Stanford J.D. who co-founded PayPal and Palantir. Strachman and business partner Mike Gibson have spent much of the past decade preaching the gospel of entrepreneurship as co-heads of the Thiel Fellowship, which awards $100,000 grants to about two dozen college-age students each year on the condition that the kids drop out to start companies. Until this year, when Thiel helped kill gossip site Gawker and became Donald Trump's biggest fan in Silicon Valley, it was his most public hobbyhorse.
This spring, six years into the fellowship program, Strachman and Gibson identified a flaw: They weren't taking advantage of their alumni and friends of alumni, a network they thought could be of great value to a wider group of people, including investors. So over breakfast they pitched Thiel on a venture firm aimed at bridging the gap between the fellowships and the mentorship-for-equity trade of a typical startup accelerator: Using a relatively small pool of cash, they'd dole out gifts, loans, and access to the other founders and businesspeople in their loose social club. Everyone involved stood to benefit, they argued, and the investors would improve their odds of winning favor with the next Mark Zuckerberg, or at least getting to know him.
It was a good pitch, especially to Thiel, who went from multimillionaire to billionaire because he wrote Facebook a $500,000 check in 2004. Strachman and Gibson framed the fund as a continuation of Thiel's crusade against college, calling bachelor's degrees worthless pieces of paper like the indulgences sold by the Catholic Church in centuries past. The duo named the firm the 1517 Fund, as in the year Martin Luther is said to have nailed the 95 Theses to a church door.
Over the top, sure. But Thiel bit, as did about 30 other investors, including EBay founder Pierre Omidyar, Skype co-founder Jaan Tallinn, the Coors family, Texas' Hunt family, and Nicolas Berggruen, the so-called homeless billionaire. They've put $20 million into 1517, and Strachman and Gibson have given young techies about $5.5 million so far. They quietly opened the firm in April and have made about 30 investments as large as $250,000 apiece, plus 60 or so gifts of as little as $1,000, often sent via the mobile-payment app Venmo. "To a young person, $1,000 can be a lot of money. To us, it isn't," says Strachman. "We collect social geeks—1517 is a search cost."
Search they do. About 60 percent of the early 1517 fundees are Thiel fellows or alumni, but unlike that program, 1517 doesn't disqualify people with college degrees. So most weekends, Strachman and Gibson are at hackathons such as the one in San Diego or at college campuses in the Midwest, sleeping on auditorium floors or on couches at tech-oriented frat houses. They teach undergrads how to pick the locks of handcuffs (meant to symbolize "the handcuffs of formal education") and hand teens T-shirts that read "Don't Go Back 2 School."
The past seven months of hustling have yielded a network of more than 600 people who rate an invitation to dinners, retreats, and other events the 1517 partners organize in the Valley and elsewhere across the U.S. That network includes young founders and grantees, Thiel fellows, and investors and other industry veterans who can offer technical, financial, and managerial advice. Strachman says 1517 has an additional 15,000 people receiving job postings and other startup community news via e-mail, essentially an on-deck circle.
During a recent house party in San Francisco's Mission District, a four-piece acoustic band called the Joy Drops played jazz standards and ragtime while 1517 invitees gabbed about everything from the state of tech mergers to the essays of Kierkegaard. Developers wearing augmented-reality headsets also made the rounds, inviting people to try their prototype. "Mike and Danielle don't discriminate," says Noah Shutty, one of the attendees. "I've met a lot of crazy people through them."

Strachman and Gibson found Shutty in the spring, when he was finishing his bachelor's degree in particle physics at the University of Michigan. In a friend's living room, with dirty laundry strewn about, he spent 20 minutes talking them through his development of algorithms that could more easily find and catalog audio files, applying lessons he'd learned from his search for dark matter. Within two weeks, they'd sent him a $10,000 credit for Amazon.com's cloud services, enabling him to ditch the old Dell server in his parents' basement and increase his search capabilities tenfold. They also Venmo'd him $1,000, which he used to move to San Francisco after he graduated.
"They are an intimate part of my experience with Silicon Valley," says Shutty, whose startup, Deepgram, has since joined the accelerator Y Combinator and raised $1.8 million. "I consider them friends at this point."
Things stay a little more formal with 1517's $250,000-or-so investments. Made in the form of convertible notes, they convert to equity if and when the lendee startup raises money from other investors who independently value it. And 1517 is structured like a traditional venture firm, meaning that 2 percent of the fund covers operational expenses and salaries for Strachman and Gibson, and as general partners they also get 20 percent of the firm's share in profitable investments.
Of course, if one of their startups fails, like 90 percent of startups do, 1517 gets nothing except goodwill from the founders, who are likely to try again. Among the ideas that have garnered larger investments: a smartphone that lets people pay for calls, texts, and data as they go; a CAD system for 3D printing; and sensors for contact lenses that monitor diabetics' glucose levels. As for the more casual grantees, some may disappear for months at a time, but many send regular e-mail updates or hold video chats with the 1517 partners.
"We've created something like a school here," says Gibson, without acknowledging the irony. "We want to work with people who fit our narrative to work outside the beaten path, advancing science and technology." Investor Berggruen calls the firm "a learning factory."
Strachman became co-head of Thiel's fellowship program after several years running Innovations Academy, a charter school she founded in San Diego that lets kids work on projects of their choosing. Gibson's path was a little more circuitous. He left Oxford's poli-sci doctorate program in 2007, convinced his academic work couldn't change anyone's mind, and became a technology writer with an interest in anarchy and seasteading, which helped land him a job at Thiel's hedge fund in 2010. Soon after, he was asked to work on the fellowship.
Since Facebook's initial public offering in 2012, many venture capitalists, both formally and informally, have paid more attention to trolling colleges for talent. The debate about learning for learning's sake notwithstanding, the numbers support critics who say startup founders need college. Of the 2,005 founders or co-founders of tech companies launched from 2009 to 2015 that have received at least $20 million in funding, just 94, or about 4 percent, have no college degree, according to data compiled by Bloomberg.
College remains a prerequisite even if you just want to work at a startup, says Will Hunsinger, chief operating officer for recruiting firm Riviera Partners, which sends leads to the likes of Uber, Airbnb, and Evernote. Most workers who want into those hiring pools need a degree from a top-25 engineering university, not a certificate from a three-month code academy, he says. "For every Zuckerberg, there's 1,000 or more guys who fail, but you don't hear about them," Hunsinger says. "We don't recruit them."
Still, the startup founders on 1517's invitation list seem less interested in backup plans than networking and community. Stacey Ferreira, a former Thiel fellow who sold her first startup at age 20, is working on a second one with 1517 funding. She says she comes to as many of the firm's events as possible, to scout for co-workers, mentors, and investors. Most important, she says: "Finding other young entrepreneurs like myself."
The bottom line: The folks behind the Thiel Fellowship are building a complementary startup network with gifts, loans, and advice.
Before it's here, it's on the Bloomberg Terminal.
LEARN MORE