The International Space Station Just Lost Another Supply Mission
The loss of a Russian spacecraft is the latest in a series of mishaps resupplying the orbiting lab.
By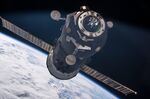 A Russian mission to resupply the International Space Station went awry on Thursday as nearly 5,400 pounds of supplies were lost in an explosion above Siberia.
The Progress 65 spacecraft was launched at 9:51 a.m. EST from the Baikonur Cosmodrome in Kazakhstan. The craft was destroyed approximately six minutes into the flight, during the third stage of its rocket burn and at an altitude of 190 km (118 miles). Most of the debris burned in the atmosphere, Russian space agency Roscosmos said.
The ISS is stocked so that crew members can survive for an extended period without such unmanned resupply flights. "The loss of the cargo ship will not affect the normal operation of the ISS systems and waste station crew," Roscosmos said in a statement on its website. NASA confirmed that "consumables aboard the station are at good levels" in a blog post. The next resupply mission, being launched by the Japan Aerospace Exploration Agency (JAXA), is scheduled for Dec. 9.
The mishap was the fourth failed cargo mission to the ISS in the past 25 months. A Progress craft similar to the one lost Thursday spun out of control in April 2015 en route to the ISS and was lost several days later upon reentry, destroying about 6,000 pounds of cargo. Two months later, Elon Musk's SpaceX lost a Falcon rocket shortly after launch on a resupply mission. SpaceX later blamed a faulty strut for that explosion.
In October 2014 a rocket launched by Orbital Sciences Corp. exploded shortly after launch at NASA's Wallops Flight Facility on Virginia's Delmarva Peninsula. Orbital ATK Inc. launched a successful resupply mission with 5,100 pounds of cargo from Wallops two years later.
The current ISS crew of six includes three cosmonauts, two NASA astronauts, and a French astronaut from the European Space Agency. The Russian capsule lost Thursday included 694 pounds of food, 191 pounds of equipment for the U.S. personnel, and 55 pounds of personal effects for the crew.
Before it's here, it's on the Bloomberg Terminal.
LEARN MORE