Hollande's Exit Gives Valls Space to Seek French Presidency
By , , and
Socialist Valls faces tough fight against Fillon and Le Pen

Hollande warns against extremist movements and protectionism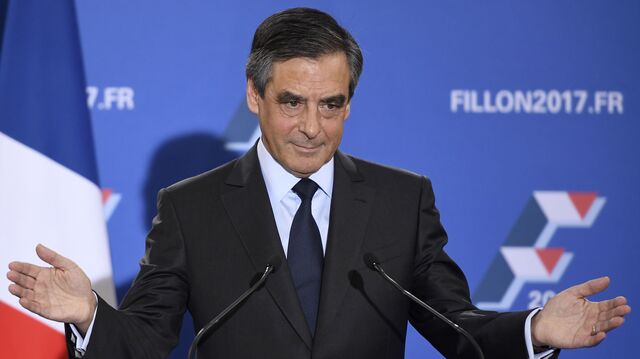 French President Francois Hollande's decision not to run for re-election paves the way for his more popular prime minister to enter the 2017 presidential race.
In a hastily announced address from the Elysee Palace, the least popular French leader in modern history took himself out of the race. He said he was putting the country's needs ahead of his personal ambition and warned against the danger of extremist movements and protectionism.
While Hollande didn't say who should stand for the Socialist Party, the move clears the path for second-in-command Manuel Valls, who fares better than his boss in public opinion. He would still face an uphill struggle in a race with two established front runners: Francois Fillon from the center-right Republicans Party and Marine Le Pen from the anti-European Union National Front.
"Hollande's decision recognizes the reality that he had no chance of being elected," said Iain Begg, professor at the London School of Economics European Institute and senior fellow at think tank U.K. in a Changing Europe. "It does open the door for an alternative Socialist Party candidate but it is unlikely to alter the dynamic of the election."
The 62-year-old acknowledged as much in becoming the first president since 1958 not to seek a second term: "I am aware of the risks of a candidacy which would not unite." Whoever takes over the reins faces challenges on many fronts, from a sluggish economy and rising unemployment to the specter of terrorism after a a series of attacks on home soil.
Game Over
"This is unprecedented," Emmanuel Riviere, director of pollsters Kantar TNS Sofres, said in an interview. "But the game was more over than we thought. For many French, Hollande was no longer in the game."
At this stage, polls show that Hollande or any other Socialist candidate would be eliminated in the April 23 first round of the presidential election. The top two candidates in the first round -- at this stage, mostly likely Fillon and Le Pen -- face off in a decisive second round on May 7.
Plenty of others have already stepped in to try to represent leftist and center-left voters, squeezing out the space available to Hollande or Valls.
Jean-Luc Melenchon, a 65-year-old who placed fourth in the 2012 election with 11 percent of the vote, and Emmanuel Macron, a 38-year-old former economy minister in Hollande's administration, have already said they will run outside of a primary the Socialists and other leftist parties are planning for January. Arnaud Montebourg, a 54-year-old who was economy minister before Macron, has said he's running within the primary.
Fillon and Melenchon immediately jumped on Hollande's decision as an admission of failure, while Macron and others praised the president's decision in a first taste of what is likely to be a recovery in Hollande's personal popularity.
"There was humility and clarity on the situation that, in the end, makes Hollande a normal human being," Daniel Cohn-Bendit, a former European lawmaker, said on Europe 1 radio. "He understood the reality and I found it quite moving."
Hollande had initially agreed to run in the primary, a first for a sitting French president. In recent days he'd sent out trial balloons that he'd avoid the primary, where he wasn't guaranteed of beating Montebourg.
Death Foretold
"Imagine Francois Hollande beaten in primary, that would have been a huge debacle," Brice Teinturier, deputy director general of pollsters Ipsos, said on France2 television after Hollande spoke. "Whatever you say, we've never seen a president so low in popularity."
Most pollsters place Hollande's approval ratings in the teens, while those of Valls are in the 20 percent range. But becoming a candidate could lift Valls, said Kantar's Riviere.
"Becoming a candidate can open up a lot of reserves," he said. "He has a lot of potential. Valls doesn't have the same problem that Hollande has: Hollande's problem is credibility. Fairly or unfairly, the problem was that he was seen as not up to the job."
— With assistance by Helene Fouquet, and Marthe Fourcade
Before it's here, it's on the Bloomberg Terminal.
LEARN MORE