TSA PreCheck Is Stuck in Its Own Security Line
Travelers may take two or three additional trips per year if hassles could be reduced.
By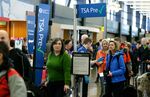 People who fly regularly often sing the praises of TSA PreCheck—the lane where travelers keep their belts, shoes, jackets, and laptops as the masses strip. But it turns out that expanding this much-praised option isn't all that easy.
The Transportation Security Administration has been eager to increase the number of Americans enrolled in PreCheck, which costs $85 for five years. One way to do this is to add additional vendors to review applications, a process the TSA spent the past year doing until it abruptly stopped, citing cybersecurity concerns. The agency said it couldn't guarantee personal information used in testing proposed systems would be protected. 
If the process had been completed, as many as three firms would have been selected to collect applications and fingerprints. MorphoTrust USA, currently the sole vendor, was among those bidding, along with Clear, a biometric screening firm in which Delta Air Lines Inc. owns a 5 percent stake. MorphoTrust, based in Billerica, Mass., is owned by Safran SA, the French aerospace conglomerate. A third bidder wasn't identified.
While the vendor review process was going on, MorphoTrust filed a protest with the Government Accountability Office arguing that the TSA must use a traditional procurement contract for new vendors. In May, the GAO rejected the protest, and the company took its complaint to the U.S. Court of Federal Claims. The TSA's withdrawal rendered that litigation moot, but one of the reasons cited by MorphoTrust in its objection was data security.
Charlie Carroll, a MorphoTrust senior vice president, said Nov. 29 that while "the more availability there is for PreCheck the more business there will be for everybody," the TSA's request for proposals (RFP) created an unfair competitive field. "When people talk about monopoly they don't know about the money I've spent," he said. "I incurred a lot of risk, a lot of investment on the front end."
Carroll said MorphoTrust spent more than $1.5 million to market PreCheck during an enrollment surge this spring, when applications jumped by two-thirds up to 15,000 per day. That surge coincided with prolonged queue times at airports nationwide that spurred Congress to allocate additional money to ease TSA staffing shortages. The application spike led to 30-40 new enrollment locations, primarily at airports. But as congestion eased, the surge subsided. MorphoTrust may now close some of its 400 enrollment locations as a result.
The TSA said it still has a goal of getting 25 million "trusted travelers" enrolled in PreCheck and three related programs by the end of 2019. Those programs currently have 9.3 million people registered, including about 4 million who have joined PreCheck. That program, which has expanded by 1.3 million since June, requires applicants appear at a MorphoTrust office to verify their identification and submit a fingerprint.
"We think it's imperative to have as many enrolled in the PreCheck program as possible, and having as many options as possible to do that can only help," said Shane Downey, director of public policy for the Global Business Travel Association.
The TSA plans a fresh effort next year to secure new PreCheck vendors—and probably hopes it doesn't draw a legal challenge.
Roger Dow, president and CEO of the U.S. Travel Association, said PreCheck needs additional options—and prices—for people to enroll. "If I'm one of the other vendors, I'm like 'Hey come on, open it up, the more the merrier,'" Dow said. "But I really can understand MorphoTrust's perspective."
In a report (pdf) on the TSA earlier this month, the U.S. Travel Association said travelers would take two or three additional trips per year "if TSA hassles could be reduced" and repeated its prior call for a lower price or volume discounts in lieu of the $85 fee. Carroll estimates that the PreCheck market could be as large as 60 million people, especially if prices come in different configurations. One option: A daily pass for PreCheck, which is technically possible, he said. Of course, expanded PreCheck will only work if TSA fully staffs it, which isn't always the case.
"I support a lower price overall," MorphoTrust's Carroll said. "The FBI should take less. Everybody involved, including ourselves, could lower their fees. But that's based on the fundamental principle that as volume increases, costs go down."
Another avenue to move additional travelers into PreCheck could be through corporate America. The Department of Homeland Security and Commerce Department have been urging companies to reimburse employees' enrollment fees for PreCheck, Global Entry, and other identity programs.
This summer, Microsoft Corp. hosted an enrollment forum at its offices and paid for about 800 employees to sign up, with a goal of as many as 20,000 over time. "I need someone to save 15 minutes a year to justify the cost of enrollment," a Microsoft travel executive, Eric Bailey, said in a TSA document about the initiative. Other companies, including Enterprise Holdings Inc. and Carlson Wagonlit Travel, have covered the cost of PreCheck for their top customers, as have some airlines. NetApp Inc., a Silicon Valley-based data-management company, pays for one registered traveler service annually for its employees. NetApp's senior travel manager, Mark Ziegler, who is also on the board of the Global Business Travel Association, said "it's becoming fairly standard to have these fees paid by companies."
Dow said group discounts and a lower price for children, would also boost PreCheck numbers. 
Downey, of the GBTA, said business travelers are a natural audience for the program because the cost isn't prohibitive. The Microsoft effort caught the attention of a variety of other road warriors, he said. "I know other companies are trying to do it or have done it," Downey said, "because every time I'm on a call with a group of buyers and someone mentioned they were doing it, all the other travel buyers want to know who they called to try to set it up."
Before it's here, it's on the Bloomberg Terminal.
LEARN MORE