Trump Said to Continue Auditions for Secretary of State
By
Retired General John Kelly returning for follow-up interview

President-elect had dinner in New York with Romney on Tuesday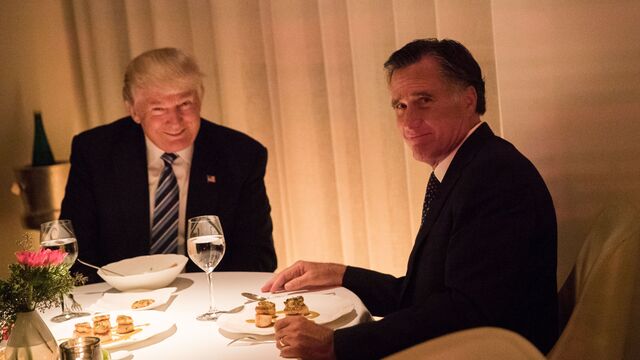 President-elect Donald Trump plans to continue his auditions for secretary of state, and will bring back one of the top contenders for the job on Wednesday, according to a person familiar with the transition.
Retired Marine Corps General John F. Kelly is returning for a follow-up interview at Trump Tower in New York, said the person, who spoke on condition of anonymity to discuss a personnel matter.
Another candidate, former Massachusetts Governor Mitt Romney, dined with Trump on Tuesday night. The dinner was Trump's second meeting with Romney, who was harshly critical of Trump throughout the campaign.
"We had another discussion about affairs throughout the world and these discussions I've had with him have been enlightening, and interesting, and engaging," Romney told reporters after the dinner meeting.
Other candidates under consideration to be the top U.S. diplomat include former New York Mayor Rudy Giuliani, retired General David Petraeus and Republican Senator Bob Corker of Tennessee, the person said.
Trump's advisers have been at odds with one another over who should be selected as secretary of state.
Conway Comments
Kellyanne Conway, who managed Trump's campaign and is now a senior adviser to his transition, said Sunday on NBC's "Meet the Press" that she is "just astonished at the breathtaking volume and intensity of blowback that I see" against the possibility of Romney serving as the nation's top diplomat.
"In the last four years, I mean, has he been around the globe doing something on behalf of the U.S. of which we're unaware? Did he go and intervene in Syria where they're having a massive humanitarian crisis?" she asked on CNN's "State of the Union."
Others in Trump's inner circle, including Chief of Staff Reince Priebus and chief strategist Steve Bannon are pushing for consideration of Romney, the person said. Bannon advocated for both the first and second meetings with Romney. Trump advisers backing Romney say he has demonstrated a strong understanding of foreign affairs and China, the person said.
A top transition official said that many in Trump's camp support having Petraeus, a former director of the Central Intelligence Agency, fill the position. He left left government under a cloud for sharing classified documents during an extramarital affair.
(
Updates with Romney comments in fourth paragraph.
)
Before it's here, it's on the Bloomberg Terminal.
LEARN MORE