Scooter Sharing Offers Romans a Ride, and Maybe a Date
"The whole transportation system was screwed up."
By and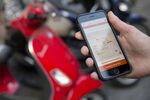 Want to tool around Rome on the back of a Vespa like Audrey Hepburn did in Roman Holiday? Oliver Page can help. The 23-year-old American has developed Scooterino, a ridesharing app that links scooter drivers with people who need a lift through Rome's chaotic traffic—sometimes even sparking romance.
Just type your departure and destination points into your phone, choose a driver, and you're soon weaving through the streets of the Eternal City. At an average of €5 ($5.29) a ride, it's usually cheaper and faster than a taxi. Makeup artist Filo Di Iorio, who found out about the service after meeting Page at a bakery, says Scooterino has helped her cut her €80 monthly taxi bill in half. "I'm almost as addicted to scooter sharing as I am to pizza," Di Iorio says while waiting for a Scooterino pickup.
Page, who grew up in Rome after his parents moved to Italy for an extended holiday and never left, says he thought of the app while waiting for a bus. "It never came, everyone was stuck in traffic," he says. "The whole transportation system was screwed up. I just connected the dots."

Headquarters is a two-room office behind the Colosseum, where his team of eight spend their days fueled by espresso and carryout pasta, pizza, and sushi. Since its launch last year the company has arranged 17,000 rides and signed up 500 drivers. The rate is a flat €4 for the first four kilometers (2.5 miles), then €0.80 per kilometer after that. Scooterino takes 20 percent, and payment is processed automatically, so no money changes hands. A ride from the Colosseum to the Spanish Steps—a 30-minute walk—takes 10 minutes and costs €4, less than half the taxi fare and five minutes faster. Public transport, while just €1.50, takes about 15 minutes—if the bus shows up.
Drivers must carry an extra helmet with disposable liners, and both parties can view each other's profile, reject any ride request, and give a rating at the end of the trip. One driver says he swipes through potential passengers, choosing attractive women like he might on Tinder, and for World AIDS Day on Dec. 1, Page's team handed out condoms as a promotion. "We jokingly call ourselves Tinderino," Page says, acknowledging occasional reports of romances that began with scooter rides. "If we're able to connect people in a way that they become friends and they can share their commute, we've done our job."
Page says he offers "ridesharing" rather than "ride hailing." That allows the company to skirt legal hurdles encountered by the likes of Uber, which has faced restrictions in Italy since a Milan court ruled it was an illegal taxi service. To start, drivers must drop by Scooterino's offices for a check of the quality of their bike and spare helmet, show their documents, and prove they're insured. So far, Page says, there have been no serious injuries, though there's no word on broken hearts.

Roman bureaucracy has been a challenge, with one office holding up €300,000 in public funding for two years after Scooterino won an award intended to back innovative startups, Page says. And he has more would-be riders than drivers; at peak hours passengers sometimes get messages asking them to check back later. Page says drivers, whom he calls "scooteristi," range from students to doctors, chefs, and attorneys. "There are always plenty of customers, so the issue is finding the time to accept requests," says Riccardo De Nigris, a 28-year-old lawyer-in-training who's one of Scooterino's most active drivers. De Nigris says he makes about €250 a month driving, which helps offset what he spends on fuel as he tools around Rome.
Page has secured €500,000 in fresh funding, which he'll use to expand to other Italian cities and create a system for reserving rides in advance. For the time being he plans to address the driver shortage by limiting the service to Rome's city center—until he can sign up more people willing to give strangers a lift. "There are 500,000 scooters in Rome," he says. "We just have to get the word out."
The bottom line: At an average of €5 a ride, Rome's Scooterino is usually cheaper, faster, and a little flirtier than a taxi.
Before it's here, it's on the Bloomberg Terminal.
LEARN MORE