business
SAC Capital to Pay $135 Million to End Last Insider Case
By
Steve Cohen's old firm agrees to settle with Elan shareholders

Investors sued over Mathew Martoma insider trades at SAC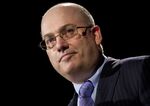 With a little more than a year to go before he's free to manage other people's money again, Steven A. Cohen closed the book on the last insider-trading claim still plaguing his SAC Capital Advisors.
Cohen, 60, and SAC Capital agreed to pay $135 million to a group of Elan Corp. investors, resolving what may be the last major legal claim against his old firm, which was a target of the biggest insider-trading investigation in U.S. history.
Barred from managing outside money until 2018 under an agreement with the SEC, Cohen has worked to move beyond the scandal as he considers whether he'll resume active hedge-fund trading.
By settling with the Elan investors, Cohen avoids being forced to testify about his interactions with Mathew Martoma, 42, a former SAC Capital money manager who's serving a nine-year prison sentence for insider trading. A trial was set to start in January. SAC Capital hired David Boies to add to a team of lawyers already in place.
The settlement, which must be approved by a federal judge in Manhattan, ends a lawsuit in which shareholders claimed they lost money because of insider trading in Elan shares. Martoma was convicted in 2014 of making $275 million for SAC Capital on trades in Wyeth and Elan Corp. Martoma is appealing his conviction and sentence.
See more: How the Feds pulled off the biggest insider-trading investigation
Cohen wasn't charged with insider trading. But SAC Capital pleaded guilty and agreed to pay a record $1.8 billion in civil and criminal penalties. The firm changed its name to Point72 Asset Management LP in 2014, and Cohen is only allowed to manage his own fortune, estimated at $11.2 billion by the Bloomberg Billionaire Index.
"We are pleased to have resolved this matter and close the books on this chapter of SAC-era litigation," Mark Herr, a spokesman for Point72, said of the Elan settlement. SAC Capital and Cohen deny all wrongdoing in the settlement.
Ethan Wohl, who represents the Elan investors, declined to comment on the settlement.
In October, Cohen told the New York Times that he's leaning toward raising money from outside investors beginning in 2018, but hasn't made a final decision. He set up Stamford Harbor Capital, an investment firm that can manage outside money but which said it's chosen not to do so and deferred the decision to 2018.
Read more: What's next for Cohen?
The Elan settlement amounts to about half the maximum potential damages as calculated by an expert hired by the investors, according to court papers urging approval of the deal. The investors can also draw on a fund set up by the SEC from the agency's settlement with SAC Capital, up to the full amount of their trading losses. Any leftover money will go to a nonprofit chosen by Cohen and approved by the investors.
Martoma used inside information from clinical trials of bapineuzumab, an Alzheimer's disease drug that was under development by Elan and Wyeth, to make money and avoid losses for the hedge fund, jurors found. He and Cohen spoke on the phone for 20 minutes before SAC Capital started selling off a $700 million position in the companies, according to evidence presented at Martoma's trial.
In testimony before the SEC, Cohen said SAC Capital sold its Elan shares after Martoma told him he was uncomfortable with the position. He refused to testify at Martoma's trial, citing his Fifth Amendment right against self-incrimination.
In January, the U.S. Securities and Exchange Commission determined that Cohen failed to properly supervise Martoma.
SAC Capital paid $10 million to settle a similar Wyeth shareholder lawsuit.
The case is Kaplan v. SAC Capital Advisors, 12-cv-09350, U.S. District Court, Southern District of New York (Manhattan).
(
Updates with Point72 comment in seventh paragraph.
)
Before it's here, it's on the Bloomberg Terminal.
LEARN MORE