Oil at $40 as Bad as It May Get in Long Run With OPEC Tumult
By , , and
Morgan Stanley sees $40-$55 for most of 2017 even if no deal

Oil weakness unlikely to be sustained amid growing demand: FGE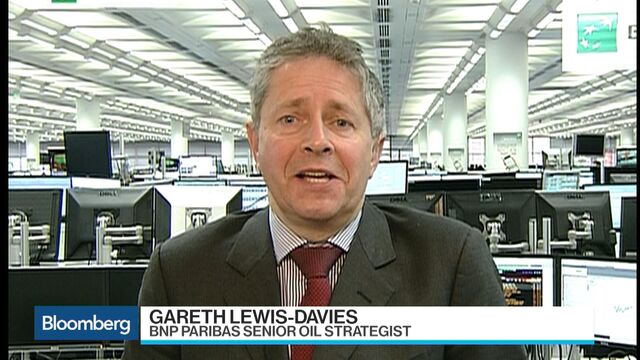 A failure by OPEC to trim output may push crude below $40 a barrel. It's unlikely to stay down there for long.
Prices will probably range from $40 to $55 for much of 2017, Morgan Stanley said in a note published Nov. 29, a day after Goldman Sachs Group Inc. predicted oil will average $45 a barrel through next summer. With global demand recovering, weakness in crude -- even if producers fail to reach an agreement in Vienna-- is unlikely to be sustained, according to industry consultant FGE.
Crude futures in New York and London rose on Wednesday, with West Texas Intermediate trading 1.6 percent higher at $45.93 a barrel and Brent up 1.7 percent at $47.15 by 3:20 p.m. Singapore time. Prices are down more than 50 percent from their 2014 highs amid a global glut.

The Organization of Petroleum Exporting Countries is meeting Wednesday as speculation swirls over whether it can implement the group's first production curb in eight years. Resistance from Iran and Iraq has made the foundations for a deal aimed at stabilizing the market look increasingly shaky, while Saudi Arabia has floated the possibility of leaving without an agreement. Non-OPEC producer Russia has so far resisted requests that it join the accord to cut output.
"Demand will grow by 1.5 million barrels a day next year and if supply doesn't grow, the market would balance even without an OPEC agreement," said Fereidun Fesharaki, chairman and founder of FGE. While prices could go to $33 to $35 a barrel if there's no deal, that weakness would be sustainable only for "two to three months, maximum," he said.
Disagreements between members and the failure of previous proposed deals signal that investors are right to be skeptical of any OPEC agreement, Morgan Stanley analysts including Adam Longson wrote in its report. The group also has a poor history of following through on output quotas, according to the bank.
Market Skepticism
"This is just one more reason why we don't see Nov. 30 as the conclusive event the market wants it to be," Longson wrote. "Instead, we remain optimistic that a headline agreement can be reached to lift prices, but we are more skeptical of sustained compliance with any agreement, especially beyond six months."
Morgan Stanley is losing confidence in even a "headline agreement," and sees the risks of deal failure rising. "Even under such a scenario, breaking below $40 sustainably may be difficult," according to the bank.
That echoes Goldman Sachs, which said in a Nov. 28 note that the options market shows that a move below $40 a barrel would be "difficult to sustain" in the event that OPEC fails to reach a deal. "Ultimately, even in the absence of a cut, we expect the oil market to move into deficit by the second half of 2017," analysts including Damien Courvalin and Jeff Currie wrote in the report.
Under an Algerian proposal Tuesday, the 14 members of OPEC would cut production to 32.5 million barrels per day from their October level of 33.6 million, according to two delegates familiar with the talks. As the group tries to resolve its own differences, it's also asking other big producers including Russia to reduce output by as much as 600,000 barrels a day.
Before it's here, it's on the Bloomberg Terminal.
LEARN MORE