Photographer: Luke MacGregor/Bloomberg
Brexit Bulletin: Carney Speaks Up for Europe's 'Investment Banker'
The EU is standing firm.
by
Sign up to receive the Brexit Bulletin in your inbox, and follow @Brexit on Twitter.
Bank of England Governor Mark Carney is sticking up for Brexit Britain. 
As the central bank highlighted the U.K.'s withdrawal from the European Union as a risk to financial stability, Carney took the opportunity to warn the EU against damaging the British banking system. 
"The U.K. is effectively the investment banker for Europe," Carney said. "These activities are crucial for firms in the European Union economy, and it's absolutely in the interest of the European Union that there is an orderly transition and that there's continual access to those services."
The warning returns fire from European officials, who this week highlighted the potential costs to the U.K. of Brexit. Dutch Finance Minister Jeroen Dijsselbloem said on Tuesday that London risks losing its status as the euro area's financial capital. European Central Bank President Mario Draghi said on Monday that the U.K. would suffer the most in the divorce. 
Carney also said that all trade deals and financial reforms need a transition period, his first public endorsement of the buffer that businesses and banks are lobbying for amid concerns the U.K. will quit the EU before it strikes a deal over future links.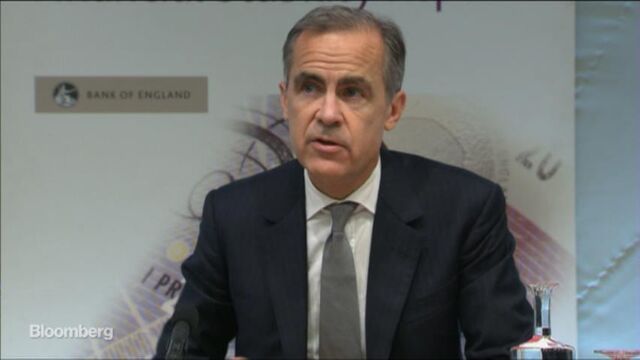 'Tough Ride'
European Union officials lined up on Tuesday to underscore a warning from the Dutch finance minister that Brexit will prove a "tough ride" for the British.
Addressing three experts from every EU state except the U.K., European Commission negotiator Michel Barnier on Tuesday said there was probably only 15 months in which to strike a U.K. withdrawal deal, according to an official present. After that the European Parliament needs time to rubber-stamp the pact.

Despite the ticking clock, continental officials held their line that talks can't start until Article 50 is triggered: "It's no notification–no negotiation; and no speculation," said European Commission spokesman Margaritis Schinas in a message echoed by German Chancellor Angela Merkel.
Maltese Prime Minister Joseph Muscat summed things up by declaring he had "seldom witnessed a situation where there has been convergence as much as on Brexit."
The lack of flexibility will disappointment those banks and businesses pressuring May to secure an early transitional arrangement that preserves current trading terms between the U.K. and EU until a new relationship is agreed upon.
Fitting with the theme of the day, European Council President Donald Tusk rejected calls from some U.K. lawmakers to act swiftly to protect EU citizens living in each others' countries after Brexit. The parliamentarians' complaint "is a very interesting argument, the only problem being that it has nothing to do with reality," Tusk said in a letter.
"Would you not agree that the only source of anxiety and uncertainty is rather the decision on Brexit?"
Immigration Issues
In seeking to control its borders without turning away talent, the British should only issue work permits to skilled employees, pressure group Migration Watch U.K. said on Wednesday.
Refusing to issue permits to unskilled workers would reduce the net inflow of migrants from the EU by about 100,000 people a year, the immigration research group said in a report. A "key workers" program may be needed to help employers adjust to losing the ability to tap the EU for low-paid laborers, but it would have to be time-limited and have a cap that tapers downward, it said.

The proposal was made as consulting firm Arcadis estimated that the U.K. could lose out on 214,000 construction workers by 2020 if free movement of European labor is cut off.
Back in in Berlin, Chancellery Minister Peter Altmaier said Germany "can't understand" the U.K.'s issue with "the Polish plumber" and other immigrants who bring "enormous benefits" to economies.
Costlier Cars and Dearer Diamonds
Brexit could lift the average price of imported cars in the U.K. by as much as £1,500 ($1,871) if the country loses tariff-free access to the EU, the Society of Motor Manufacturers and Traders said Tuesday.
A so-called "hard Brexit" could cost the industry and consumers as much as £4.5 billion annually, it said. Tariffs on imported cars would cost at least £2.7 billion a year, with car buyers possibly bearing much of the excess cost if automakers are unable to absorb it, the group said.
Elsewhere, jeweler Tiffany said while demand has risen post-referendum  it had also raised U.K. prices to reflect a weaker sterling. And JD Wetherspoon's pro-Brexit Chairman Tim Martin attacked a "cabal" of politicians for fighting to overturn the vote.
Brexit Bullets
London Mayor Khan says London may need labor deal
Boris Johnson: U.K. won't abandon military base in Cyprus
Scottish independence loses support, poll says 
Korean bank chooses Frankfurt over London, says Hesse economy minister
U.K. and Australia meet to discuss parameters for future trade deal
Having cake and eating it: Post-Brexit austerity looms for Patisserie Valerie: Gadfly
Fed's Powell says Brexit talks unlikely to affect U.S. economy
Finland Finance Minister Orpo says Brexit may help deepen EU market
On the Markets
After Brexit and Trump, traders are preparing for another long night this weekend. This time it's Italy, where a constitutional referendum is timed for Sunday. Polls have indicated a "no" vote on Prime Minister Matteo Renzi's reforms might be on the cards.
Chiara Albanese, Charlotte Ryan and Stefania Spezzati have more on how investors are getting ready.
And Finally...
The government is sending staff back to school to prepare them for Brexit.
The Foreign Office has established a trade faculty to "upskill people," Oliver Griffiths, a director at the department for international trade, told a parliamentary committee on Tuesday. With Britain preparing to start negotiating its own trade deals, each agreement will need up to 100 people, he said. The department started with 140 people and will reach 350 by the end of the year, said James Norton, another director.

For more on Brexit follow Bloomberg on Twitter, Facebook and Instagram, and see our full coverage at Bloomberg.com
Before it's here, it's on the Bloomberg Terminal.
LEARN MORE