Wine
The $845 Wine Book That Dealers Can't Keep in Stock
Assouline's Impossible Collection of Wine details last century's most incredible vintages.
By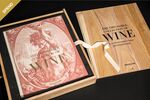 Key details: A hand-bound, limited-edition book detailing the great vintages of the 20th century, with labels, iconic photos, and notable stories about each wine, encased in a wooden box.
Competitors: None, really. Most wine books cost less than $50, and then there's the Amazon.com discount.
Price: $845
Why it's worth it: Some people might think several hundred dollars might be better invested in actual wine that you can drink, rather than a book that only allows you to read about it. And that's not untrue. But if you want to go deep on some truly epic bottles and impress people with your knowledge of wines that you (probably) can't get for any amount of money, this book is a valuable asset—especially if you (or your gift recipient) have the cellar space to show it off.
Let's start with a few key facts about The Impossible Collection of Wine: The 100 Most Exceptional Vintages of the Twentieth Century.
For one thing, the book is heavy, weighing in at 10.5 pounds—15 pounds in its sturdy wooden box.
It's also gigantic: The official specs are 14 by 17 inches, but the book seems a lot bigger than that. Which is undoubtedly a good thing, unless you plan on carrying it around with you. 

This is the definition of a coffee table book, or, more accurately, a wine cellar table book for people with the kind of cellars that double as entertainment centers.
It's the latest addition to publisher Assouline's Ultimate Collection, which also includes The Impossible Collection of Cars; The Impossible Collection of Jewelry; and Arabian Horses: The Ultimate Collection of Equine Beauty. Compiled by one of the world's best sommeliers, Enrico Bernardo, the book highlights 100 remarkable wines from across time and around the world. To each entry, Bernardo adds a description that includes details about the winery, often personal, as well as tasting notes; he's the sommelier, standing at your table, selling you the bottle.
The collection starts with an impossible-to-find-now 1811 d'Yquem (Bernardo notes that some other legendary vintages, such as 1983 and 1923, are still available for Yquem fanatics). The 1928 Krug is also highlighted. Bernardo opened a bottle of the legendary Champagne in the presence of Olivier Krug, he confides to us, describing aromas of licorice, toffee, and black pepper wrapped around smoke and hazelnut. "It makes an ideal accompaniment to venison with huntsman's sauce," he concludes. No doubt.

The grand Bordeaux châteaux dominate The Impossible Collection: Mouton Rothschild; Cheval Blanc; Latour; Figeac; Palmer; and Haut-Brion are all present and accounted for. Likewise you'll find Burgundy's heaviest hitters, including DRC; Jayer; Lafon; Roumier; Raveneau. Outside France, Bernardo spotlights classics like the 1951 Penfolds Grange 95; 1970 Vega Sicilia Unico Gran Reserva; 1989 Gaja Barbaresco; and 1997 Colgin Herb Lamb cabernet.
Funnily, the Colgin cab is one of the wines that's still available and actually cheaper than the book—you can find it for about $650.

For some of us, though, the real highlight of this volume is the supersonic art—real treats in the oversize format, from an excellent reproduction of Picasso's Table with Bottle, Wineglass and Newspaper to, most especially, a black-and-white photo of a radiant Jackie Kennedy setting a table. Across the page is a copy of a scribbled-on menu from a 1961 White House lunch for Prince Rainier and Princess Grace of Monaco. For the meal, Kennedy and her chef paired soft-shell crab amandine with a '58 Puligny-Montrachet and served the strawberries Romanoff with a 1952 Dom Pérignon. It's the kind of image that makes you want to open the book over and over again, and overcomes the very accurate quote that appears toward the end of The Impossible Collection, from Roald Dahl on the subject of wine: "Sense for me this perfume! Breathe this bouquet! Taste it! Drink it! But never try to describe it!"
Now here's the rub: This new release is already sold out. (Like a highly allocated wine!) But for just a few dollars more, as they say, you can get a signed copy for $1,000. At this level of wine elitism, it actually feels even more apropos.
Before it's here, it's on the Bloomberg Terminal.
LEARN MORE