markets
Won Rises as President Park Will Let Parliament Decide Her Term
By and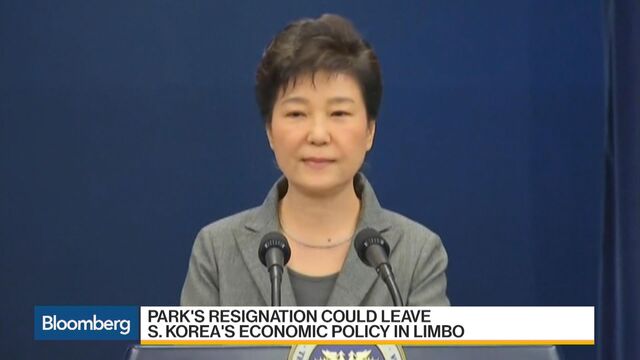 The won rose after South Korea's President Park Geun-hye said she'll let the National Assembly decide how much longer her term in office will last, ceding power to parliament after an influence-peddling scandal that's shaken Asia's fourth-biggest economy.
The South Korean currency climbed 0.2 percent to 1,168.65 per dollar as of 3:33 p.m. in Seoul, according to prices from local banks compiled by Bloomberg. The currency has lost more than 3 percent since the scandal broke Oct. 24. The yield on 10-year sovereign debt fell one basis point to 2.15 percent, while the benchmark Kospi share index was little changed.
"We are seeing what looks almost like a relief reaction," said Min Gyeong-won, a currency analyst at NH Futures Co. in Seoul. "The political situation has been mired with a lot of uncertainty, and we are seeing this clarifying with Park's indication that she is willing to step down," Min said, adding that the currency could strengthen to 1,150 in the near term.
The controversy surrounding Park has bedeviled an economy already rocked by turmoil at two of its biggest companies as well as headwinds from slowing exports and record household borrowing. In October, the Bank of Korea lowered its forecast for 2017 economic growth to 2.8 percent from 2.9 percent, citing a high degree of uncertainty about future expansion. It's expecting growth of 2.7 percent in 2016.
Read: South Korea Reverberates With 'Lock Her Up' in Park Scandal
With a record-low approval rating, Park has been under increasing pressure to allow prosecutors to investigate her over the influence-peddling scandal. The 64-year-old president has already apologized twice to the nation for allowing her friend Choi Soon-sil to interfere in government affairs. Choi is alleged to have taken advantage of their relationship to meddle in state affairs. Hundreds of thousands of South Korean protesters marched to her office at the weekend to demand her resignation and arrest.
Before it's here, it's on the Bloomberg Terminal.
LEARN MORE