Turmoil Threatens Norway's PM as Liberals End Budget Talks
By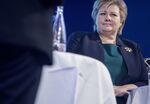 Norway's government moved a step closer to falling as the Liberal Party walked away from budget talks after failing to bridge difference over climate measures.
The Liberal parliamentary group announced it could no longer go on with trying to craft next year budget, according to an e-mailed statement. The government parties haven't been willing to negotiate on special measures to reduce emissions, the Liberals said.
Norway's Prime Minister Erna Solberg is now facing her most serious political crisis as she seeks to cobble together a budget ahead of next year's election. The government has so far refused to budge on plan that will lower fees for motorists at the same time as it raised taxes on petrol.
"The ultimatum from the government has put Parliament in a very difficult situation," Liberal leader Trine Skei Grande said in the statement. "A minority government can't meet parliament with an ultimatum before negotiations, but must be willing to negotiate everything."
To read more on Norway's oil-fueled spending, click here
The move raises the stakes ahead of a Dec. 5 budget deadline. Speculation has grown that the government, which depends on backing from the Liberals or Christian Democrats for a parliamentary majority, could step down after three years in power. Norway doesn't have snap elections, so a new government will need to be formed within the current parliamentary make up. The biggest group in parliament is the opposition Labor Party.
The government could still a pass a budget with the backing of the Christian Democrats. They are holding an extraordinary meeting Wednesday, TV2 reported.
Finance Minister Siv Jensen was also meeting on Tuesday night with the leaders of her Progress Party to discuss the Liberals' decisions.
"I want to underscore that there has been and still exists a real commitment to finding a solution for the budget next year, which is important for a lot of people," Jensen said in a broadcast on TV2 as she headed into the meeting.
Before it's here, it's on the Bloomberg Terminal.
LEARN MORE