Treasuries Suffer Worst Month Since 2009 on Trump Ripple Effect
by and
OPEC deal, Mnuchin comments on longer maturities also at work

Yield curve should flatten, Deutsche Bank's Slok says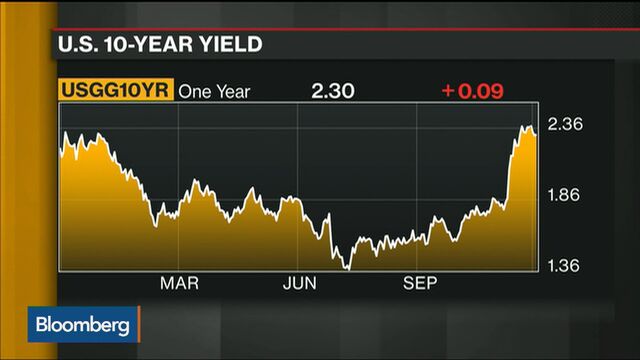 Treasuries wrapped up their worst month since 2009 as investors pulled money from the U.S. bond market on speculation Donald Trump's victory in the presidential election will pave the way for increased fiscal stimulus.
A Bloomberg Barclays index tracking the Treasuries market lost 2.4 percent this month through Nov. 29. U.S. government debt extended declines Wednesday as OPEC reached a deal to cut oil output, while Trump's pick for Treasury secretary said he'll consider adding longer maturities.
As U.S. 10-year yields held close to the highest levels this year, the difference over German bunds, Europe's benchmark sovereign securities, approached the widest on record, according to closing-price data going back to 1990.

"This is more evidence of a divergence between rates markets in the euro zone and in the U.S.," said Antoine Bouvet, an interest-rates strategist at Mizuho International Plc in London. "The economic situation in the U.S. makes the risk of inflation greater there and the potential for a rise in oil price compounds that risk."
Benchmark Treasury 10-year yields have soared the most in back-to-back months since the taper tantrum as investors shifted into assets such as stocks, which they expect to benefit should Trump succeed in pushing through his proposals. On Wednesday, U.S. economic data showed employment and wages rising more than expected.
U.S. 10-year note yields surged about 23 basis points in October, and are up 56 basis points this month, trading at 2.39 percent as of 4:43 p.m. in New York. It's the steepest two-month climb since 2013, when fears of the Fed abruptly reducing stimulus led investors to sell Treasuries.
Exploring Ahead
Amid prospects of quicker economic growth and with Steven Mnuchin, Trump's pick to lead Treasury, saying he'll explore issuing debt maturing in more than 30 years, longer-term securities fell the most. The extra yield on 10-year over two-year debt approached the widest this year, even as the Federal Reserve signals plans to raise interest rates as soon as next month. For some analysts, that yield gap is bound to shrink.
"The most pronounced story behind the 10-year move is that Trump's spending will boost the economy, boost inflation," said Torsten Slok, international economist for Deutsche Bank AG in New York. "But if this is really about fiscal spending, you should have seen Fed expectations -- and therefore the two-year yield -- rise more, too."

Futures signal growing bets that policy makers will follow a hike in December with additional increases next year. Yet the level of 10-year yields suggests that traders should be pricing in more Fed increases than they currently are, suggesting the yield curve should flatten, Deutsche Bank's Slok said.
"If the Trump narrative turns out to be right, we should see the mispricing come undone -- two-year yields will rise, and Fed expectations will rise," he said. "The long end has moved and has moved a lot, so now the front end has got to move also."
Before it's here, it's on the Bloomberg Terminal.
LEARN MORE