pursuits
Melco Crown's Billionaire Owner Maps Expansion Beyond Macau
By
Gaming company to open $1 billion hotel in Macau in 2018

Chairman Lawrence Ho plans resorts, hotels outside gaming hub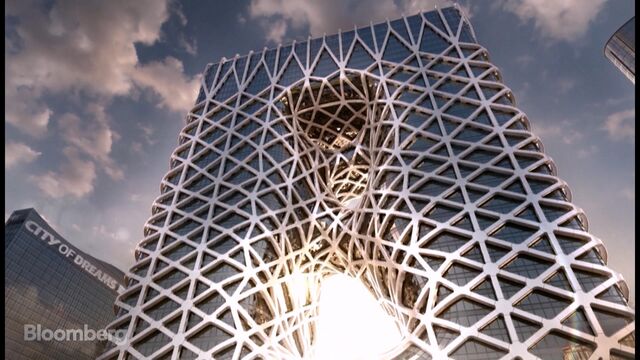 Melco Crown Entertainment Ltd.'s billionaire chairman said he wants to be the first resort operator to use Macau as the launchpad for a global hotel brand, beginning with a $1 billion project in the the world's biggest gambling center with ambitions to expand to Japan and other Asian countries.
Casino tycoon Lawrence Ho plans to debut the company's first Morpheus hotel, a futuristic high-rise designed by late architect Zaha Hadid, on Macau's Cotai strip in the first half of 2018, he said in an interview in Macau Tuesday. Ho intends "to build something special in big jurisdictions like Japan or other parts of Asia" to expand the lodging brand aimed at "the most sophisticated international travelers," he said.
Along with developing a global hotel brand, Melco Crown is mapping a global expansion beyond its Macau flagships with casino projects in Cyprus, Russia and other Asian countries.
The company is looking to branch out internationally as the fight for market share against rivals Las Vegas Sands Corp. and Wynn Resorts Ltd. heats up in the former Portuguese colony after a two-year gaming slump.
"It's a global footprint that we are developing," said Ho, the 39-year-old chairman and chief executive officer of Melco Crown. "We have done well in Macau and we want to see how we can do even better internationally."
The expansion plan comes as the casino industry has been rocked by the Chinese government's detentions in October of 18 employees of Crown Resorts Ltd., which owns a 27 percent stake in U.S-listed Melco Crown. A group of them were formally arrested last week on alleged gambling crimes. Ho said the arrests haven't had a direct effect on Melco Crown as it operates independently of Crown, and operators in the Chinese city of Macau could see a boost if the government clamps down on foreign operators luring its citizens to gamble overseas.

Ho earlier this month took on a more direct role at Melco after complaining he was dissatisfied with the performance at the $3.2 billion Hollywood-themed Studio City resort that opened in Macau last year. The resort has "ramped up," and performed well over the last quarter, Ho said Tuesday, adding that there's "more potential for Studio City to grow." The company posted third-quarter profit that topped estimates.
Melco shares rose 1.6 percent to $19.43 at 10:10 a.m. in New York. While the stock has bounced back from a one-year low in July, it lags behind peers on Bloomberg Intelligence's index of Macau gaming stocks, which has surged about 45 percent this year.
The company's overseas growth strategy got a boost earlier this month when its plan to develop a casino resort in the eastern Mediterranean country of Cyprus won government approval. Its first major expansion outside of Macau is the City of Dreams Manila, which opened in the Philippines in early 2015. Ho is also the chairman of a holding company that opened a casino in Russia last year, according to exchange filings.
"In terms of getting the name out there and growing the customer database, it does make sense to pursue non-gaming opportunities globally," said Grant Govertsen, a Macau-based gaming analyst at Union Gaming Group LLC. There's little land available for gaming development in Macau, he added. "New development that can move the needle for most Macau's casino operators effectively has to come from overseas development at this point."
While Ho wants to expand overseas to Japan and Vietnam, he said he's confident about the company's prospects in Macau, where new resort openings are contributing to a rebound from a two-year gaming slump.
"We are in a recovery. That recovery is not going to be the same as the recovery during the global financial crisis," Ho said. "This time around, it's different. It's going to be more of a natural recovery."
Casino operators in Macau, the only place in China where casinos are legal, may actually benefit from a Chinese government crackdown on foreign casinos that woo its citizens to gamble overseas, said Ho.
"The view in Macau right now is China is trying to crack down on the foreign casinos trying to poach their players to go overseas," said Ho, who added that his company has always been in compliance. "At the end of the day, Macau is a part of China. The reason for Macau's success is China. Our hope is that for home-grown Macau operators, we would be safe."
Melco has said it's also re-examining the way it runs its business in the wake of the detentions of more than a dozen employees of stakeholder Crown.
Australia's Crown, controlled by Melco's former co-chairman James Packer, had been warned by Chinese authorities last year to halt its efforts to attract high rollers from the mainland to gamble overseas, a person familiar with the government's action said in October.

Macau's operators have opened new billion-dollar resorts that target casual gamblers instead of the high rollers that the industry relied upon for the bulk of its revenue in previous years. The city reported a third straight month of revenue gains in October, regaining ground after a being dragged down by China's slowing economy and anti-corruption measures.
Melco Crown's market share rose to 15.7 percent in the third quarter, from 14 percent the same period a year earlier, before Studio City opened, according to data compiled by CLSA Ltd. But Melco Crown is battling competition -- as Sands China Ltd. and Wynn Macau Ltd. opened new resorts in the last quarter, Melco saw its market share drop from its second-quarter level, according to the CLSA data.
While Studio City has attracted most of the spotlight with its Batman ride and figure-eight Ferris wheel, Melco's top-performing property remains its 500-table City of Dreams in Macau. Studio City has about half that many gambling tables. The operator also owns two other smaller casino properties in Macau.
Ho's father is gambling legend Stanley Ho, the 95-year-old chairman of rival SJM Holdings Ltd. In rare, candid comments about his father Tuesday, the younger Ho said he has "no idea" whether there is a succession plan in place for his father's "big and complicated family." The elder Ho has 17 children from relationships with four women. One of his daughters, Pansy Ho, is a major shareholder in MGM China Holdings Ltd., another Macau operator.
The younger Ho said he has no involvement in the operations at SJM -- and has no plans to participate in the future. "I'm not interested in that," he said. "Because, look, what I have built on my own is so much more exciting."
(
Updates with U.S. shares trading in seventh paragraph.
)
Before it's here, it's on the Bloomberg Terminal.
LEARN MORE