May, Trump Agree on Importance of Keeping NATO Spending Target
By
Leaders plan for national security advisers to meet by Xmas

May speaks with Trump by phone as part of 'regular dialog'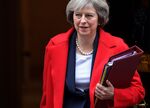 U.K. Prime Minister Theresa May and U.S. President-elect Donald Trump discussed the importance of more NATO members meeting the minimum defense spending target in a phone call on Tuesday and agreed to meet each other at the "earliest possible opportunity."
The leaders also agreed that their teams should build close relationships through Trump's transition period, with their national security advisers meeting before Christmas, May's office said on Tuesday in an e-mailed statement.
Then leaders discussed the North Atlantic Treaty Organization, "agreeing on the importance of the alliance, the need for more NATO members to meet the target of spending 2 percent of GDP and the role that NATO can play in addressing diverse threats," May's office said.
In 2015, just five NATO members met the spending target: the U.S., Greece, the U.K., Estonia and Poland, according to figures from the alliance. During his election campaign, Trump criticized nations that didn't meet the spending requirement and suggested that U.S. defense of fellow members should be conditional on their meeting their obligations, raising doubts about his commitment to the alliance.
Trump's Farage Links
After visiting May last week, NATO Secretary General Jens Stoltenberg said that Trump had told him that "the U.S. will remain committed to the transatlantic bond and to the security guarantees for Europe," and that NATO members are making progress on the defense spending target.
The call comes amid growing criticism in the U.K. that May was failing to build bridges with Trump, whose election win on Nov. 8 rattled many political leaders. Trump called about 10 leaders before May following his election. U.K. Independence Party leader Nigel Farage, who spearheaded the Brexit campaign, was the first British politician he met after winning the election.
Trump courted further controversy about his relationship with her government last week when he tweeted that Farage would "do a great job" as British ambassador to the U.S.
May's office said the call was part of an effort to establish a "regular dialog" between her and Trump.
Before it's here, it's on the Bloomberg Terminal.
LEARN MORE