business
Former Utah Governor Huntsman Considers U.S. Senate Run in 2018
By
Decision depends in part on whether Hatch seeks eighth term

Huntsman served Obama administration as ambassador to China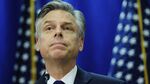 Former Utah Governor Jon Huntsman said he's weighing a run for the U.S. Senate in 2018, depending in part on whether fellow Republican Orrin Hatch decides to seek an eighth term.
"I've always said that I've got one more run left in our bones. And I don't know what that will be. But I love this country," Huntsman, 56, told co-hosts Scott Lanman and Daniel Moss on Bloomberg's "Benchmark," a weekly podcast on the global economy.
"We're going to take a good look at maybe a future Senate run in the state of Utah," said Huntsman, who was elected twice as governor, was President Barack Obama's U.S. ambassador to China and made an unsuccessful run for the Republican presidential nomination in 2012.
Hatch, 82, had previously said his current six-year term would be his last, but he told Roll Call after Donald Trump's election that "circumstances have greatly changed" and he'll reconsider running again.
Huntsman said his decision "in part would be based on what Senator Hatch chooses to do," and poked at the chamber's senior Republican for his four decades in office. Hatch is chairman of the Finance Committee and previously was head of the Judiciary Committee.
"He's been a productive senator for nearly half a century," Huntsman told the podcast on Monday. "I'm somebody personally who believes in term limits. I always have. You get in, do your job, you get out."
"But time will tell," said Huntsman, who made clear he would run as a Republican if he decides to seek the office.
To listen to the interview with Huntsman, click here
Huntsman's 2012 bid for the Republican presidential nomination stalled amid attacks from conservatives for serving in Obama's administration as an ambassador, which created a perception that he was more moderate than his record as governor.
Before it's here, it's on the Bloomberg Terminal.
LEARN MORE