Don't Be Surprised When Activision Blizzard CEO Does a Big Deal
By
Kotick promised awards for 'transformative transaction'

Some experts argue M&A doesn't warrant additional pay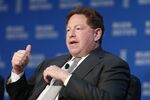 Activision Blizzard Inc. is giving Chief Executive Officer Robert Kotick major financial incentives to do deals -- a form of compensation that's become increasingly unusual amid investor scrutiny.
Kotick's new employment agreement contains a provision that will accelerate the payout of a future equity award if the company's market capitalization increases by 15 percent through at least one "transformative transaction," according to a regulatory filing issued Friday by Santa Monica, California-based Activision. Other awards can vest early if the share price leaps above a certain threshold.

Boards sometimes grant executives merger-related bonuses tied to savings and operational goals, but awards linked to future dealmaking are rare. Some experts argue M&A is part of a CEO's normal job responsibilities and doesn't warrant additional pay. Most incentives tied to mergers therefore "focus on integration and synergy capture rather than just getting the deal done," said John Trentacoste, a managing director at executive compensation consultant Farient Advisors.
"The hard work comes after the ink dries," Trentacoste said. "Transaction-based one-off incentives are becoming a bit rarer in the age of investor scrutiny."
Performance Goals
Kotick's contract locks him in through 2021 and includes a slew of awards tied to performance goals. Some will vest early if the company's stock price doubles from its 2016 average and remains there for at least 90 trading days. Another award will pay out ahead of schedule if Activision's market cap grows by at least 15 percent after one or several deals and remains there for 6 consecutive months.
How much Kotick stands to reap under the new contract is difficult to say because Activision didn't disclose dollar values for most of the awards. One exception was a performance grant tied to earnings and operating income over three years that would give him up to 1.51 million shares, valued at $56.6 million based on Monday's closing price of $37.37. An Activision spokesman declined to comment.
Other company chiefs with pay tied to M&A include Imax Corp. CEO Richard Gelfond, who'd receive a share of the proceeds above a certain limit if the company is sold. Part of Valeant Pharmaceuticals International Inc. ex-CEO Michael Pearson's 2014 bonus was tied to doing "at least one significant deal."
Some companies strip out impacts of acquisitions from pay plans since they can be difficult to measure. Deere & Co. excludes M&A-related goodwill from its return-on-equity calculation when awarding executive bonuses for two years following a deal.
Activision acquired mobile-game maker King Digital Entertainment Plc, maker of Candy Crush Saga, for more than $5 billion this year and in January bought Major League Gaming, which streams e-sports events. Future deals are more likely to be smaller, tuck-in type acquisitions aimed to expand specific segments, according to Matthew Kanterman, an analyst at Bloomberg Intelligence.