Trudeau Approves Kinder Morgan's Trans Mountain Pipeline
Natalie Obiko Pearson, Josh Wingrove, and Robert Tuttle
Trans Mountain, Line 3 project cleared; Gateway rejected

Local opposition set to continue against approved projects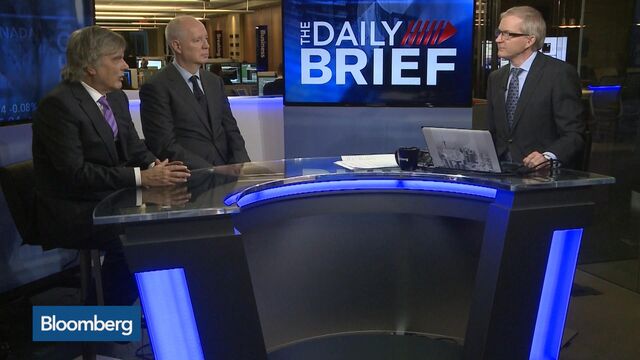 Kinder Morgan Inc. and Enbridge Inc. won Canadian government approval for two pipeline projects -- a long-awaited boost for the oil industry that could potentially expand exports, open new Asian markets and lift prices for locally produced barrels of crude.
Prime Minister Justin Trudeau approved with conditions Kinder Morgan's Trans Mountain expansion and Enbridge's Line 3 proposal as he sought to balance environmental protection with the need to expand markets for the nation's resources. Citing excessive risks, he rejected Enbridge's Northern Gateway proposal and pledged to enact an oil tanker ban next year on the northwest Pacific coast.
"The fact is oil sands production is going to increase in the coming years," Trudeau told reporters in Ottawa Tuesday. "Because we are at capacity in terms of existing pipelines, that means more oil is going to be transported by rail in the coming years if we don't build new pipelines."
While the two new lines are set to face continuing local opposition, the decisions are a hard-fought victory for Canada's oil patch that is suffering from falling oil prices, a transportation bottleneck and over-reliance on the U.S. as a buyer. The lack of alternative markets has forced producers to sell at a discount to international benchmarks, while congestion on the existing network has increasingly pushed oil shipments onto more expensive rail cars.  
Tidewater Access
"Getting oil to tidewater is critical for this country," said Tim Pickering, founder and chief investment officer of Auspice Capital Advisors Ltd. in Calgary. "Right now, it's just ridiculous. We are selling oil at such a great discount because we have one buyer for our oil."
Kinder Morgan's Trans Mountain could address that by nearly tripling capacity to 890,000 barrels per day on its line from Alberta to Vancouver, Canada's biggest port and gateway to Asia. It still needs an environmental approval from British Columbia -- if it gets that, it could begin construction in 2017 and ship oil by 2019.
The bottlenecks have depressed prices for the country's crude: Heavy Western Canadian Select's discount to West Texas Intermediate futures was $15.75 a barrel Tuesday, the widest since Feb. 1, data compiled by Bloomberg show.
The pipeline projects could mean producers would earn about $3 more a barrel and would also lift overall shipments, Alberta Premier Rachel Notley told reporters in Calgary.
"The game changer here for Canada is Trans Mountain," said Michael Tran, a commodities strategist with RBC Capital Markets LLC in New York. China and India, both drivers of future oil demand, have refineries capable of processing the heavy crude produced by Alberta's oil sands, he said. "This gives Canada a chance to compete for market share where historically it had no such access."
Production Rising
Kinder Morgan shares climbed as much as 2.9 percent to $22.02 after Trudeau's announcement, extending the year-to-date gain of more than 40 percent. Trans Mountain is the company's biggest pending project, accounting for about 40 percent of the $13 billion backlog of future investments. 
Enbridge's Line 3, the largest project in the Canadian company's history, would replace a pipeline from Alberta to Wisconsin, roughly doubling capacity to 760,000 barrels a day. It expects to complete the project by 2019. Its shares closed down 1.3 percent at C$56.69 in Toronto before the announcement.
Crude output in the region is expected to rise about 5 percent to more than 4 million barrels a day in 2017, topping existing pipeline capacity, according to the Canadian Association of Petroleum Producers.
Companies including Cenovus Energy Inc. and Canadian Natural Resources Ltd. are set to add about 390,000 barrels a day of capacity by the end of next year, according to company statements and JuneWarren-Nickle's Energy Group's Summer 2016 Oil Sands Quarterly. By 2018, there could be an additional 550,000 barrels a day of increased production, said Eric Peterson, research chief at Denver-based ARB Midstream LLC, an oil transport investor.
"It will take a lot of these pipes to catch new production that is coming online," said Peterson. "If these pipes were not approved, a lot of barrels would get stranded."
Opposition to Continue
Trudeau acknowledged that he will face criticism for supporting the pipelines.
"Regardless of the decision we took today, people were going to be upset," said Trudeau, whose Liberal Party swept to power last year on pledges to spur energy sector development and increase environmental protection.
Those objections began immediately after his announcement and could lead to legal challenges against the projects that were approved.
"I am profoundly disappointed with today's decision," Vancouver Mayor Gregor Robertson said in a statement. "Vancouver will continue to raise concerns about Kinder Morgan's massive expansion that could bring seven times the number of oil tankers to our waters."
Enbridge's Northern Gateway project, which Trudeau quashed Tuesday, provides a cautionary tale. The pipeline was approved by the previous government in 2014, only to be halted by a court ruling before being rejected by Trudeau.
Still, the approvals send an important message to investors, said TD Securities analyst Bart Melek said. "It reinforces badly needed confidence. We have been seen as people who can't deliver and are anti-resources."
Details of the projects in question are:
The cabinet conditionally approved the Canadian leg of Calgary-based Enbridge's plan to replace and expand Line 3, a 1,659-kilometer (1,031-mile) pipeline connecting Alberta to Wisconsin. The project would cost at least C$7.5 billion ($5.6 billion) and boost capacity to 760,000 barrels per day from 390,000 barrels. 
It approved Houston-based Kinder Morgan's C$6.8 billion, 1,150-kilometer Trans Mountain oil project to nearly triple the capacity of a line running from Alberta to Vancouver to 890,000 barrels per day.
Trudeau dismissed Enbridge's Northern Gateway project, the C$7.9 billion, 1,178-kilometer pipeline with an average capacity 525,000 barrels per day. Approved by Trudeau's predecessor, a court struck down that consent in June, saying the government didn't adequately consult indigenous communities who'd opposed its route through British Columbia. The pipeline would run from Alberta to Kitimat on the B.C. coast.
Trudeau followed through on a previous pledge to ban crude tankers from British Columbia's northern coast near the Alaska border.
— With assistance by Joe Carroll, and Sheela Tobben
Before it's here, it's on the Bloomberg Terminal.
LEARN MORE