Trump Bubble Burst Will Drive Yen to 98 per Dollar: UBS Wealth
By and
Protectionist policies to precede fiscal stimulus: Ibayashi

Yen is rebounding from biggest three-week loss since 1995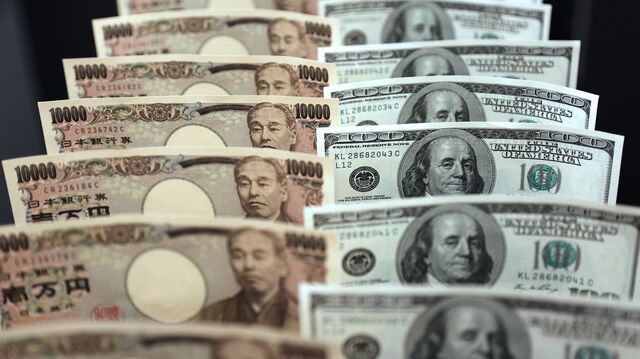 UBS Group AG's $2 trillion wealth-management arm says yen traders have got Donald Trump all wrong, and the currency will strengthen to 98 per dollar by this time next year.
The firm's Tokyo-based head of Japanese equity research Toru Ibayashi says expectations for fiscal expansion have become overblown, and protectionist policies will come first in the new U.S. administration. Trump campaigned on pledges of "massive" tax cuts and spending of as much as $1 trillion over a decade to rebuild infrastructure, while also promising to tear up existing trade deals and punish companies that send jobs overseas. Speculation the president-elect will unleash reflationary stimulus drove the yen to an eight-month low near 114 on Friday, capping the biggest three-week decline since 1995.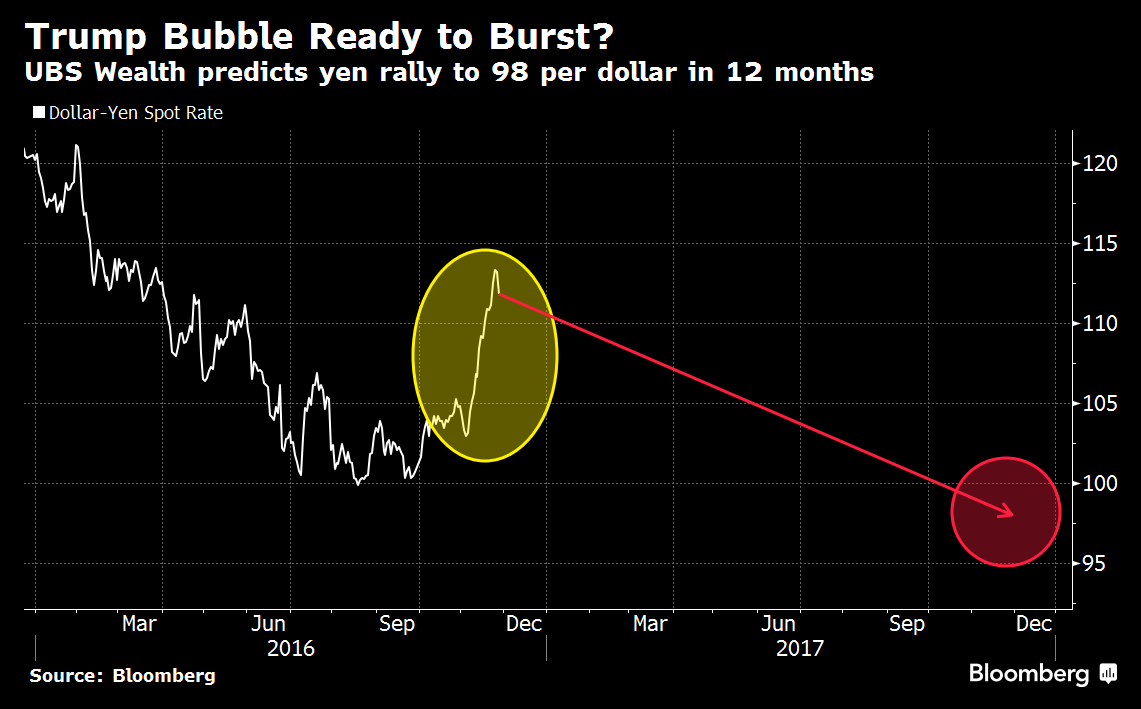 "The market has latched on to only the juicy bits of Trump's policies, and wrapped them up with unreasonable euphoria, which we think is pretty much a misinterpretation," Ibayashi said in a phone interview Monday. "A market that's been overbought on hope will quickly fall apart."
UBS Wealth Management joins bulls including former Japanese currency chief Eisuke Sakakibara and JPMorgan Chase & Co. in forecasting the yen will gradually strengthen to beyond 100 per dollar next year because of Trump's "America first" stance on trade, even as strategists raised dollar-yen estimates at the fastest pace since January of last year. A reversal of the yen's post-election slump would negate what has been a welcome tailwind for Japan's struggling economy, as the Bank of Japan's sway over the exchange rate has dwindled.
The yen was at 111.97 per dollar as of 2:15 p.m. in Tokyo on Tuesday. The median forecast among analysts is for it to be at 110 by the end of 2017, from a consensus estimate of 106 as of the end of last month. The yen hasn't traded at 98 since November 2013.
Mixed Signals
It's unclear how much of Trump's campaign trail promises will translate into policy. He has already backed away from a pledge to build a wall along the southern border paid for by Mexico, saying some parts could be a fence. But he reiterated last week that the Trans Pacific Partnership, also signed by Japan and 10 other nations, would be "a potential disaster for our country."
Sakikibara forecast the yen would strengthen as far as 90 per dollar within six months of Trump's surprise election victory, while JPMorgan's Tokyo-based head of Japan markets research Tohru Sasaki sees it at 99 as of the end of 2017.
Both forecasters were correct in calls made at the start of the year for the yen to appreciate, when most analysts predicted an extension of the currency's record four years of weakness against the dollar. The yen remains the best performer among its developed-market peers in 2016, strengthening 7.4 percent against the greenback.
That trend is something Trump and other U.S. policy makers won't be keen to change, according to UBS's Ibayashi.
"A strong dollar will be a drag on revenue for U.S. businesses," he said. "It's a headwind for employment, and Americans would find that unacceptable."
Before it's here, it's on the Bloomberg Terminal.
LEARN MORE