Three Tailwinds Will Buoy Global Stocks in 2017: SocGen
Watch out for inflation, elections, and rotation.
By and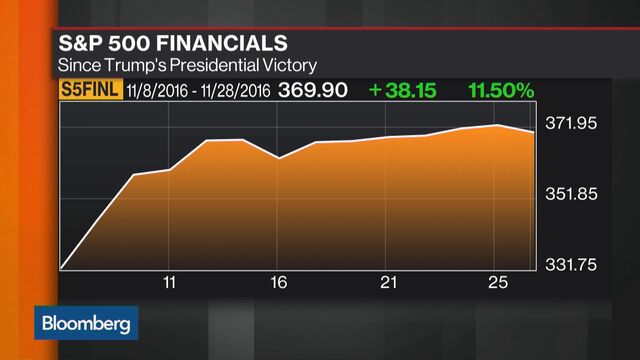 Hang in there.
The global equity market rally since President-elect Donald Trump's victory — driven, in part, by a rotation out of developed market bonds in favor of stocks — will gather yet-more steam with the S&P 500 Index likely to hit 2,400 by the end of 2017, according to Societe Generale SA analysts.
"After a flattish 2016, we expect global equities to deliver higher returns in 2017 thanks to stronger economic growth, higher inflation prints and more active shareholder policies (mergers and acquisitions + share buybacks)," the strategists, led by Charles de Boissezon, wrote in a report on Monday.
Investors are currently looking beyond the recent weakness in the corporate earnings cycle, with the U.S. equity market now trading on a cyclically-adjusted price-to-earnings ratio of 29 — consistent with the average notched between 2002 and 2007 when U.S. GDP rose by an annual average of 2.7 percent, SocGen strategists calculate. 
They conclude that a bevy of market-friendly policies — tax cuts, overseas cash repatriation, infrastructure spending — will buoy U.S. corporate earnings next year, the SocGen analysts write, despite new risks, including trade protectionism and higher debt-servicing costs.
They forecast 8 percent earnings-per-share growth for the next three years, with the S&P 500 closing at 2,500 by end of 2018, compared with 2,207 currently. "Only in periods of 'irrational exuberance' such as the roaring twenties or dotcom bubble did US equities trade higher," the analysts conclude.

They also see a bullish case for the Euro Stoxx 50, forecasting the index will close at 3,300 by end of 2017 (compared to 3,030 currently) with easier fiscal policies likely to offset the market impact of election upsets as France and Germany head to the polls next year. Equity markets in the U.S. and the euro-area should be able to absorb the impact of rising 10-year government bond yields up to 2.6 percent and 1.0 percent, respectively, the analysts conclude.
SocGen backs a 'great rotation' out of long-duration/growth stocks in the euro-area, in favor of consumer discretionary shares, followed by oil and gas, and financials. The analysts are notably cool on U.K. equities, however. 
"We are cautious on the FTSE 250, [which is] more domestic than the FTSE 100, as it is trading above its pre-referendum level despite the outlook for much lower GDP growth and much higher inflation," the analysts write. "The FTSE 100 should benefit from its value tilt, higher commodity prices and weaker sterling. Pension deficits should be kept in mind: bond yields may have risen of late (a tailwind) but so has inflation (a headwind). These could weigh on a number of companies."
The analysts aren't alone in maintaining a positive stance on global equities while flagging the potential for rising market volatility next year, including Trump's ambitious policy agenda, elections in the euro-area, and European Central Bank 'tapering'.
Last week, Deutsche Bank AG predicted the S&P 500 would eclipse 2,250 by January of next year and reach 2,500 in 2018, citing tax cuts and an increase in bank profitability. Technicals could also push U.S. equities higher, even if the long-touted 'rotation' call — where retail investors moderate their exposures to fixed-income funds in favor of stocks — fails to pass.
For example, insider buying and buybacks — two key sources of technical demand this year — could continue to gather steam, analysts predict.
"As the cost of equity still remains high relative to the cost of debt it makes sense for companies to de-equitise — use cheap financing to buy back their own shares," strategists at Citigroup Inc wrote in a report on Monday.

Before it's here, it's on the Bloomberg Terminal.
LEARN MORE