Paul Manafort Is Back
The King of K Street is ready for the new Washington.
By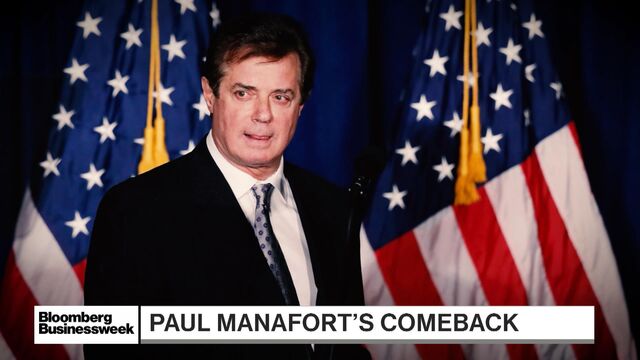 On the morning of July 18, the first day of the 2016 Republican National Convention in Cleveland, a group of reporters covering the presidential campaign packed themselves around a long table for an on-the-record breakfast with Paul Manafort—the seasoned political hand who, as chairman of Donald Trump's presidential campaign, had the unenviable task of trying to soften the candidate's rough edges. Manafort, 67, was sharply dressed, as usual. As one of the most successful lobbyists of the Reagan-Bush era, he'd developed a taste for the finer things: handcrafted Italian suits and Parisian shirts; homes in Palm Beach, the Hamptons, and Trump Tower. Now back on the scene after almost a decade out of the public eye, Manafort looked a little beleaguered. The road to Cleveland had been rocky. Trump was entering the convention without the unified support of his party, and no one in the pundit class seemed to believe he could hold himself together long enough to convince anyone he had the temperament to lead.
But over the course of an hour, Manafort calmly and steadily made a case for how and why Trump would prevail. The system, Manafort said, was "rigged." Hillary Clinton, along with elites like the people in the room, didn't understand how struggling Americans cared more about improving economic opportunity than addressing social issues. "This is an election about change," he said flatly. "We have a candidate who everybody recognizes is a change candidate, and we're running against the epitome of Establishment. I mean, you tell me any candidate—I couldn't pick one off the shelf better than Hillary Clinton to run against on change-vs.-Establishment." This wasn't just spin, he argued; it was math. His internal polling, he said, all but confirmed Clinton's inability to transcend her base. "To the 11 million voters in the several states we have to target, her profile is terrible," he said. "People don't see her as somebody who can solve the problem."
This was, many would now say, the very reason for Trump's victory in November. But that morning in July, the reporters seemed unconvinced. What, some asked, about Trump's lack of discipline, his volatility, his divisiveness? About all that, Manafort simply referenced another insurgent Republican he'd worked for a lifetime ago, at the start of his long career as one of Washington's most powerful political operatives.
"Just like with Ronald Reagan," he said, "I think once Donald Trump is accepted by the American people as somebody who can be president, I think the race is over."
Then Manafort paused, allowing a small tilt of the head and a smile.
"When that will be, I don't know."
 
 

By the time enough Americans had accepted Trump to make him our 45th president, Manafort had all but disappeared from view. He'd resigned from the campaign on Aug. 19, after one too many run-ins with the candidate about his temper and one too many exposés about Manafort's alleged ties to Russian oligarchs. His replacement, Breitbart News Executive Chairman Steve Bannon, let Trump be Trump. Since the election, Bannon's influence has only grown, with his appointment as chief White House strategist drawing attention to his ties with white nationalists and the alt-right. But during the campaign, while Bannon was making noise with the fringe and Republican National Committee Chairman Reince Priebus was greasing wheels with the party faithful, it was Manafort who had the discipline to get Trump past a dismal stretch of spring primaries and on a solid road to the nomination, articulating the message the candidate would eventually ride to victory, then stepping aside when he saw that he wasn't its most practical face.
Manafort took Trump to the mountaintop. It's a place Manafort knows well, where he still has contacts and friends. For years, he was the King of K Street, defining the modern-day cash-for-foreign-access lobbying system that Trump criticized during his campaign but has embraced during the presidential transition period. Manafort may never have the same visible role in Trump's inner circle that he once had, but he maintains strong ties with key members of the transition team and with Trump himself. It's already clear from the transition that the populist and nationalist platitudes of Trump's rhetoric are colliding with the realities of Washington. That leaves Manafort poised to return to the role he knows best in D.C.: the most influential man you'll never see.
Manafort, who didn't respond to requests to be interviewed for this story, has always worked best in the dark. In this way, he's unlike many of the other political strategists of his vintage—swashbuckling friends like Roger Stone, folksy colleagues like Lee Atwater, and canny rivals like Karl Rove. Manafort came up in Washington as a young Republican in the 1970s, the same time as Stone and Rove. As the middle-class son of a Republican mayor in New Britain, Conn., "Manafort gets the Reagan Democrat phenomena," Stone says. "That is, the swing group that elects Nixon and Reagan. This is a silent majority, the coalition of white Southerners and Northern Catholics—blue collars." After helping Gerald Ford fend off an advance by Reagan in 1976, Manafort became one of the first hires to help the Reagan campaign in 1980. Then, with his man in office, he became one of the first to cash in on his connections to the new White House.
He started a lobbying business with Stone, Charlie Black (Reagan's 1980 political director, who also launched the career of Jesse Helms), and Atwater (whose Willie Horton ad would help close the deal for George H.W. Bush in 1988). Aside from helping Republicans such as Arlen Specter and Phil Gramm get elected, the firm—which was called Black, Manafort, Stone & Atwater (later Black, Manafort, Stone & Kelly)—changed the way foreign influence worked in Washington. In 1984, when Philippine President Ferdinand Marcos needed lobbying assistance, Manafort took the contract. In 1986, when Angolan guerrilla leader Jonas Savimbi needed an introduction in Washington, Manafort was there to help. In 1998, when Nigerian dictator Sani Abacha wanted to convince Americans that he was a progressive democrat, Manafort's firm was there for him, too. "I am not one to knock honest greed," William Safire wrote at the time, "but never has rainmaking seen such moneymaking."
Through many iterations of the firm and its roster of partners, what set Manafort and his colleagues apart was the hotline they had to the White House. "Manafort, at some point, became a very valuable asset for the State Department, whom he was working with," Stone says. "If you look at all of our clients, they were all pro-Western, they were all pro-United States. They all had good relationships with Ronald Reagan and his administration." Manafort continued to work on Republican presidential races, too, managing the 1988 convention for Bush. Stone remembers bringing Trump, who'd become one of the firm's clients, into the convention's production trailer to watch Manafort in action. Manafort had known Trump since the '70s—they were said to have been introduced by the right-wing kingmaker Roy Cohn. Trump was now seeking help protecting his gambling business from the rise of Indian casinos. (Black, Manafort's old partner, remembers Trump being slow to pay his bills. "The stories you hear about him screwing subcontractors and all are undoubtedly true, but I always held out till I got my money," Black says with a laugh.) At the '88 convention, "Donald kind of just soaked it all in," Stone remembers. "And he asked a few questions—'What's the purpose of this? What's the purpose of that?' Then he kind of walked away, and he said, 'Very impressive.' He was nodding his head. He got it."
Stone says Manafort was like Trump in that they were limited-government Reaganites, not empire-building neoconservatives like Rove or Dick Cheney. But what motivated them both, more than ideology, exactly, was cash. "Paul is clearly driven by money, there's no question about that," says Stanton Anderson, one of Manafort's oldest friends, who was also his lawyer for 35 years. "He needed to make a lot of money to sustain his lifestyle."
In the '80s that was nothing to be ashamed of, especially on K Street. When Manafort was exposed later that decade for using his connections to get a $43 million U.S. Department of Housing and Urban Development grant for a developer client, he testified brazenly before Congress: "The technical term for what we do is 'lobby.' For the purposes of today, I will stipulate that, in a narrow sense, some people may term it 'influence-peddling'." That quote would dog Manafort for the rest of his career. He was never charged for any crime, but for a moment he became what he'd never hoped to be—visible, conspicuous, a target.
The HUD project was an early attempt by Manafort to set up a business for himself. There followed a real estate development company in Manhattan, which was accused in a 2011 civil suit of being a money-laundering operation for one of his international clients, the Ukrainian natural gas dealer Dmitry Firtash. The suit was dismissed, and nothing was ever proved, but it was clear Manafort was circulating with oligarchs by then. They included the aluminum magnate Oleg Deripaska, a friend of Vladimir Putin's whom Manafort introduced to both Bob Dole (whom Manafort helped to secure the Republican nomination in 1996) and Arizona Senator John McCain. Those new friendships ended up backfiring on Manafort. The problem, old friends say, arose from his connection to a longtime client, Viktor Yanukovych, an unpolished Ukrainian kleptocrat whom Manafort, Pygmalion-like, had transformed into a politician who was palatable enough to the country's voters to win a presidential election. But Yanukovych was also influenced by the Kremlin. When, in 2006, the American ambassador to Ukraine asked Manafort to get his client to stop bad-mouthing NATO, Manafort flatly refused. His friends say that was the moment he crossed over. Where once he could rationalize his work by saying he was supporting American interests abroad, doing well by doing good, he now seemed suspect.
When McCain became the Republican presidential nominee in 2008, friends recall that Manafort expected to work on the campaign, just as he had for Dole, the elder Bush, and Reagan. McCain was practically family: His campaign manager was Rick Davis, Manafort's partner at the D.C. lobbying firm, by now called Davis Manafort. But when Davis's association with Manafort's Ukraine work threatened to make him look bad, Davis disavowed everything, telling the Washington Post in 2008 that any Ukrainian connections he might have "all relate to my private business and have nothing to do with Senator John McCain." Davis kept Manafort away from the campaign, and their firm shut down. Anderson, a friend of both, says the two haven't spoken since.
"I thought Paul was permanently damaged by the international stuff," Anderson says. "I'm not sure any other candidate would have brought him back, other than Trump."
 
 

 
When Manafort joined the Trump campaign as a consultant this spring—he's no longer registered as a lobbyist—many pundits wrote him off as a has-been. Trump seemed desperate, in a slump. He'd lost primaries in Wisconsin, Colorado, and North Dakota, and got 10 fewer Louisiana delegates than Ted Cruz, even though he'd won that primary. But within a month, Manafort had engineered the departure of Corey Lewandowski as Trump's campaign manager and taken over as chairman. He righted the ship, amassing enough delegates to bring Trump the nomination. Then the narrative changed. Now Manafort was Trump's Rasputin—an oligarch whisperer who'd worked his black magic in Ukraine and now was doing it for Trump.
The media resumed the investigations into Manafort's murky Russian connections. Was he a highly paid agent of the Kremlin, scheming to alter the Republican platform to help Putin's interests? When Manafort had started consulting in Ukraine, such work wasn't stigmatized in the way it became after the 2014 Ukrainian Revolution, when outbreaks of violence resulted in the ouster of Yanukovych, then the president, who'd balked at aligning the country less with Russia and more with Europe. That Yanukovych was on the wrong side of the revolution was one thing; the bigger problem was that Manafort didn't seem to mind. "It was like he was willing to throw away the perspective that he came to that country with, the Reagan perspective," says Jeff Link, a Democratic consultant who, with David Axelrod's firm, worked for Yanukovych's opponent, Yulia Tymoshenko. Link believes Manafort must have been willing to "just walk away from that [perspective] apparently for the contract. Because I can't imagine that he embraced that ideologically."
Aside from his teenage criminal record of assault and robbery, Yanukovych was most famous for the culture of graft he instilled. "No one doubted that Yanukovych was scummy," says Andrew Weiss, who oversees Russia and Eurasia research for the Carnegie Endowment for International Peace. "He was surrounded by all these thugs and then went on this kind of rapacious push." Last summer, the New York Times seemed to connect the dots between Manafort and that corruption when it uncovered a registry suggesting that he received more than $12 million in cash from Yanukovych's political party from 2007 to 2012. There was no proof of any such transfer, just his name listed 22 times. Manafort denied he received the money.
Even if Yanukovych wasn't exactly a favorite of Putin's, his policies benefited oligarchs who are friends of Putin's. That potential conflict made Manafort a target when he joined Trump's team. Manafort, for his part, has roundly denied any connection to Russia, most recently telling NBC that the accusation was "Democratic propaganda." Asked if there's any possible truth to the notion that Trump chose Manafort because he had access to Putin and that the Kremlin was dictating policy and even hacking the opposition with Manafort's help, his old lobbying partner Black laughs. "Putin certainly knows who Paul is," he says, "and he probably figures Paul did a good job for Yanukovych." But the Trump connection isn't convincing to Black. "Putin's a celebrity. Donald's a celebrity. [Trump] doesn't stop and think through the strategic foreign-policy implications of things. He's thinking, That guy's a big dog, I'd rather be friends with him than one of these weaklings like Jeb Bush. That's just the way he thinks."
On the campaign trail, Manafort was conspicuous again, in the spotlight. He wasn't enjoying it. That, as much as the challenge of guiding Trump, may have motivated him to step aside. Since then, he hasn't gone away so much as reverted to form, working behind the scenes. In the campaign's final weeks, he was in close touch with Trump; Politico reported that Manafort helped the campaign develop a strategy to exploit the news when James Comey announced, 11 days before the election, that the FBI was looking at a new trove of e-mails from the private server Clinton operated as secretary of state. In the closing days, according to Politico, Manafort encouraged Trump to go after blue-collar votes in Michigan, which he did. Manafort's advice, and his loyalty, proved useful until the end.
 
 
After the selection of Mike Pence as Trump's running mate, Manafort said he believed Pence could do for Trump what James Baker III did for Reagan: introduce the outsider to Washington and help him through the transition. It was another perfect prediction. Pence indeed is running Trump's transition. A source close to Manafort says he's in regular contact with the vice president-elect, as well as with Trump's attorney general pick, Jeff Sessions, the Republican senator from Alabama and a Trump supporter and confidant. (Manafort and Sessions have known each other since the '70s.) And Manafort is also close with Tom Barrack, the billionaire founder of Colony Capital, who has a spot at the top of Trump's inaugural committee.
Friends say Manafort wouldn't want to become a lobbyist again or to have a concrete role with the administration; that would be too confining. But the Washington that Trump's team will govern in is a place Manafort understands and had a strong hand in shaping. It's a matter of time, perhaps, before his particular set of skills will be put to use again. And given the Trump team's apparent warmth toward Russia, there should be plenty for the King of K Street to do—and plenty of money to be made doing it.
The night of Nov. 8, Stone got a text from his old friend, at the exact moment one of the news outlets was calling the race for their man. The message was just four words: "How sweet it is."
Before it's here, it's on the Bloomberg Terminal.
LEARN MORE