Investor Who Backed Brexit Sees Euro Breaking Up Within 5 Years
By
Italy's place in the euro will become suspect with a 'no' Vote

Euro as it stands is an inappropriate mechanism, Mellon Says
Jim Mellon stood out among investors in 2016 as a rare, public backer of Britain's exit from the European Union. Now, the chairman of the Burnbrae Group is forecasting another breakup.
Mellon, who was cited as a supporter of the "Leave" campaign by pro-Brexit lawmaker Michael Gove, predicts the euro will become a future casualty of a rising anti-establishment tide, causing the currency union to splinter within the next five years.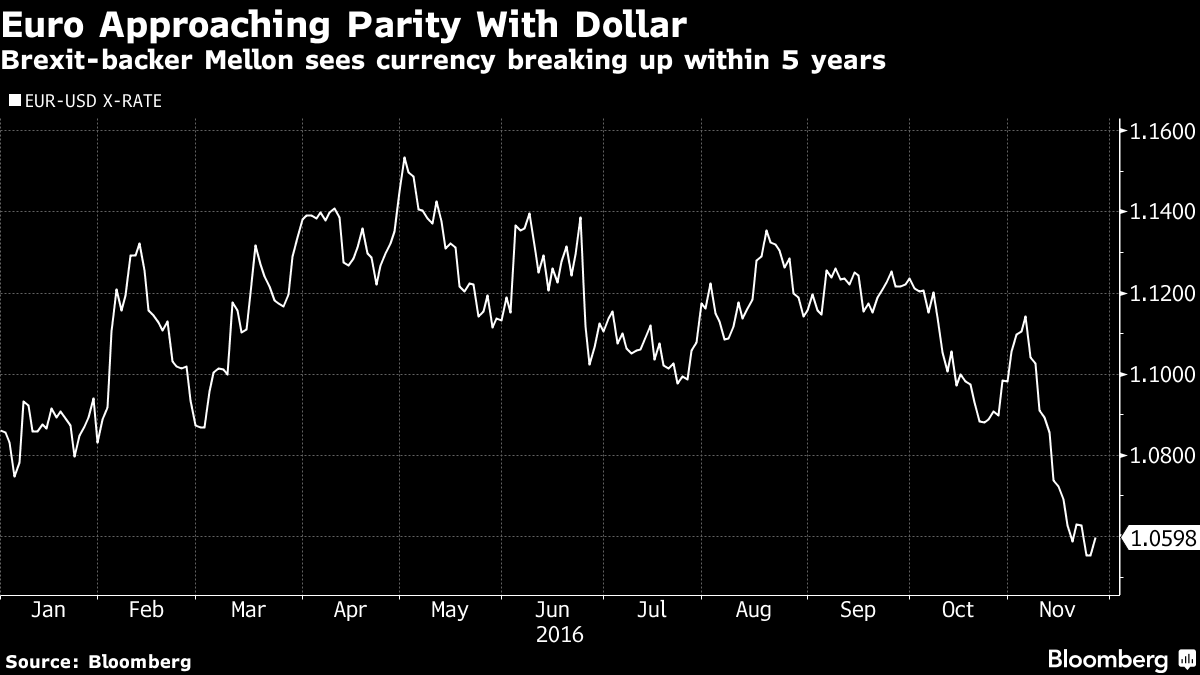 "Brexit is going to be a sideshow to the problems of Europe that are becoming more and more evident," Mellon said. "The euro as it stands at the moment is just a very inappropriate mechanism -- I give the euro between one and five years of life."
The U.K.'s referendum, and Donald Trump's victory in U.S. election this month, signaled the gathering pace of populism across the world. Now there's growing speculation Italy's referendum in December, and the elections in France in 2017, might result in more political upsets in Europe, causing some investors to question the future of the euro. That said, predicting the demise of the single currency is hardly a new phenomenon -- in 2014 Citigroup Inc. said there was a 90 percent chance of Greece leaving the bloc, a call it abandoned this year.
The euro was at $1.0646 as of 7:02 a.m. London time after touching $1.0518 last week, the lowest since March 2015. Mellon expects the currency to fall below parity "sometime over the next year," although is not actively selling the currency because of the chance of a short-term bounce.
Italian Bonds
That means, with the Italian referendum approaching on Dec. 4, Mellon is instead selling the country's government bonds. The Italian 10-year yield climbed to 2.23 percent on Nov. 14, the highest since July 2015, but still remains below its five-year average of 3.24 percent. As well as the looming referendum, the bonds have been hurt by a global sell-off in fixed income assets which has seen yields across the world climb from record-low levels.
"I have been a very big seller of any government bonds this year, anywhere basically, but my favorite are the Italian bonds," Mellon said. "Everyone who participates in this stupid bonds market should know that there is a serious duration risk. If you buy something for a very long period with no interest rates, you are going to get your head handed to you at some point."
For a Q&A on why Italy's vote is unlikely to mean a swift euro exit, click here.
Mellon said he "had a good day" after the Brexit vote and his trades have returned almost 25 percent this year, but declined to provide further details of his performance. Before the EU vote he said that the pound could drop to as low as $1.32 following a Brexit. The currency tumbled to as low as $1.1841 last month, and was at $1.25 on Monday.
Follow @Brexit for the latest news, and sign up to our Brexit Bulletin for a daily roundup.
Five months after Brexit, the outlook for sterling remains "pretty good" and "the worries about the sky falling" in aren't materializing, according to Mellon.
"You have to trade both ways, you can't just say I am going to be a seller, you also have to become a buyer," he said.
Before it's here, it's on the Bloomberg Terminal.
LEARN MORE