Angela Merkel Isn't Buying Into the Post-Truth Era
By
Germany's anti-immigration AfD has strong support on Facebook

Far-right parties "communicate from the bottom up" online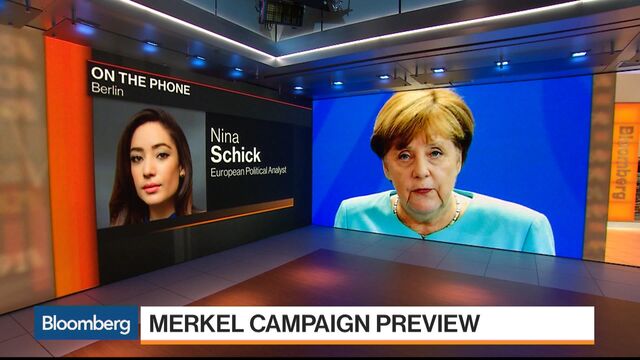 After watching Hillary Clinton get blindsided by the viral spread of Donald Trump's populism, German Chancellor Angela Merkel is scrambling to figure out how to win voters in an era when online fiction increasingly drowns out fact.
"We shouldn't underestimate what's happening on the Internet," Merkel said in a speech to parliament Wednesday introducing the themes she'll address in the campaign. "Opinions today are formed differently than 25 years ago. Fake pages, bots, and trolls can distort views."
Merkel's primary concern isn't her party's strongest rival, but the most virulent. A newcomer called the Alternative for Germany, which came from almost nowhere two years ago to win seats in 10 of Germany's 16 state parliaments, aims to establish itself as a national movement. The AfD, as it's known in German, has hit the chancellor hard with its anti-immigration, anti-globalization platform, and is effective in using social media to rally its supporters.
The AfD has some 300,000 likes on Facebook, more than the chancellor's CDU party and its coalition partner combined (though Merkel herself has 2.3 million). The tone echoes Trump's rhetoric during the campaign: AfD members chide the "lying press" for misleading voters, call Merkel's 11 years in office a "dictatorship," and rail against her open-border policy that has seen more than a million refugees arrive in Germany in the past two years.

The campaign will take place in a media landscape that's changed dramatically from the last election, in 2013. By next year, Germans will spend more time online than watching TV, according to researcher eMarketer Inc., and social networks have become echo chambers where opinions are more often reinforced than challenged. And Breitbart News, the conservative website whose former head Stephen Bannon is a top consigliere to Trump, is planning to expand into Germany to capitalize on growing nationalist sentiment.
"Political support on social media is shifting," said Werner Patzelt, a political scientist at Dresden's Technical University. "The AfD and similar groups are so popular on Facebook because they communicate from the bottom up, instead of top-down like the established parties."
In her address to parliament, Merkel urged lawmakers to help Germans counter fake news online and voiced support for regulations to rein in hate speech. She believes German populism has different roots than similar movements elsewhere, said a person close to the chancellor. One party official, who declined to be named discussing campaign strategy, said the CDU is bracing for attacks and plans to boost the number of staffers who monitor and respond to hateful posts targeting Merkel. But campaign manager Klaus Schueler insists Trump's success in the U.S. won't alter how Merkel's party approaches the election.
"I've never thought we need to change our campaign strategy based on insights from other countries," Schueler said.
It's unclear how much of the AfD's online backing will translate into votes. The party has garnered 13 percent in recent polls, versus 33 percent for Merkel's conservative bloc. And some of its likes and comments come from fake profiles and a small number of users who are online for hours every day, said Simon Hegelich, a political scientist at Munich's Technical University.
'Dangerous Witch'
While Merkel does live interviews with party insiders on Facebook and sends out a weekly video blog in which she explains her policies, she's hardly a blockbuster presence on social media. At times, her page sees just one post per week. The AfD, by contrast, publishes photos of its candidates with short, snappy texts multiple times daily. These typically draw thousands of likes, and supporters respond with comments that deride Merkel as, for instance, a "super-dangerous old witch" or as someone who "deserves to be thrown in the slammer."
"We want to reach people who are tired of mainstream media," said AfD spokesman Christian Lueth. "We let people discuss freely, speak of issues that other parties refuse to allow and generally don't delete content."
That hands-off attitude, combined with algorithms that show readers content they're likely to agree with, can be expected to put many German voters into a bubble that fortifies their prejudices instead of fostering diversity, said Kai Arzheimer, a political scientist at the University of Mainz.
"Browse for an hour and you're in a very dark parallel world," Arzheimer said. "Extreme far-right sites are just a click or two away."
— With assistance by Arne Delfs
Before it's here, it's on the Bloomberg Terminal.
LEARN MORE