Photographer: Alessia Pierdomenico/Bloomberg
Italian 'Yes' Vote Won't Solve Nation's Problems, Investor Says
by
Reforms would give winner of 2018 election 'free rein': ABN

Italy-Germany yield spread 'attractive' over 200 basis points
A win for Italy's Prime Minister Matteo Renzi in next month's constitutional reform referendum won't necessarily lead to a straightforward, positive outcome for the nation's bonds, according to ABN Amro Private Banking.
Italian sovereign securities tumbled in the wake of Donald Trump's surprise victory in the U.S. presidential elections this month, on concern that the nation could be next in line when it comes to anti-establishment movements. The same could happen regardless of the outcome of the Dec. 4 vote.
That's because the reforms would give "free rein" for the winner of general elections scheduled for early 2018, said Mary Pieterse-Bloem, the Amsterdam-based global head of fixed-income strategy and portfolio management. The victor could be the anti-European Union Five Star Movement, given Renzi's wavering popularity, she said.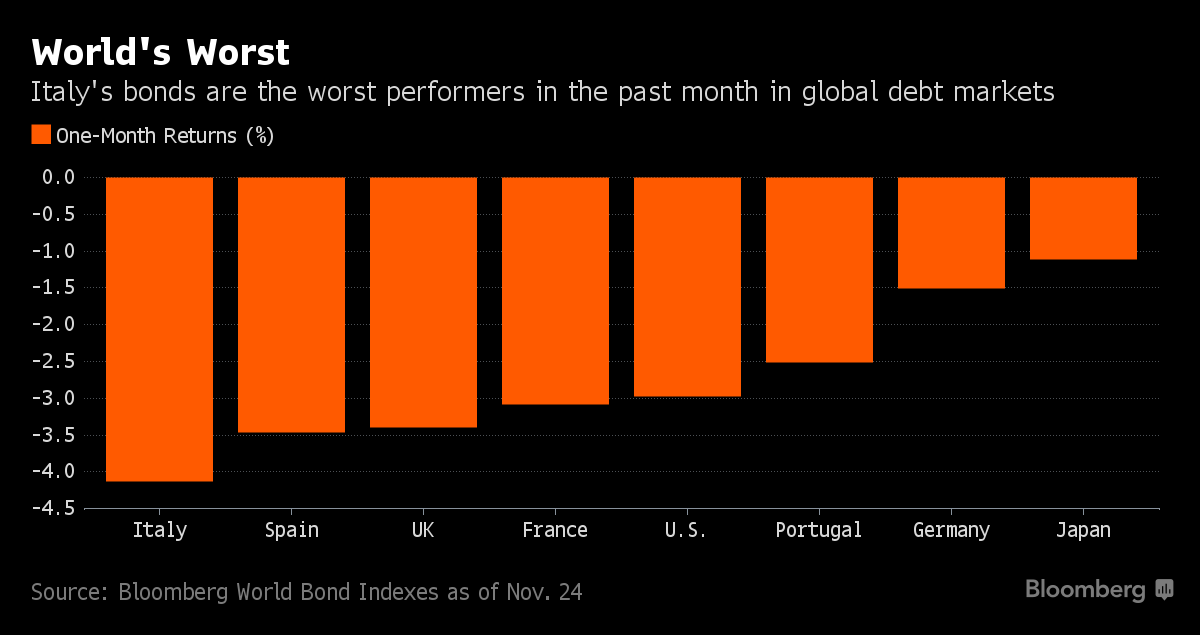 After the U.K.'s shock decision in June to leave the EU, Pieterse-Bloem's funds swiftly changed course by going "severely underweight" from neutral on Italian sovereign bonds, switching into inflation-linked securities instead. ABN Amro has approximately 190 billion euros ($202 billion) in assets worldwide, of which about 40 percent is invested in bonds. An underweight position means that a fund holds fewer of the securities than contained in the benchmark it uses to track performance.
"It was quite a substantial move in our portfolio," she said. "We did this in July because we saw the referendum in Italy coming, very few people were talking about it at that stage."
Italy's referendum is a "barometer" where "for the first time we will be able to see whether the populist undercurrent with the Brexit vote and the Trump vote is going to wash ashore continental Europe," Pieterse-Bloem said.
Spread Widens
The yield difference between Italian 10-year bonds and benchmark German securities is 186 basis points, approaching the high reached after the U.K.'s Brexit decision was known. A "no" vote could widen the spread to more than 200 basis points, a level not seen since October 2014.
"Then we think Italy is a buy," she said. "Above 200 basis points, Italy starts to look attractive to us." But positioning is "a lot more difficult in the case of a "yes" vote."
Renzi's ambitious plans to overhaul the Italian constitution are intended to push reforms through faster and lend some stability to politics in a nation that has seen more than 60 governments since the second World War. Yet it also means whoever wins the 2018 general elections will face little opposition to decisions they take.
Temporary Relief
When the constitutional referendum was announced in 2014 Renzi's popularity rating was much higher. Since then the wave of populism in developed economies means he now he has to contend with the likes of the Five Star Movement which favors a euro referendum. Whether it means an outright exit is anyone's guess but the party has said it could call another "consultative referendum."
The relief rally on a vote supporting Renzi's reforms could be temporary "if what lies in store is a very adverse outcome in the election that comes thereafter. That's a very interesting thought because a "no" vote will actually be the same, business-as-usual in Italy," Pieterse-Bloem said.
Obstacles to legislation and prospects of an early elections aside, in this scenario, "it's perhaps less of a chance, ironically, that Italian voters will get the chance to go to a referendum on the euro zone, and that I think is the real difference between the two outcomes," she said.
Before it's here, it's on the Bloomberg Terminal.
LEARN MORE