Fillon Defends Anti-Abortion View in Final French Primary Debate
By
Juppe losing in polls as primary fight enters home stretch

Republican nominee seen going on to contest with Marine Le Pen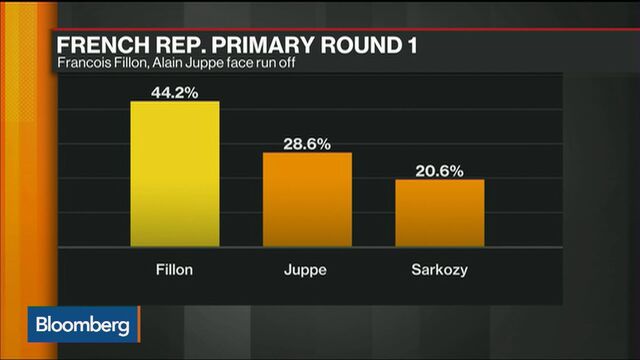 Abortion took center stage in the final debate of the French Republican primary as front-runner Francois Fillon defended his anti-abortion views as personal and not public, and his rival Alain Juppe went on the attack.
Three days before Republican voters pick their 2017 presidential candidate, the fact that an issue that was formally settled as a matter of law in France in 1975 became a focal point shows that it is social not economic policies that differentiate the two former prime ministers.
Click her for more on Fillon, who jumped at the top of the presidential race.
"As a politician for 30 years, have you once heard Francois Fillon suggest that the right to interrupt pregnancies should be renounced?" Fillon said. "Haven't I, over 30 years, voted for every law that has given women access to abortion? The response to your question is that obviously I won't touch anything in this domain."
In France, the separation of church and state has been an enshrined legal principle for more than a century. It is revealing of the heightened state of the political climate that Fillon had to defend his position as a practicing Catholic while accepting French secularism. He jumped to pole position after winning 44 percent of the vote in the first round of the primary on Sunday.
Read more here about why social issues dominate the presidential debate.
There is little separating Juppe, who had dominated in opinion polls for months before this week's vote, from Fillon other than degrees of social conservatism. That meant Juppe was left trying to paint Fillon as a hypocrite for a large chunk of a two-hour confrontation in an effort to regain lost ground.
"You wrote in a book that for you, abortion is a fundamental right of women, you voted for a text that said the same thing, then several weeks after in a public meeting you said the opposite," Juppe said. "That's why I asked you what your position is."
Juppe, 71, won 29 percent of the vote Sunday in a contest that eliminated former President Nicolas Sarkozy and four other candidates. The second and final round of voting takes place this coming Sunday.
"Alain Juppe passed his evening excusing himself for having attacked Francois Fillon," consultant Philippe Moreau Chevrolet said on Twitter.
With incumbent Socialist President Francois Hollande near record lows in popularity for any French leader, whoever wins on Sunday is likely to go on to face off against Marine Le Pen, leader of the anti-immigrant, anti-euro National Front, in the final round of the election itself next May.
Juppe's Collapse
The collapse of Juppe has been staggering. An Odoxa survey released Tuesday said Fillon would garner 65 percent of votes to Juppe's 35 percent, though interviews were done over the weekend before the results of the first round were known. An OpinionWay poll of first-round voters conducted Sunday also projected a win for Fillon, by 56 percent to 44 percent. Voting in the second round doesn't require having voted in the first round, and there's no obligation to vote this Sunday for those who voted last week.
Juppe, currently mayor of Bordeaux, continued his pitch to centrist voters in the Thursday evening debate, pitching his desire to "unite" all French citizens in a nation that is "happy and proud of its identity and its diversity." Fillon directly targeted Le Pen, saying his ambition is to repair the country and "to reduce the number of French tempted by the far right." He was unabashed about his view of France saying "we won't globalize our culture."
Le Pen has consistently led in voting intention polls for the first round of the 2017 presidential election, though the vast majority of surveys show her losing the second round of voting to a mainstream candidate. The election is scheduled for April 23 and May 7.
"Francois Fillon does pose a problem for the National Front," said Brice Teinturier, a pollster at Ipsos in Paris. "He embodies positions on values that may well win over some National Front voters. Yes, he might even beat back the National Front."
— With assistance by Geraldine Amiel
Before it's here, it's on the Bloomberg Terminal.
LEARN MORE