ECB's Stournaras Says 'Far Too Early' to Discuss QE Tapering
by
Bank of Greece chief says ECB accommodative policy to continue

ECB is still long distance from inflation goal, he says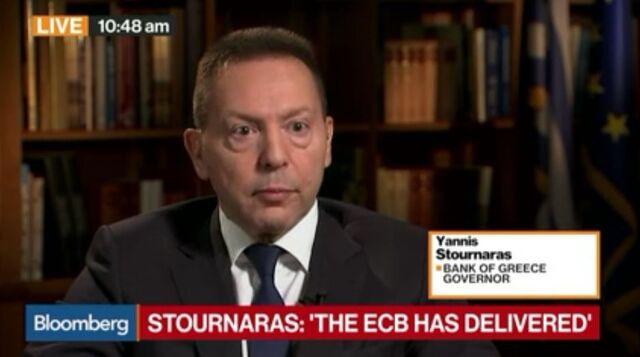 The European Central Bank has a long way to go to meet its inflation target so it's "far too early" to discuss the gradual removal of monetary stimulus, Governing Council member Yannis Stournaras said on Friday.
"Of course monetary policy will continue to be accommodating until inflation is at a desirable level, which is 2 percent or slightly lower," Stournaras, 59, who is also the governor of Greece's central bank, said in a Bloomberg TV interview with Guy Johnson in Athens. "There is still long distance from this target."

Monetary policy has made a "quite substantial" contribution to the fact that inflation rate in Europe is rising and growth is better than before, he said. The ECB has delivered on its goal even though "sometimes markets are very impatient, they want it delivered now," according to Stournaras.
The Governing Council faces a decision on Dec. 8 whether to extend a 1.7 trillion-euro ($1.8 trillion) quantitative-easing program beyond the current deadline in March. While President Mario Draghi said this week that the recovery remains reliant on continued monetary support, some policy makers believe the ECB may have room to put off some decisions on the future of its bond-buying program until early next year.
"ECB takes a long term stance, you must have trust in the ECB," Stournaras said. "We're doing the right thing and on the eighth we are going to discuss the situation, the new forecast and then we'll decide what to do."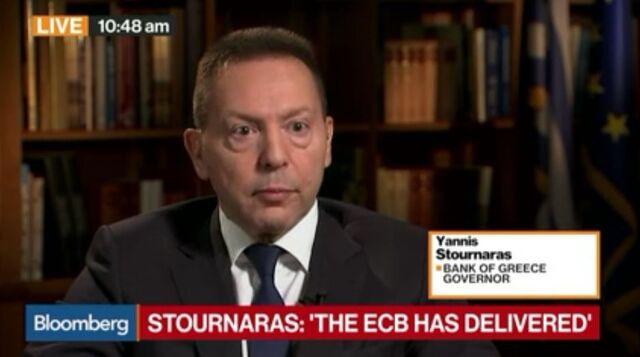 Inflation Goal
With euro-area inflation currently running at 0.5 percent, the Governing Council has not discussed "at all" whether to let it exceed the target for some time once it gets there, Stournaras said. The gauge has undershot the goal for more than three years and the new forecast will for the first time show how the consumer price growth could develop through 2019.
Turning to the Greek economy, Stournaras said the worst was over and both fiscal and macroeconomic situation was now much better than a year ago. While banks are well-capitalized and well-provisioned, "the big task" remains to bring down the stock of non-performing loans, he said.
Greece, in its third bailout since 2010, is struggling to right its economy, which has contracted by a quarter since the start of the crisis. A second review of the country's latest rescue program will pave the way for a possible restructuring of Greece's debt, which the International Monetary Fund says is a necessary condition for its future involvement.
While the latest round of talks in Athens between the government and bailout auditors concluded with parties failing to reach an agreement, conditions were still in place for a deal before the Eurogroup meeting of euro-area finance ministers on Dec. 5, government spokesman Dimitris Tzanakopoulos told reporters on Tuesday.
Stournaras said Greece was very close to "debt sustainability" and he didn't believe that measures needed to achieve that goal were that severe. As the European Union faces elections in key member states next year, including France and Germany, the sooner the decision is reached, the better, he said.
"Government is very close to closing the evaluation," Stournaras said. "So I hope that on the fifth there is going to be a white smoke."
Before it's here, it's on the Bloomberg Terminal.
LEARN MORE