Black Friday Limps Toward Oblivion as Online Shopping Takes Over
By and
Earlier deals and mobile devices rob event of its luster

Fewer lines: 'I've never seen a Friday morning be this quiet'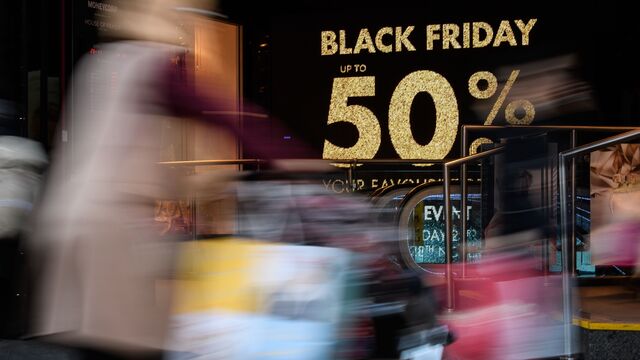 The decades-old retail tradition of Black Friday limped closer to obsolescence this year as online shopping and earlier discounts kept many brick-and-mortar customers at home.
E-commerce orders surged on Thanksgiving, the day before Black Friday, eliminating the need for shoppers to wait in long lines and fight for deals at physical shops. For consumers who did want to visit shopping centers, many stores were offering deals on Thursday evening.
Online sales on Thanksgiving and Black Friday rose about 18 percent to to $5.27 billion, according to Adobe Systems Inc. Meanwhile, data from researcher ShopperTrak showed that consumer visits to physical stores those two days fell 1 percent from a year earlier. Smartphones and tablets have made it easier for consumers to shop from the couch, and many more of them are now doing just that. Revenue generated from mobile devices rose to $1.2 billion on Black Friday, a 33 percent surge from a year earlier, according to Adobe.
"I've been doing this for 40 years, and I've never seen a Friday morning be this quiet," said Marshal Cohen, chief industry analyst at NPD Group. "Thursday has stolen Friday, there's no question about it."

Wal-Mart and other chains also are steering customers toward their web deals. While Wal-Mart still offers Black Friday specials at its supercenters, the day marks the beginning of a streak of online promotions called "Cyber Week." The world's largest retailer has tripled its e-commerce selection to 23 million products this year, aiming to better compete with Amazon.com Inc. Wal-Mart said Friday that Thanksgiving was one of its top online-shopping days this year and that about 70 percent of the traffic to its website came from mobile devices.
Squeezing Margins
Target Corp., meanwhile, is offering 15 percent off almost everything in its stores and website for two days: Sunday and Monday. The aggressive discounts come at a cost. When Target slashed prices last holiday season, its profit margin slipped to 27.9 percent from 28.5 percent. The retailer said that Target.com saw double-digit growth on Thanksgiving, driven by deals on electronics like televisions and Apple products.
Amazon said on Friday that mobile orders on Thanksgiving topped last year's holiday and Cyber Monday combined. Black Friday is on pace to beat last year in terms of items orders. Top-selling items include Instant Pot cookers, Hasbro Inc.'s Pie Face game and Amazon's Alexa devices.
Thanksgiving eve is becoming a bigger shopping day too. On Wednesday, three times as many people were browsing online at retail sites compared with a year ago, according to Rakuten, which tracks online behavior through the e-commerce platforms it provides. This comes after EBay Inc. made a plea for consumers to start shopping on their phones that day by christening the event "Mobile Wednesday."
Spreading Out
"For the last few years, there's been an extension of the Black Friday online shopping behavior," said Tony Zito, chief executive officer of Rakuten Marketing. "It moved aggressively into Thanksgiving, and now it's gone into Wednesday."
Cowen & Co. estimates that Black Friday store traffic is down 3 percent to 4 percent, while online traffic is up 20 percent -- mostly on mobile devices.
And for those who do venture out to stores, spending isn't always top of mind. Kyleigh Garrison went out with her mom on Thanksgiving out of habit and visited the Friendly Shopping Center in Greensboro, North Carolina, on Black Friday to keep a friend company. The 25-year-old, who works at a cheerleading and dance company in Memphis, made her main purchases online on Wednesday.
"My mom and I, it's our little tradition to come out on Black Friday or the night before," Garrison said.
Lottery Approach
Realizing that fewer people are willing to join Garrison, chains have resorted to lottery-type offerings to lure shoppers to stores. J.C. Penney Co. was giving away $500 coupons, while Gap Inc.'s Old Navy touted the chance to win $100,000.
The National Retail Federation estimates that about 137.4 million consumers will make purchases in stores or online over the four-day weekend that started on Thanksgiving. But the amount that Americans have spent has declined in the past three years, slipping 26 percent from 2013 to an average of $299.60 per person in 2015.
That's a sign that holiday purchases are spreading out over a longer time frame. Spending during the overall season -- November and December -- is still expected to grow 3.6 percent to $655.8 billion, the NRF estimates.
One thing giving retailers optimism this year: There may be pent-up demand after a polarizing presidential election. Many chains, including Kohl's Corp., Gap and Barnes & Noble Inc., blamed the campaign season for hurting spending. With the outcome settled, they're expecting the dollars to finally flow.
Olivia Daniels, a 34-year-old who was shopping at a Best Buy store in Brooklyn at 5 a.m. on Friday, was optimistic about the effect Donald Trump's presidency might have on the economy.
"Let's see what he does," said Daniels, who currently isn't working.