Trump Expected to Pick Ross for Commerce Job, Person Says
By and
Wilbur Ross known for restructuring deals in steel, coal

Cubs co-owner Todd Ricketts said to be likely Ross deputy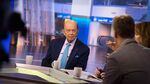 President-elect Donald Trump is expected to nominate as secretary of commerce investor Wilbur Ross, who became a billionaire by acquiring and restructuring troubled companies, according to a person familiar with the transition planning.
Todd Ricketts, co-owner of the Chicago Cubs baseball team, is in line to be appointed as Ross's deputy, the person said.
It's not clear if Trump has formally offered the jobs. Reached by phone, Ross declined to comment.
Ross would oversee a sprawling agency of almost 47,000 employees across the U.S. and around the world that describes itself as "the voice of U.S. business within the President's Cabinet."
Ross, 78, was a longtime Democrat who turned conservative and backed Republican presidential nominee Mitt Romney in 2012. He emerged as an advocate for Trump's trade and economic agenda when the real-estate developer was still seen as a long shot against Democrat Hillary Clinton, and denounced Romney for criticizing Trump.
Read more: Ross page in Bloomberg Billionaires list
Ross, in an interview with CNBC in June, called for "a more radical, new approach to the government" to help middle-class and lower middle-class Americans who have "not really benefited by the last 10 to 15 years of economic activity and they're sick and tired of it."
Ross's seminal deal, starting in 2002, cobbled once-iconic steel-making companies into International Steel Group Inc., the U.S.'s then-second largest integrated steelmaker. He and his backers in 2004 announced the sale of the Ohio-based firm for about $4.5 billion to Indian-born, U.K.-based steel billionaire Lakshmi Mittal, reaping more than an eightfold profit of about $2.9 billion.
Ross also put together deals in the coal mining, automotive parts, and textile industries, among others.
Ricketts is an influential Republican donor who gave money initially to help presidential contender Scott Walker, but later gave to outside groups supporting Trump. Ricketts serves on the board of TD Ameritrade Holding Corp. Ricketts, 47, met with Trump and Vice President-elect Mike Pence for about an hour on Saturday at Trump's home in Bedminster, New Jersey.
When reporters asked Trump if Ricketts would be in his cabinet, Trump answered: "We're going to see, we're going to have a lot of great talent."
Brian Baker, a spokesman for Ricketts, declined to comment in an e-mail Thursday.