Greek Discontent Brushed Off as Investors Bank on Debt Relief
by
Public sector workers strike Thursday to protest labor reforms

Bonds head for best month since March; bank stocks rise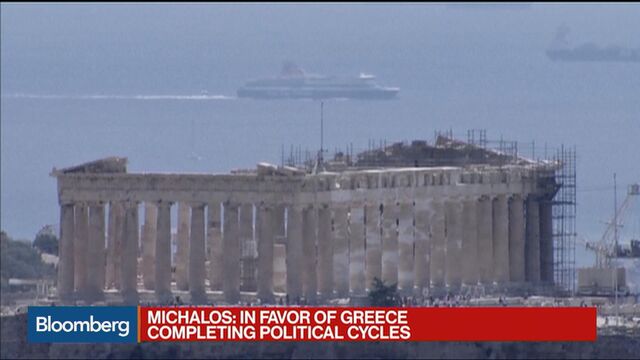 A public sector strike in Greece is doing little to dampen investor optimism about a debt-relief deal for the country.
Greek markets are rallying on expectations creditors may finally ease the country's debt burden. Greek bonds are headed for the best month since March, while bank stocks have risen about 30 percent since Nov. 15. Opposition at home -- including the strike on Thursday -- has not eroded confidence Prime Minister Alexis Tsipras will push through the measures needed to complete the latest bailout review in return for a lightening of Greece's debt load.
"The ball is now in the creditors' court," said George Pagoulatos, a professor at the Athens University of Economics and Business. "Domestic tensions are to be expected as the deal approaches, but it's calm compared to other periods. Tsipras already crossed the Rubicon in previous bailout reviews so Greeks know what to expect."

Euro-area finance ministers will discuss short-term measures for easing repayment terms on Greek debt, which accounts for more than 170 percent of its economic output, during a meeting on Dec. 5. For the International Monetary Fund to stay on board -- a key demand of countries like Germany and the Netherlands -- such a deal must assuage the fund's doubts about the viability of Greece's medium-term fiscal targets.
Still, Germany's finance ministry, a hard line opponent of Greek debt relief, on Wednesday denied a Sueddeutsche Zeitung report that creditors would meet in Berlin on Friday to resolve how to get the IMF involved in the program. It came after the latest talks between Greece and creditor institutions wrapped up in Athens without agreement on several fronts, including labor market reforms and fiscal measures beyond 2018.
Labor Protests
Public sector workers are staging a 24-hour strike and protests on Thursday, disrupting schools and government services. The public sector union Adedy called the strike to protest against the capitulation it says the government will make to IMF demands to make it easier for firms to lay off workers. The government has said it won't liberalize labor markets.
Tsipras needs some kind of victory to sell to Greeks to shore up his hold on power, with polls showing the opposition New Democracy party would win comfortably if elections were held now. A Nov. 7 survey of voter intentions showed New Democracy at 30 percent, compared with 15 percent for Tsipras's Syriza party.
If the reports of a creditor meeting before Dec. 5 to discuss Greece's debt prove true, "then it means that they must see the conditions for success," according to Pagoulatos. A good outcome for Tsipras might include more short-term debt relief than expected and a high degree of specification of medium-term relief, even if it's conditional on Greece's continued bailout compliance, he said.
Market Rally
The yield on benchmark 10-year bonds was little changed at 6.92 percent on Wednesday, it's lowest since 2014, after dropping below the 7 percent mark on Monday -- symbolic since it's the level above which a country was seen to need a bailout early in the euro-area debt crisis. The Athens Stock Exchange index has risen 7 percent in November, led by gains in Piraeus Bank and Eurobank.
The rally is also being fueled by relatively strong economic and fiscal data. Greece's budget performance through October has beaten its primary surplus target, gross domestic product grew for a second quarter in the three months to November, and the unemployment rate has been on a three-year downward trajectory, even if it remains the highest in the euro area at 23 percent.

Those numbers led the government to submit its 2017 budget to parliament this week foreseeing a budget surplus before interest payments of 2 percent next year, higher than its bailout target. That target rises to 3.5 percent in 2018, and Greece's ability to maintain it at that level is a source of three-way friction between the government, its European creditors and the IMF. Greece's government spokesman Dimitris Tzanakopoulos on Tuesday implied to reporters that the fund was throwing obstacles in the way of completing the review.
Brexit Effect
"The IMF should have the courage of its convictions," he said. "If it thinks the surpluses projected for the Greek economy are extremely high, and it thinks new austerity measures would cause a recession, something the Greek government also thinks, it should say so openly."
The political fallout to Europe from Britain's June referendum decision to leave the EU has increased the incentive for policy makers to address the Greek debt issue so they can move on to other problems, like a fiscal plan for the region, according to Alberto Gallo, portfolio manager and head of macro strategies at Algebris Investments.
"Europe is in a much tougher spot," Gallo said. "The fact that you have Brexit has pushed people to get on with it and effectively solve the problem rather than add it to the wall of worry."
Before it's here, it's on the Bloomberg Terminal.
LEARN MORE