Brexit Bulletin: The £59 Billion Reckoning
Blame Brexit for almost half the extra borrowing needed over the next five years.
by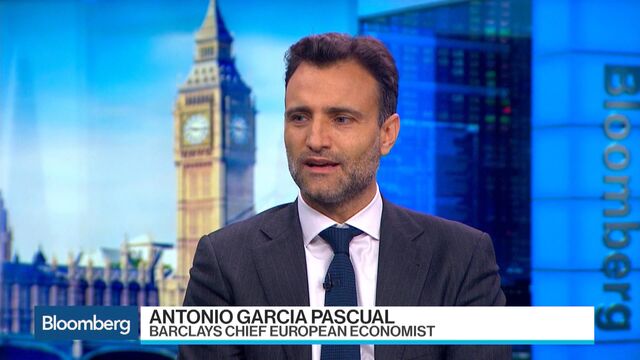 Sign up to receive the Brexit Bulletin in your inbox, and follow @Brexit on Twitter.
The Brexit bill is in.
Some £58.7 billion, or almost half of the £122 billion in extra borrowing the government will need over the next five years, is directly related to Britain quitting the European Union, the official budget watchdog said yesterday as Chancellor of the Exchequer Philip Hammond recalibrated fiscal policy.  
Lower migration alone -- a key goal of Brexit campaigners -- will add £16 billion pounds to borrowing through 2020-21, while weaker productivity accounts for £18.1 billion and higher inflation, £10.1 billion. Last year, being an EU member cost the U.K. a net £8.5 billion.

The independent Office for Budget Responsibility predicted the economy will expand 1.4 percent next year, weaker than the 2.2 percent anticipated in March. It assumed that Brexit will slow trade over the next decade and that migration will still not be reduced to the "tens of thousands" sought by the government.
Potential Pain
The watchdog also calculated Brexit would subtract 2.4 percentage points from the economy's growth potential over the next five years. 
John Springford of the Centre for European Reform reckoned that Brexit would leave the economy 3.2 percent smaller in 2030 than had voters chosen to stay in the EU.
"In the long-term then, Brexit means lower spending or higher taxes," Springford said in a report. "The key political question is who will be at the receiving end of these measures."
Echoing this week's warning from the World Bank that those who backed Brexit were unlikely to benefit from it, Springford said "people on lower-incomes will suffer further welfare and public service cuts in the future."
Pro-Brexit Outrage
Pro-Brexit lawmakers attacked the OBR's outlook, accusing it again of being overly pessimistic. 
"The OBR are probably still quite wrong about 2017," said Conservative John Redwood. "Their forecast is too low, their borrowing forecast far too high and we will get good access to the single market once we're out of the EU."
Steve Baker, who led the Conservatives for Britain leave campaign, questioned the watchdog's track record. It lifted its growth estimate to 2.1 percent for this year from 2 percent in March.
"Recent pessimistic economic forecasts have been consistently wrong," said Baker. "I welcome confirmation there will be no post-vote recession after all."
Patrick Minford of Cardiff Business School was more scathing as he argued leaving the single market would boost the economy by 4 percent and that unskilled migrants cost £6.6 billion a year.
"Because they have not worked out yet why they got it so wrong before and after the referendum, they will continue to have to make humiliating u-turns."
Hammond acknowledged economic forecasting is "not a precise science" and noted the OBR accepted "there is an unusually high degreee of uncertainty."
The finance chief himself won some praise, having run into criticism at the weekend for being excessively bearish about Brexit Britain.
Former Chancellor Nigel Lawson, who campaigned for Brexit, told Sky News that his successor no longer sounded like "the guy who was gloomy about everything."
Project Fear Was Right?
The OBR's deficit projections may be irritating the pro-Brexit lobby because they run close to what then-Chancellor George Osborne was projecting before the referendum.
Osborne said on June 15 that the public finances would take a £30 billion hit if Britain voted to leave the EU. The OBR now predicts the U.K. will have to borrow £21.9 billion in 2020, compared with a £10.4 billion surplus predicted in March.
On the Markets
U.K. government bonds fell, with 10-year gilt yields rising the most in almost a month, as Hammond planned to borrow more to increase spending. 

Property developers like Persimmon and Berkeley Group initially soared after Hammond announced £1.4 billion in funding for housing. Shares of Foxtons tumbled as the chancellor proposed banning administrative fees for home renters. 
And Finally…
Harden's London's Restaurants this week estimated 200 new eateries opened their doors in London in the 12 months to September, the most in the 26 years it has been surveying the scene. (A record 76 establishments also closed during the period.)
Des Gunewardena, chairman of D&D London, which owns more than 25 bars and restaurants, said 2016's success had much to do with the economic optimism of 2015. 
"There is a more sober mood now, post the Brexit vote," he said. "With the prospect of rising food, salary and property costs I don't see 2017 being a boom year for openings."
For more on Brexit follow Bloomberg on Twitter, Facebook and Instagram, and see our full coverage at Bloomberg.com
Before it's here, it's on the Bloomberg Terminal.
LEARN MORE