Austerity Rules Brexit Britain as Hammond Refuses to Splurge
By and
Slower growth, higher borrowing forecast in coming years

Hammond softens austerity, but maintains 'fiscal discipline'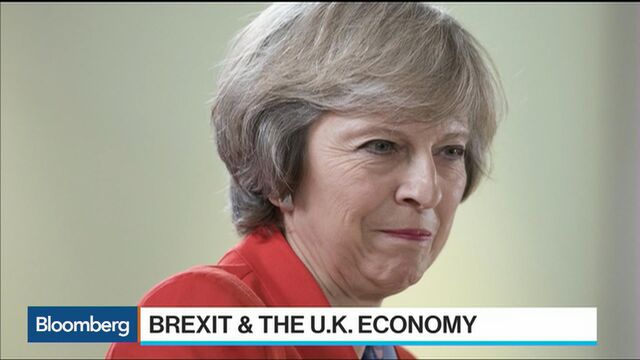 U.K. Chancellor of the Exchequer Philip Hammond's promised "reset" turns out to mean continued austerity, just a little bit lighter than before.
In his first major fiscal event since the country voted in June to leave the European Union, Hammond said economic growth will be slower and borrowing higher in the coming years as Brexit takes its toll.

While he relaxed some of his predecessor's aggressive budget targets in response and introduced a new infrastructure fund to help growth and productivity, the overall effect of his plans will be a drag on growth. The focus on continued tightening is at odds with the view gaining ground globally that monetary policy and ultra-low interest rates have done all they can and fiscal action and reform is needed for economic revival.
"A bit less, but still severe austerity," economists at Citigroup Inc. in London said in their initial response to the Autumn Statement on Wednesday.
Hammond, who'd tempered expectations of any extravagant giveaway, said on
Wednesday that his job was to make the economy "match-fit" for the Brexit
transition. His statement to Parliament was light on major tax changes or
increases on current spending.
"We will maintain our commitment to fiscal discipline," he told lawmakers
after paying tribute to George Osborne's efforts to cut the budget gap.

The overall budgetary path means the austerity that's been in place since 2010 is set to continue for at least another five years. It should -- based on current projections -- cut the deficit to below 1 percent of output by 2021 from more than 10 percent when the Conservative government came to power.
That's a "significant tightening that will weigh on growth at a time when the economy is slowing anyway," said Grant Lewis, an economist at Daiwa Capital Markets in London who previously worked at the U.K. Treasury.
The OBR sees expansion of 1.4 percent in 2017 and 1.7 percent in 2018. That's down from an expected 2.1 percent this year, and broadly in line with Bank of England projections.
With Hammond continuing a program of tightening the purse strings, that leaves BOE Governor Mark Carney as the main pillar of support for the economy. The central bank cut interest rates for the first time in seven years after the Brexit vote and expanded its bond-buying program.
Still, Hammond does have options, with the OBR noting that his new budget regime gives him the equivalent of 27 billion pounds ($34 billion) to spare "in case the structural outlook is worse than we think or he wants to announce more giveaways."

"With a goal of achieving a budget balance in the next parliament, austerity is just set to continue for even longer," said Paul Hollingsworth, an economist at Capital Economics Ltd. in London. "That said, his new fiscal rules still give him some room to scale back the pace of tightening if the economy were to take a bigger-than-expected hit over the next few years."
For some however, Hammond's budget update was a significant change of tack. Pacific Investment Management Co. said his announcement that the government would no longer target a surplus by 2020 fulfilled his pledge to "reset" fiscal policy.
"Quite correctly, the government recognized that with the deficit at 3‒4 percent of GDP, the most important deficit reduction is now behind the U.K.," Mike Amey, a London-based money manager at Pimco, said in a note on Thursday. "Fiscal policy no longer needs to be all about relentless austerity."