Lufthansa Pilots Will Strike Until Friday as Pay Feud Escalates
by and
Union extends walkout to third day after injunction bid fails

About 40% of services grounded in first days of action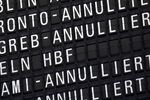 Strikes at Deutsche Lufthansa AG will wipe out thousands of flights after a failed bid to have a pilot walkout over pay declared illegal led a union to extend the action by two more days.
The long-running spat reached new levels of bitterness after the Vereinigung Cockpit union defeated an application to have the strike blocked late Tuesday, and then upped the ante by lengthening the action. Lufthansa said the "incomprehensible" step would inflict "extensive damage" on its business and hit back by reviving a legal claim against the labor group dating to 2014.
Europe's third-biggest airline scrapped 912 flights scheduled for Thursday on top of at least 876 lost on Wednesday, disrupting travel for a total of 215,000 people, before Vereinigung Cockpit announced a further walkout Friday affecting short-haul routes.

The first two days of walkouts affect both short- and long-haul services operated by Lufthansa's main brand, eliminating about 40 percent of the usual schedule. Premium flights such as Beijing-Frankfurt, Los Angeles-Munich and 10 out of 12 services from Frankfurt to London Heathrow are among those scrapped.
While Lufthansa said it's ready to resume negotiations at any time and repeated an offer of outside arbitration, Vereinigung Cockpit is unwilling to return to talks without an improved pay proposal. The union is seeking a 20 percent raise for the period spanning 2012 through 2017, or 3.7 percent a year. Lufthansa has offered 2.5 percent, or 0.38 percent annually, through 2018.
About 5,400 Lufthansa pilots, around half the total, are covered by a collective labor agreement and therefore potentially on strike, excluding those at the carrier's cargo unit. Flights at the group's Swiss and Austrian divisions and the Eurowings discount brand are also operating normally.
Incendiary
The action is the latest in more than two years of clashes over pay, working conditions and Lufthansa's moves to turn Eurowings into a fully fledged low-cost carrier. The company's recourse to legal action proved especially incendiary given that a similar strategy undermined the last pilot strike in 2015, with the walkout, which was linked to the Eurowings transformation, rejected as an illegal effort to influence corporate strategy.
"What Lufthansa is doing is trying to censor the wage demands of the union," Vereinigung Cockpit lawyer Martell Rotermundt told the Frankfurt labor court. Thomas Ubber, representing Lufthansa, said the airline could not just "pull a new offer out of the hat" and that the labor group's demands involved wage discrimination in favor of older pilots.
Judge Martin Becker said the labor court is "not allowed to make a judgment call on the collective bargaining process, or a call if a wage demand is good or bad," and ruled that the strike could go ahead. A subsequent appeal by Lufthansa to a higher court was dismissed.
Damages Claim
Lufthansa said customers will be able to adjust bookings free of charge during the strike. The group's operations will have suffered three straight days of disruption and more than 1,850 lost services after a walkout by Eurowings cabin crew called by the Ver.di union led to the scrapping of at least 64 flights Tuesday at the unit's Dusseldorf and Hamburg bases.
Europe's third-biggest airline said later it has revived a 60 million-euro ($63 million) damages claim against Vereinigung Cockpit related to a walkout by pilots in April 2014. The carrier had previously filed a lawsuit before requesting that it be put on hold pending the outcome of negotiations.
Spokesman Helmut Tolksdorf said the carrier has yet to decide whether to seek compensation for the 2015 action that was declared illegal, or if it will further pursue its case against this week's strike.
Strikes forced Lufthansa to cancel more than 16,000 flights in 2014 and 2015, burdening operating profit by 463 million euros.
Lufthansa shares closed 0.4 percent higher at 12.79 euros in Frankfurt Wednesday. They've declined 12 percent so far this year.
Before it's here, it's on the Bloomberg Terminal.
LEARN MORE