Kenya's Credit Slowdown to Curb Growth Next Year, IMF Says
By
Credit extension slowed for 14th consecutive month in Sept.

Kenyan government expects economy to grow 6% next year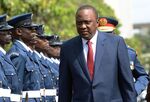 Slowing credit growth in Kenya, where a government cap on loan rates has yet to boost lending, will probably act as a drag on the country's economic expansion next year, the International Monetary Fund said.
Lending to the private sector slowed for the 14th consecutive month in September, central bank data published this week show. In August, President Uhuru Kenyatta signed a law that capped banks' loan charges at four percentage points above the benchmark central bank rate, which is currently 10 percent.
"We know credit growth has an impact with a lag, so we think we will have an impact in 2017," Armando Morales, the IMF's country representative in Kenya, said in a phone interview from the capital, Nairobi.
Banks in East Africa's biggest economy have criticized the rate cap, warning that credit may dry up if they can't price loans according to the risks they're taking. The IMF has warned that the law may impede access to loans. Kenyatta introduced the caps against the advice of the central bank, which opposed the measure. A similar law in countries including Zambia and Nigeria failed to stimulate lending.
Credit to the private sector grew 5.3 percent in September, the slowest pace since June 2008. That year, the Kenyan economy grew just 0.2 percent after two months of violence following a disputed presidential election slashed output. The country will hold its next presidential vote in August 2017.

Growth in private-sector credit may begin contracting before the end of this year, Aly Khan Satchu, chief executive officer of Nairobi-based Rich Management, said in an e-mailed response to questions. One of the side effects of the interest-rate bill has been a "stampede" into government debt, considered risk-free on banks' balance sheets, at the expense of lending to the private sector, he said.
Forecast Cut
Standard Chartered Plc Chief Economist for Africa Razia Khan on Tuesday cut her forecast for growth next to 5 percent from a previous estimate of 5.6 percent, citing weaker credit growth. The Kenyan government has said it expects the economy to grow 6 percent in 2017.
"We do not expect credit growth to pick up in the remaining part of the year," Morales said. "The question is how much would be the impact on economic growth from declining credit growth. We would like to collect information to have a clearer picture of this."
Kenya's Monetary Policy Committee meets on Monday to decide its latest interest-rate stance. Economists surveyed by Bloomberg expect the MPC to leave the benchmark gauge at 10 percent.