Intervention Brakes Rupee Slide as $2.8 Billion Flees
By
'RBI has been supplying dollars almost on a daily basis:' RBL

Global funds have dumped Indian bonds and stocks this month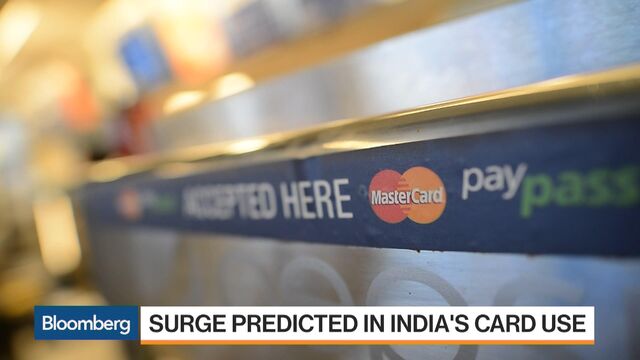 The rupee's slide toward a record low, amid $2.8 billion in outflows from Indian stocks and bonds, is prompting speculation the central bank will step up intervention to stem losses.
With a Federal Reserve interest-rate increase next month all but a certainty for bond traders, the rupee has slumped 2.6 percent in November, the most in 15 months. At 68.5650 per dollar, the currency is within 0.4 percent of the unprecedented 68.845 reached in 2013. The Reserve Bank of India has probably sold dollars via state-run banks on at least four occasions in less than a fortnight, according to information from traders who asked not to be named.
"The RBI has been supplying dollars almost on a daily basis," said Rohan Lasrado, Mumbai-based head of foreign-exchange trading at RBL Bank Ltd. "We are seeing outflows from the equity and debt markets, that is putting pressure on the rupee, along with the dollar strength. I strongly feel they will continue intervening."
India's central bank has maintained that it doesn't target a specific rupee level and intervenes only to curb undue volatility in the currency market. The RBI's increased presence comes as the government's clampdown on unaccounted wealth floods the nation's banking system with cash, while foreign investors withdraw money from local stocks and bonds. An e-mail sent to RBI spokeswoman Alpana Killawala didn't get a response.
Read: Big Daddy Holds Sway Over Rupee Market Spurring Trader Angst
Overseas holdings of Indian government and corporate bonds have plunged by 77.2 billion rupees ($1.1 billion) in November, set for the biggest decline since February, National Securities Depository Ltd. data compiled by Bloomberg show. Global funds have withdrawn a net $1.7 billion from local shares this month.

The rupee's previous record low in August 2013 came after the Fed's signal to end its unprecedented bond purchases spurred an exodus from emerging markets like India. Its slide this year has tripped fewer alarms as Asia's third-largest economy has since been overhauled, with policy makers succeeding in narrowing the current-account deficit, slowing inflation and building a war chest of foreign-exchange reserves.
Read: Rupee's Reign as Top Asia Carry Seen Riding Out U.S. Risks
The Indian currency's 2.6 percent November decline compares with a 5.6 percent loss for Malaysia's ringgit, the worst in Asia, and a 3.2 percent drop in Indonesia's rupiah. Taiwan's dollar has fallen 1 percent, the least in the region, while China's yuan has weakened 1.8 percent. Odds for a rate increase at the U.S. central bank's Dec. 13-14 meeting have reached 100 percent, according to Bloomberg calculations based on futures.
"The RBI's efforts seem to be relatively successful given that the rupee is still the median performer in Asia," said Julian Wee, a senior market strategist at National Australia Bank Ltd., the second-best rupee forecaster in Bloomberg's latest quarterly rankings. "The RBI will probably intervene as needed to keep the rupee in line with the regional moves. We feel India's strong growth prospects, smaller fiscal and current-account deficits, and the rupee's high carry will make it a relative outperformer in Asia."
'Not Worrisome'
India boasts of the fastest expansion among the world's major economies. The nation's current-account deficit was $0.3 billion for the April-June quarter, compared with $21.8 billion in the same period in 2013. Foreign-exchange reserves surged to a record $372 billion at the end of September. The hoard has fallen to about $367 billion as of Nov. 11, another sign for some investors that the central bank is supporting the rupee.
The Indian currency weakened 0.5 percent on Wednesday, falling for the eighth time in nine days.
"The rupee fall is not particularly worrisome considering that this month most currencies have weakened against the U.S. dollar," said Anders Faergemann, a London-based senior sovereign portfolio manager at PineBridge Investments, which oversees about $83 billion. "We believe that India's underlying fundamentals remain strong and would not anticipate any significant weakening of the rupee at this juncture."
India's benchmark 10-year sovereign bond yield has tumbled 51 basis points this month, on course for the biggest drop since May 2010, as Prime Minister Narendra Modi's move to withdraw 86 percent of currency in circulation has the public rushing to banks to exchange bills. Lenders will use that money to buy bonds, according to UBS Asset Management and PNB Gilts Ltd., with the latter saying the move also opens room for more interest-rate cuts by curbing inflation.
Read: Black Money Purge Spurs World's Only Bond Gain in Trump Rout
(
Corrects legend in chart of story first published on Wednesday.
)
Before it's here, it's on the Bloomberg Terminal.
LEARN MORE