business
Ctrip Acquires Skyscanner for $1.7 Billion to Expand Bookings
Bloomberg News
China's online travel leader wants to build global scale

Marks another U.K. tech firm bought by foreign buyers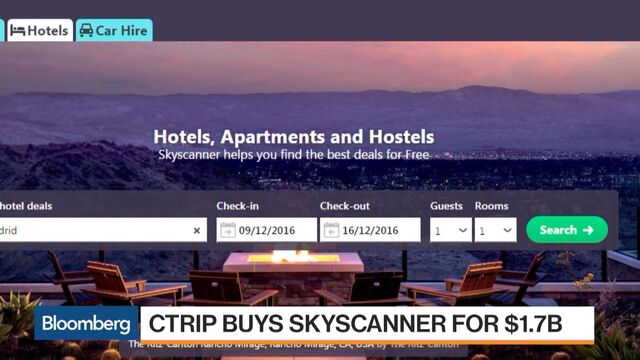 A day after the U.K. Chancellor of the Exchequer Philip Hammond highlighted the problem of British technology companies' inability to grow to international scale, another one of its most promising startups was snapped up by a Chinese buyer.
Ctrip.com International Ltd. will buy air-ticketing specialist Skyscanner Ltd. for about 1.4 billion pounds ($1.7 billion), as China's biggest online travel company explores ways to expand beyond a home market it already dominates.
The deal marks another purchase of a U.K. tech firm by a foreign buyer. Skyscanner, based in Scotland, was valued at more than 1 billion pounds by investors after a financing round in January, according to a British securities filing.
Ctrip, whose growth in years past was tied to the phenomenal rise of Chinese tourism, gains a strong foothold in Europe through the purchase of 13-year-old Skyscanner, one of the region's larger flight ticketing services with more than 60 million monthly active users. The Chinese company said the acquisition will help it offer users a more complete array of options that combine air, rail and road travel.
Ctrip said in a statement that the purchase is "mainly" a cash transaction, with the remainder consisting of equity and loans.
U.K. Unicorn
Skyscanner, a 13-year-old company based in Edinburgh, Scotland, searches through travel options for users and provides price comparisons. Bloomberg reported last month it was looking to sell itself or go public. Sequoia Capital and Scottish Equity Partners are among its backers.
Skyscanner reported revenue of 120 million pounds for the year ending December 2015, up 29 percent year-on-year, according to filings with U.K. business registry Companies House in May. Profit hit 17.5 million pounds during over the same time period, up 3 percent year-on-year.
In China, visitors to Skyscanner's platform grew 67 percent in 2015 and mobile visitors nearly doubled, according to a company statement in February. Skyscanner acquired Chinese travel startup Youbibi in 2014 for an undisclosed sum.
Qatalyst advised Skyscanner on the Ctrip deal, according to a spokeswoman for Skyscanner.
Chinese Travel
Ctrip remains largely unknown beyond the confines of the home travel market it currently dominates. It merged with nearest rival Qunar Cayman Islands Ltd. in a deal that made search-engine giant Baidu Inc. one of its main shareholders. Bloomberg Intelligence estimated in September that Ctrip handled almost 70 percent of Chinese online travel transactions.
"The investment will strengthen our positioning on a global scale, serving customers in other parts of the world," Chairman James Liang told analysts on a post-earnings conference call. "These investments have helped us develop a more comprehensive global travel ecosystem to better serve both our existing and potential customers."
Chinese consumers have traditionally used low-cost tour groups to visit foreign destinations, but rising affluence and internet use has popularized the sort of independent travel that Ctrip facilitates. About 10 percent of Chinese travel sales in 2015 were booked online, according to Michelle Ma, an analyst with Bloomberg Intelligence.
It remained unclear whether Ctrip's latest acquisition was targeted at new foreign customers or designed to help Chinese tourists traveling abroad, said Gartner Inc. research director Sandy Shen.
"There's a lot of Chinese companies moving overseas by either building their own offices or via acquisition," she said. "But it's not that easy where you can just buy one company and use it as a channel to sell your own services."
"This could also be designed to help Chinese consumers when they travel overseas so that it's easier to search for international flights.
Government Interest
The U.K. government has been busy flagging its intentions to nurture the country's technology sector. Announcing a series of investment pledges Wednesday, chancellor Hammond said: "I am taking a first step to tackle the longstanding problem of our fastest growing technology firms being snapped up by bigger companies, rather than growing to scale."
Some of the U.K.'s leading technology companies have recently ended up in outside hands. Japanese conglomerate SoftBank bought leading U.K. chip design firm ARM for $32 billion in July, Twitter Inc. bought startup Magic Pony in June for $150 million, and Google snapped up A.I. researcher DeepMind in 2014 for $250 million.
Prime Minister Theresa May's spokeswoman Helen Bower was asked by reporters in London if she is worried about the sale of Skyscanner to Ctrip. "It's not something where I've heard particular concerns raised," she said. "We want to see inward investment into this country. We want to see our entrepreneurs succeeding and one of the things we've been setting out this week is how we're going to be seeking to do more to encourage innovation, to encourage new and small businesses to grow and scale up and looking at how we can support that."
Not all U.K. M&A tech deals have been to foreign buyers. In September U.K.-based Micro Focus bought a range of software assets from Hewlett Packard Enterprise for 6.6 billion pounds.
The acquisition is also the latest in a Chinese spending spree in Europe. According to research from Deloitte, Chinese dealmakers have completed 171 acquisitions with a deal value of $88.4 billion across Europe this year, already 40 percent up on the number of deals for the whole of 2015.
"This deal shows that Britain remains open for business," Gerard Grech, Chief Executive Officer of government body Tech City U.K., said in a statement. "If the chancellor wants to see fewer companies snapped up by overseas companies, there needs to be a continued shift, which the Government is focused on, toward optimizing the best conditions possible for entrepreneurs to build great businesses and go all the way, from late stage investment to an entrepreneurial culture."
— With assistance by Eric Newcomer, David Ramli, Giles Turner, and Thomas Penny
(
Adds government spokeswoman's comment in 18th paragraph.
)
Before it's here, it's on the Bloomberg Terminal.
LEARN MORE