markets
Brexit Slaps Hammond With an Extra $73 Billion in U.K. Borrowing
By and
New forecasts break down costs of leaving the European Union

Chancellor Hammond presents his first fiscal statement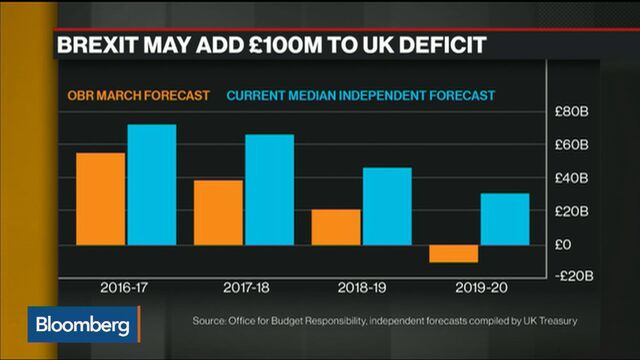 Britain's decision to leave the European Union accounts for almost half the extra borrowing it will make over the next five years.
The Office for Budget Responsibility said charges related to Brexit will total 58.7 billion pounds ($73 billion) of the additional 122 billion pounds of net borrowing that it predicts through 2021. The extra costs -- compared with previous forecasts in March -- will peak in 2018-19, as the U.K.'s proposed two-year exit process draws to an end, according to OBR estimates published Wednesday.

This is the U.K.'s first official forecast of the costs related to leaving the world's largest trading bloc since the June 23 referendum. While the economy has so-far proved more resilient to the decision than many economist predicted, business investment is showing signs of fatigue and household incomes are set to come under pressure as the pound's slide boosts inflation.
The forecasts, which included weaker projections for growth, were published alongside Chancellor of the Exchequer Philip Hammond's Autumn Statement. In his speech to Parliament, Hammond said the decision to leave the EU "makes more urgent than ever the need to tackle our economy's long-term weaknesses."
The OBR analysis puts the majority of Brexit-related costs down to a cyclical slowdown, alongside lower migration, which adds 16 billion pounds to borrowing, slower productivity growth and higher inflation, with some mitigation from a reduction in interest rates. Other non-related factors include weaker tax receipts and spending.
Prime Minister Theresa May plans to trigger the exit process in March 2017, and the OBR expects the U.K. will formally leave in April 2019.
The independent fiscal watchdog cut its forecast for economic growth to 1.4 percent in 2017 and 1.7 percent the year after that. It also assumes that Brexit will slow import and export growth for the next 10 years.
Follow @Brexit for the latest news, and sign up to our Brexit Bulletin for a daily roundup.
Before it's here, it's on the Bloomberg Terminal.
LEARN MORE