Treasury Yields Surge to Sixteen-Month High on Economic Data
By
Fed minutes show officials see case for rate hike in near term

European Central Bank said to consider lending more bonds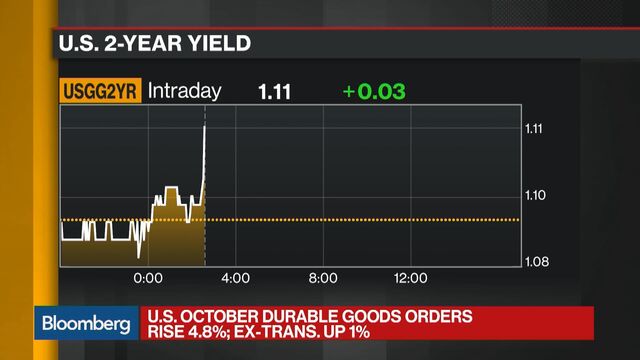 Treasuries fell along with European government bonds as a gauge of U.S. manufacturing demand surged, while the European Central Bank was said to be considering lending more bonds to prevent a freeze in the repo market.
Demand for durable goods -- items meant to last at least three years -- jumped 4.8 percent on a surge in orders for commercial aircraft, compared to forecasts for a 1.7 percent advance, Commerce Department data showed Wednesday. Treasuries pared losses after a $28 billion auction of seven-year notes drew higher-than-average demand, and remained steady after minutes from the Federal Reserve's November meeting showed officials saw a strengthening case to raise interest rates in the near term, in line with market expectations.

Selling "was triggered by the uptrend in durable goods, one segment of GDP that has persistently held the headline numbers down," Jim Vogel, head of interest-rate strategy at FTN Financial in Memphis, Tennessee, wrote in a note to clients Wednesday. "The initial selling triggered enough technical warnings to bring in several more rounds of liquidation, partly on the concern that next week's more important numbers could surprise to the high side as well."
The yield on the benchmark 10-year Treasury note climbed four basis points, or 0.04 percentage point, to 2.35 percent as of the 5 p.m. close in New York, according to Bloomberg Bond Trader Data. The yield reached 2.41 percent, the highest level since July 2015. The 2 percent security due in November 2026 fell 11/32, or $3.44 per $1,000 face amount, to 96 28/32. The U.S. bond market is closed Thursday for the Thanksgiving holiday.
The seven-year note auction Wednesday drew a yield of 2.215 percent. The bid-to-cover ratio, a gauge of demand, was 2.68, the highest since February 2014 and compared with the average of 2.5 at the last 10 sales. Indirect bidders, a class of investors that includes foreign central banks and mutual funds, bought 72.7 percent, the highest share since at least 2009 and compared with a 62.1 percent average.
"This was a remarkably strong auction, but we have also had a remarkable shift in the market over the past month," said Tom Simons, a senior economist at Jefferies Group LLC, of the auction. "Fifty-five basis points of cheapening since last month looked attractive to the buyside."
German bonds dropped with peers across the euro area as the European Central Bank was said to be considering lending out the securities to avert a market freeze. The ECB is looking for ways to make it easier for banks to borrow bonds it has bought, so that they can be used as collateral for repo loans, Reuters reported, citing unidentified people familiar with the central bank.
Before it's here, it's on the Bloomberg Terminal.
LEARN MORE