Trump Dumps Pledge to Prosecute Clinton as He Refines Agenda
By
Conway says president-elect moving away from campaign rhetoric

'I don't want to hurt the Clintons,' Trump says in interview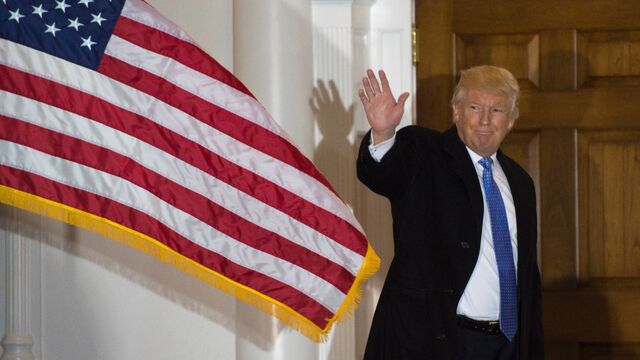 President-elect Donald Trump signaled he has no intention to investigate or prosecute his campaign opponent, Hillary Clinton, over her use of private e-mail as secretary of state or her family's foundation after he's inaugurated in January.
"I don't want to hurt the Clintons, I really don't," Trump told the New York Times in an interview at the paper's offices on Tuesday. "She went through a lot and suffered greatly in many ways.
"I think it would be very, very divisive for the country," Trump said, according to tweets from the paper's journalists. "My inclination would be for whatever power I have on the matter is to say, 'let's go forward.' This has been looked at for so long, ad nauseam."
Abandoning his campaign pledge to pursue Clinton as president is sure to disappoint some of Trump's supporters. Chants of "lock her up" resounded at his campaign rallies at any mention of his opponent's name, and Trump told Clinton directly in a debate that if he were president, "you'd be in jail."
The Breitbart News website, which strongly backed Trump's election, posted a story on Tuesday about earlier reports that he'd abandon a Clinton investigation with the headline: "Broken Promise."
Appearing on MSNBC earlier Tuesday, Trump's campaign manager, Kellyanne Conway, didn't dispute the networks' report that Trump wouldn't pursue investigations of Clinton and suggested he would discourage new congressional inquiries as well.
When the president-elect, as head of the party, "tells you before he's even inaugurated he doesn't wish to pursue these charges, it sends a very strong message, tone and content, to the members," Conway said. "I think Hillary Clinton still has to face the fact that a majority of Americans don't find her to be honest or trustworthy, but if Donald Trump can help her heal, then perhaps that's a good thing."
In the interview with the Times, Trump also said:
He would consider keeping the U.S. in the Paris accord to reduce climate change negotiated by President Barack Obama last year. "I'm looking at it very closely. I have an open mind to it," Trump told the newspaper. 
Trump extolled Obama, who met with him for about 90 minutes immediately after his election. The two have subsequently spoken by phone at least once. "I think he's looking to do absolutely the right thing for the country in terms of transition," Trump said. "He said very nice things after the meeting and I said very nice things about him. I didn't know if I'd like him. I probably thought that maybe I wouldn't, but I did. I really enjoyed him a lot."
"He did tell me what he thought were the biggest problems, in particular one problem," Trump said. He declined to elaborate, the Times said.
Trump defended Stephen Bannon, the former Breitbart executive chairman who helped run Trump's campaign and will be Trump's chief White House strategist. Democrats have accused Bannon of fostering racism because Breitbart, under his leadership, published articles critics considered to be anti-Semitic, misogynist and racist. "If I thought he was a racist or alt-right or any of the things, the terms we could use, I wouldn't even think about hiring him," Trump said.
Trump rejected support from a white supremacist group that held a conference in Washington over the weekend, where attendees were recording making Nazi salutes and shouting, "Hail, Trump," according to a video published by the Atlantic. "I disavow and condemn them," Trump said.
He said that New Hampshire Senator Kelly Ayotte, a Republican who was defeated for re-election despite distancing herself from Trump, wouldn't have a job in his administration. "No, thank you," he said.
Trump said that he is "seriously considering" retired Marine Corps General James Mattis for secretary of defense, and that he was surprised when Mattis told him he doesn't support the use of waterboarding to interrogate captured terrorists. Mattis would require an act by Congress to serve as defense secretary because he's been retired from the military for less than seven years.
Trump backed away from a campaign pledge to "open up" U.S. libel law. Trump told the Times that someone told him, "'You know, you might be sued a lot more.' I said, 'You know, I hadn't thought of that."'
Trump said he "would love to be the one who made peace with Israel and the Palestinians. That would be such a great achievement." He suggested that his son-in-law, Jared Kushner, could negotiate peace between the two sides.
Clinton Pursuit
After Trump's Nov. 8 election, the White House declined to rule out issuing a pardon to protect Clinton from prosecution by the incoming administration. Trump ally Rudy Giuliani, a former New York City mayor and prosecutor who may join the next administration, said Nov. 10 that Obama shouldn't pardon Clinton and "should leave it to the system we all believe in."
Giuliani told reporters in New York on Tuesday that if Trump has decided not to push for a Clinton prosecution, "that's perfectly consistent" with historical patterns. "I'd also be supportive of continuing the investigation. I think the president-elect had a tough choice there," he said. Experts in constitutional law said nothing would prohibit Trump, as president, from ordering his attorney general not to pursue an Clinton investigation.
"The power is there, no question," Harvard Law School professor Charles Fried said in an interview. "It's in the president. The attorney general works for the president."
Fried served as U.S. solicitor general, the government's top courtroom lawyer, during President Ronald Reagan's second term.
"I rather think it's a good idea that we don't have the business of pursuing the previous, defeated administration," Fried said.
Agenda Video
Late Monday, Trump released a video outlining his agenda for "the first 100 days" of his presidency. On "day one," he said, he would take executive actions to withdraw from the Trans-Pacific Partnership trade deal, cancel "job-killing restrictions" on energy industries, and issue a rule requiring that "two old regulations" be withdrawn for every new one his administration issues.
He didn't mention Clinton or other campaign promises in the video, such as a repeal of the Affordable Care Act, construction of a wall on the Mexican border, deporting undocumented immigrants and abandonment of the deal with Iran to curtail the country's nuclear ambitions.
"My agenda will be based on a simple core principle: putting America first," he said, whether it is "producing steel, building cars or curing disease."
Times Meeting
Trump continued his frenetic schedule of meetings on Tuesday with politicians, business leaders and other figures who are either counseling him or are under consideration for jobs in his administration. He planned meetings with Seema Verma, a health policy consultant; Representative Cynthia Lummis, a Wyoming Republican; former Republican presidential candidate Ben Carson, who has ruled himself out for an administration job; and the New York Times editors and reporters, who Trump has frequently attacked for coverage he considers unfair.
Venture capitalist Peter Thiel, a major donor to Trump's campaign, was seen entering Trump Tower's elevators on Tuesday but it wasn't clear if he would meet with the president-elect.
Trump said early Tuesday on Twitter that he had canceled the meeting with the Times "after the terms and conditions of the meeting were changed at the last moment." The Times reported that the paper denied changing the terms of the meeting, and said it had refused a Trump request to conduct the exchange entirely off-the-record.
At about 10:42 a.m. New York time Trump tweeted that the meeting was back on. "Look forward to it!" he said.
A Trump spokesman, Jason Miller, said the president-elect has no plans to hold a news conference after the Thanksgiving holiday. Beyond his victory speech, the president-elect has addressed the American public only via his social media accounts, interviews with the Wall Street Journal and "60 Minutes," offhand remarks to reporters attempting to monitor activity at his homes, and the video he released on Monday.
— With assistance by Jennifer Jacobs, Andrew M Harris, Terrence Dopp, and Chris Strohm
Before it's here, it's on the Bloomberg Terminal.
LEARN MORE