Oil Closes Near $48 as Iraqi Remark Seen Boosting OPEC Deal Odds
By
Iraq's Al-Abadi says country to participate in OPEC output cut

U.S. crude stockpiles fell 1.26 million barrels last week: EIA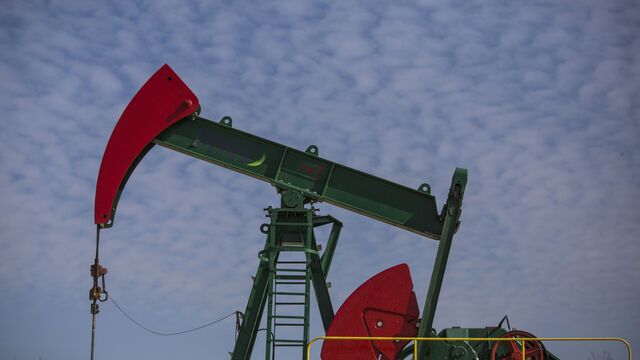 Oil closed near $48 a barrel in New York after Iraq's prime minister said the country will participate in an OPEC production reduction.
Iraq will agree to bear part of an oil-output cut at the OPEC meeting next week, Prime Minister Haider Al-Abadi said. Preliminary talks ended Tuesday without a decision on the role of Iraq and Iran in a supply deal. Crude stockpiles fell 1.26 million barrels last week, Energy Information Administration data show. A 1 million barrel gain was forecast by analysts surveyed by Bloomberg. 

Oil has remained volatile amid skepticism that the Organization of Petroleum Exporting Countries will be able to implement output cuts first outlined in September. Iran is boosting production and Iraq was originally seeking an exemption from cuts because of its war with Islamist militants. Saudi Arabia's Energy Minister Khalid Al-Falih has expressed optimism that a deal can be reached, and traders and analysts had grown more confident this week that a consensus is possible.
"OPEC are dominating everything in the market," said Rob Thummel, a managing director and portfolio manager at Tortoise Capital Advisors LLC who helps manage $14.1 billion. "Iraq and Iran are critical to a deal and have been the two question marks. Expectations of a deal are probably higher than before any meeting."
West Texas Intermediate for January delivery slipped 7 cents to close at $47.96 a barrel on the New York Mercantile Exchange. Prices fell as much as 63 cents to $47.40 before the release of the report at 10:30 a.m. in Washington. Total volume traded was about 15 percent below the 100-day average at 2:55 p.m.
Brent for January settlement decreased 17 cents to $48.95 a barrel on the London-based ICE Futures Europe exchange. The global benchmark closed at a 99-cent premium to WTI.
Critical Week
"The next week will be critical in determining the short-term future of oil prices," said Adam Wise, who helps run a $7 billion oil and natural gas bond and private equity portfolio at John Hancock in Boston.
The group agreed to a collective production cut of between 32.5 million and 33 million barrels a day in September, saying it would work out individual quotas before the Nov. 30 summit. OPEC pumped 33.8 million barrels a day in October, according to the International Energy Agency. Iraq wants OPEC to cut output by 900,000 barrels a day because low prices are hurting global investment in the industry, Al-Abadi said.
"There are three possible outcomes," said Stewart Glickman, head of energy research at S&P Capital IQ in New York. "They could make an actual cut, freeze production or the meeting could fall apart. The only one that will have an impact on the oil market is if they make a cut, and a widespread one, not just the Saudis doing all the work."
Russian Position
Russia has said for months that it would rather freeze its production, instead of cutting, as its part in any oil-supply deal. While Russia talked about a freeze, Saudi Arabia privately expected Moscow would join if OPEC delivered its own reduction, according to people briefed on Saudi thinking. Riyadh is adamant Russia must cut supply if the plan to ease a global glut is to succeed.
"The market is going to be driven more by OPEC headlines than by inventories over the next week," Wise said. "The reversal of the three-week trend of inventory builds is a lot less important than whether OPEC can get Iran and Iraq to take part in a deal."
The inventory decline left U.S. crude supplies at 489 million in the week ended Nov. 18, according to EIA data. Stockpiles remain at the highest seasonal level in more than 30 years.
Crude output rose 9,000 barrels to 8.69 million barrels. Rigs targeting oil in the U.S. rose by 3 to 474 this week, the highest since January, Baker Hughes Inc. said.
U.S. Reaction
"If OPEC agrees to cut, the U.S. reaction will be interesting," Glickman said. "We've seen that U.S. companies will increase spending at $50 because they can make decent returns at that level. If OPEC cuts we might see a substantial increase in U.S. output."
Refineries boosted operating rates by 1.6 percentage point to 90.8 percent of capacity, the highest level since September. Plants usually increase operations in November as they prepare to meet winter-fuel demand.
Gasoline supplies climbed 2.32 million barrels from 221.7 million last week, the biggest gain since February. Stockpiles of distillate fuel, a category that includes diesel and heating oil, rose 327,000 barrels to 149.2 million.
Oil-market news:
Under quotas the U.S. Environmental Protection Agency announced Wednesday, refiners must mix a record 19.28 billion gallons of renewable fuel into the U.S. gasoline and diesel supply next year.
A glut of North Sea oil that's helped depress global prices and heap pressure on OPEC is poised for short-term relief after traders booked tankers to take as much as half of the region's key oil flow to Asia.
Before it's here, it's on the Bloomberg Terminal.
LEARN MORE