Fillon Shock Blows French Race Wide Open
By
Former premier's win could boost Macron, hurt far-right Le Pen

Republicans to decide on nominee with final vote Sunday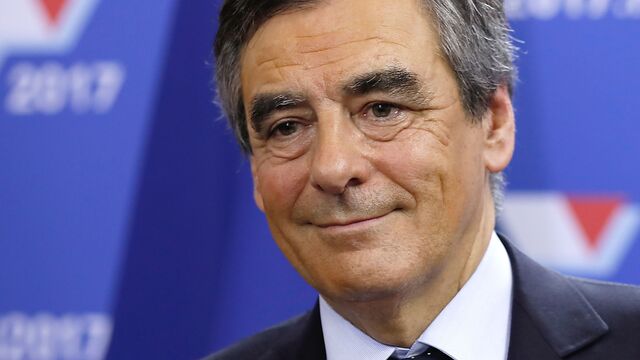 The surprise emergence of a Roman Catholic fan of Margaret Thatcher as the new favorite is shaking up analysts' expectations for the French presidential election.
Before Francois Fillon, a 62-year-old former prime minister with a hard-line economic platform, pulled off a dominant victory in the first round of the Republican primary to become hot favorite for the party's nomination, observers were prepared for two very different scenarios.

Either Alain Juppe, another former premier, would claim the nomination and canter to victory in May's presidential runoff by amassing a broad coalition of centrist voters to defeat the populist candidacy of Marine Le Pen. Or former President Nicolas Sarkozy would take on Le Pen with his own attacks on immigrants, boosting political risk for investors.
Now Sarkozy is out of the race, Fillon is set to beat Juppe by 65 percent to 35 percent in the runoff, according to an Odoxa survey for France Info, and experts on political risk scrambling to revise their forecasts.
Read more: Fillon is very different from Trump -- a QuickTake
While there's little consensus as yet on how Fillon's budget-cutting, socially conservative, pro-Russian outlook will shape the next five months of campaigning, here analysts offer their initial thoughts on the implications for the race:
The Republicans are strong favorites
Sarkozy represented a tail risk for the Republicans in the run off against Le Pen, but Fillon is probably a stronger candidate, according to Adelaide Zulfikarpasic, the head of BVA opinion polls.
"The last survey that tested the scenario of Fillon as a finalist against Marine Le Pen dates back to September, so we must be careful," Zulfikarpasic said in an interview. "But we can say his candidacy is solid and credible. Right-wing voters tend to vote as one man behind the designated candidate. So if Fillon wins the primary and passes the first round as the polls suggest, his chances of a good score against Le Pen are high."
Macron could get a boost
The socially liberal, free-market Emmanuel Macron, who is running as an independent, could find more space if the Republicans confirm Fillon as their candidate instead of the more moderate Juppe, said Bruno Cautres, a political scientist at the Sciences Po Institute in Paris.
Macron is trying to persuade more centrist and left-wing voters to back his plans to open up the French economy to boost growth, and quit Socialist President Francois Hollande's cabinet to mount his bid. The youngest candidate in the race at 38, Macron claims to be from "outside of the system" and has promised to change the way French politics works.
"Fillon is going to open up a wide avenue for Emmanuel Macron, who can now clearly go after the centrist vote," Cautres said. "It's the voice of the conservative right that prevailed in the election and Fillon's score shows the core Republican voters are very mobilized. That means centrists and Socialists could really want to counter that wave if he wins."
On Tuesday, Macron mocked Fillon's platform, calling it an approach from the 1980s. "I doubt France will enter the 21st century with policies like that," he said, in comments aired by France Info.
More competition in the center
Another centrist, Francois Bayrou, has run in the three prior presidential elections and is likely to throw his hat into the ring again if Juppe, whom he supported, loses to Fillon, according to Cautres.
"Bayrou is obviously going to declare next week," he said.
Le Pen may lose some conservative votes
The National Front leader is almost certain to be a finalist in the presidential election and she could come top in the first round in April with a mix of low-paid workers, younger men with little education and traditional far-right voters.
Cautres argues that Fillon could win over some of Le Pen's supporters with some of his most conservative ideas, such as giving French nationals preferential access to welfare payments.
But Morgan Stanley Economist Carmen Nuzzo thinks that Fillon's establishment credentials could prove a disadvantage in an election about voters' desire for change.
"The fact that all Le Pen's likely challengers are members of the establishment could prove to be the Front National's advantage in light of the recent wave of protest votes," she said.
Still no Socialist revival
The Socialists are still planning their own primary in January and Hollande, the most unpopular French president on record, has yet to decide whether he'll run.
While the elimination of Sarkozy will be a relief for left wing voters, there's little prospect that their party will be able to use that to galvanize support for their own candidate, according to Remi Lefebvre, political science professor at Lille University.
"The right will come out of its primary pacified and unified, while Le Pen is riding high," Lefebvre said in an interview. "There's no room for the left."
— With assistance by Mark Deen, and Gregory Viscusi
Before it's here, it's on the Bloomberg Terminal.
LEARN MORE