Egypt Eyes Up to $6 Billion From Eurobond Sales Through 2017
By , , and
Trump's election may delay first issuance to January: Minister

Authorities are seeking to lower inflation to 10% by mid 2017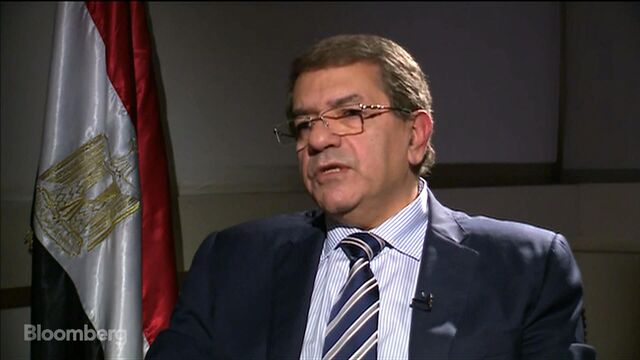 Egypt may seek to raise as much as $6 billion from international bond sales through 2017, though the first issuance may be delayed due to market "volatility" after the election of Donald Trump, Finance Minister Amr El-Garhy said.
The government is still weighing whether to tap markets next week, El-Garhy said in an interview with Bloomberg Television in Cairo on Tuesday.

"We were planning to do it by end of November, but there has been volatility since the election in the United States," he said. "The window is closing because by the second week of December the markets will be very quiet. So it's either this or maybe by mid-January."
Watch more: El-Garhy talks bonds, growth and inflation
Egyptian authorities are trying to reduce the government's borrowing costs after abandoning currency controls this month. Foreign investors have cheered the currency float, which came before Egypt signed a $12 billion loan accord with the IMF, by pouring funds into the country's stock and bond markets. The most populous Arab country has struggled to revive its economy since the 2011 uprising that ended the three-decade autocratic rule of President Hosni Mubarak.
The government may sell between $5 billion and $6 billion in international bonds through 2017, depending on financing needs, he said.
Watch Next: Egypt's El-Garhy: Bond Issuance by Mid-January
The decision to float the currency was seen as crucial to ease a dollar shortage that had crippled business activity. The process is so far going "very, very well," the minister said, adding that the exchange rate volatility that followed the move was expected.
The pound was trading at 17.4 per dollar at 8:41 a.m. in Cairo, according to National Bank of Egypt prices, compared to 15.4 a week ago. Before the flotation, the exchange rate was fixed at 8.88 per dollar.
Critics say the weaker currency will lead to an uncontrollable surge in inflation. El-Garhy said the uncertainty that accompanied black market currency trading was the main reason behind the surge in prices over the past few months.
He said authorities seek to gradually lower the inflation rate to 10 percent by mid-2017 from the current 13.6 percent as investments start to flow and the budget deficit narrows.
The flotation and the easing of fuel subsidies will initially cause the economy to slow, the minister said, forecasting growth around 4 percent this year. But in terms of investment, they're starting to bear fruit, he added. Foreign investors are signaling confidence in the Egyptian economy, with new money making up the most of the $700 million to $900 million increase in foreign holdings in Egyptian T-bills and T-bonds since Nov. 3.
The country is also working on an investment law to make the country more welcoming to foreign business, he said.
Egypt market has been "under-invested for quite a long time," El-Garhy said. ''We don't want this time just to address some issues here and there, we want to put the economy on the right track."