Three Charts Signal Dark December for Slumping Chinese Bonds
Bloomberg News
Market entering 'darkest period since 2013's cash crunch:' JZ

Ten of 19 traders say 10-year yield could reach 3% by year-end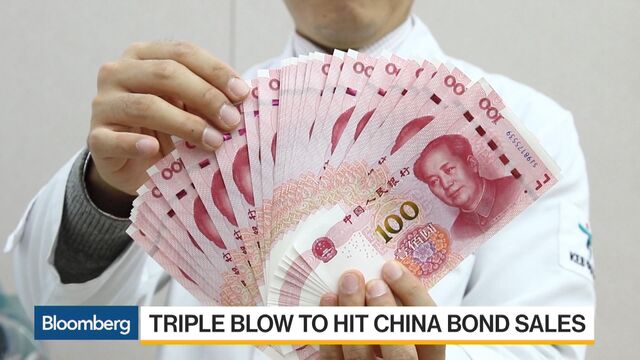 Accelerating inflation, a weakening yuan and a cash crunch look set to deliver a triple blow to China's bond market.
Haitong Securities Co., ranked the best fixed-income forecaster by financial magazine New Fortune, revised up its 10-year sovereign yield estimate twice in less than three weeks to as much as 3 percent. Ten of 19 banks and brokerages say the yield could touch that level by year-end with the median forecast for a climb to 2.93 percent, from 2.88 percent on Tuesday, a survey by Bloomberg shows.
"All the factors we see are negative," said Deng Haiqing, chief economist at JZ Securities Co. in Beijing. "The market is entering the darkest period since 2013's cash crunch."
The 10-year sovereign yield is closely watched as a benchmark for mortgage rates and infrastructure financing in an economy growing at its slowest pace in a quarter century. The following charts show the three biggest drivers of the slump in Chinese bonds.
Chart 1: Consumer price inflation hit a six-month high of 2.1 percent in October as the economy held its ground. Rising commodity prices helped producer prices gain 1.2 percent, after a four-year run of factory-gate deflation. The indicators may reach 2.5 percent and close to 4 percent respectively by January, according to Haitong. "Commodity prices are usually a leading indicator for bond yields," said Qu Qing, an analyst at Huachuang Securities Co. in Beijing.

Chart 2: U.S. President-elect Donald Trump's stimulus plans drove up 10-year Treasury yields, narrowing their discount to similar Chinese bonds to only 56 basis points. Futures contracts indicate that the probability of a Federal Reserve interest rate hike in December is 98 percent, and any increase may worsen outflows that drove a 5.8 percent drop in the yuan against the dollar this year. "The narrowing yield premium and a weakening yuan is leading to tighter liquidity due to outflows, and the expectation of higher interest rates in the U.S. is making further easing in China impossible," said Ming Ming, head of fixed-income research at Citic Securities Co.

Chart 3: One-year interest-rate swaps, a gauge of market expectations for the benchmark seven-day repurchase rate over a year, advanced to a 19-month high on Nov. 17. The central bank is using longer-term reverse repurchase agreements to tighten cash supplies and said "preventing bubbles" was a goal in its third-quarter policy report. "Financial institutions have become more pessimistic about liquidity, and sovereign debt is now more vulnerable to liquidity shocks," said Tang Yue, a fixed-income analyst at Industrial Securities Co.

— With assistance by Helen Sun, Yuling Yang, Xize Kang, Shuqin Ding, Ling Zeng, and Jing Zhao
Before it's here, it's on the Bloomberg Terminal.
LEARN MORE