technology
Munchery's Struggles Show How Hard the Food Delivery Business Is
Over a two-year period, the startup's San Francisco kitchen produced a lot of meals that went unsold.
By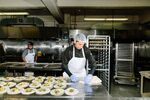 Munchery, a San Francisco startup that cooks and delivers meals to hundreds of thousands of customers in a handful of U.S. cities, has begged its cooks to bring down the cost of the ingredients, according to current and former employees. That often meant no organic chicken. No wild salmon. Nathaniel Faggioli, the company's chief operating officer who's a former Goldman Sachs banker, has pushed his employees to find ways to improve its margins as the startup tries to attract another round of financing, according to the people.
Meanwhile, Munchery's line cooks in San Francisco, its flagship market, stayed up until 2 a.m. assembling Vietnamese caramel chicken, roasted half game hen and beef pho, said the current and former employees. Yet some of that food consistently gets thrown in the trash or donated, they said. Munchery spokeswoman Marcy Simon denied that cooks stayed that late and also denied that any prepared food gets thrown away. She acknowledged Munchery made more food than they sold.
From September 2014 to July 2016, Munchery's San Francisco kitchen made about 653,400 dishes (an entree or a side) that never got sold, according to an internal financial document and interviews with ex-employees, who asked to remain anonymous out of fear of reprisal from their former employer. That's an average of 16 percent of the food the kitchen was producing. The value of that waste exceeded $1.9 million, based on Munchery's $2.96 average per dish food cost over that period, according to the document. Former and current employees said the startup was overproducing food in other kitchens and beyond that time period. 
The startup's executives said there is nothing alarming about the waste. "Overproduction is a fact of life in the food business. Neither restaurants nor online food providers can predict exactly how much food will be ordered each day," Simon wrote in an e-mail. "We measure ourselves on limiting overproduction to a small percentage of overall sales. On that metric we have and continue to meet our targets." Munchery said that currently its San Francisco kitchen is profitable.
Munchery, which said on Monday it was appointing James Beriker as its new chief executive officer, has few peers to compare it to; not many venture-backed startups are trying to both cook and deliver meals.  But no matter how you calculate it, the amount of food that Munchery wastes is high, experts said. Wasting an average of 16 percent of food produced is above the typical 4 percent to 10 percent that most restaurants waste, said Dana Gunders, a senior scientist at the Natural Resources Defense Council who studies food waste. "I think it's significant in terms of food. It's also significant in terms of straight financials for that company," she said.
Since it started making deliveries in 2010, Munchery promised to upend the industry. A lot of companies have tried and failed to grind out a profit delivering food, but Munchery executives had something novel to offer. Unlike GrubHub or DoorDash, it wasn't delivering food from restaurants, and unlike Blue Apron or Plated, it wasn't mailing customers a box of ingredients and a recipe. Its cooks make meals out of four giant kitchens in different states, and the startup delivers them to consumers in San Francisco, New York, Seattle and a few other cities. Two other companies, Sprig and Maple, are also making and delivering food, but have raised far less money.

Tri Tran, Munchery's co-founder and outgoing CEO, grew up in Vietnam, with barely enough to eat, eventually moving to the U.S. with his family when he was 11. His powerful story has helped to propel Munchery's brand, as has the company's outspoken investor, Shervin Pishevar. Munchery's two main investors are Pishevar's Sherpa Capital and Menlo Ventures. The startup raised $85 million in May 2015 at a valuation between $250 and $275 million. Pishevar and Tran declined to comment for this story.
Lately, Munchery has experienced tumult. In addition to food waste, the company has lost money in other ways, particularly through aggressive marketing campaigns. It has been struggling to raise more capital. The startup may end up tapping existing investors for more funds, a person familiar with the matter said. It has raised about $120 million in total, a lot more than many food delivery startups. The challenges it has faced illustrate how eager venture capitalists have been to find a company that can make and deliver food profitably—but how hard it is to do that. At least three top executives have left in the last year. The new CEO, Beriker, is starting immediately; he was formerly chief of job search engine Simply Hired, which was purchased by Recruit Holdings Co. this year. Tran is staying on as chief strategy officer. 
Munchery executives knew they were producing a lot of meals that would go to waste but told their staff to cook substantially more food than the company anticipated it would sell, according to current and former employees.
Some former employees said overproduction had helped to convince them that they should leave the company. Pascal Rigo, Munchery's former chief customer experience officer who left in April, said costly marketing campaigns and a lack of transparency around customer churn troubled him. "It was very difficult to be part of a company that I felt some members of the executive team were not telling the entire story to employees or investors," he said. 

During the last week of June 2016, Munchery sold 39,870 dishes cooked in its San Francisco kitchens, according to the internal financial document. It was a pretty typical week for the company, the document shows. 6,344 of those entrees and sides-- about 14 percent-- did not go to customers.
Munchery board member Jeff Housenbold said he wasn't aware of the food waste. "I actually don't have great visibility into how many meals go unsold," he said.
Some of the excess food was taken home by delivery drivers and kitchen staff; some was thrown away; some was donated to charity, according to former employees. They said they spoke up about the waste and were told to continue overproducing to ensure that the startup had enough food in case a new marketing campaign increased sales.
Marcy Simon, the Munchery spokeswoman, denied that any of the meals were thrown in the trash. She said during the past few months, excess food in San Francisco has been donated to two charities, City Impact and FoodRev, and that previously it had been donated to Food Runners, another charity. Christian Huang, the executive director of City Impact, confirmed that Munchery sent them some of their food. FoodRev's executive director did not respond to a request for comment. Mary Risley, founder and executive director of Food Runners, said she hadn't heard from Munchery in over a year.

In early 2015, Munchery needed to raise a new round of financing. Its executives prepared a slideshow for investors.
One slide's headline declares that Munchery would reach $2 billion of revenue by 2019 without raising any more money: "Note: This plan assumes that the $60 million Series C will be our last financing round. Growth in 2017 and beyond supported by cash flow of our business." Munchery has since tried to raise more money, people familiar with the matter said.
Munchery's internal financial document highlights the way the company has relied on marketing to boost revenue, but bringing in consumers through steep discounts doesn't always make for a sustainable customer base. Between September 2014 and July 2016, Munchery's best week in terms of revenue out of the San Francisco kitchen came during the second week of May 2015, when the company generated $598,700, according to the document. Later that month, Munchery announced that Menlo Ventures would lead an investment of $85 million. Almost immediately, San Francisco's revenue began to flag. Several weeks that summer, San Francisco revenue dipped below $400,000. The kitchen's revenue was shrinking, not soaring.
Former employees said that's because Munchery had cut back on its marketing spending following the financing round. According to Simon, the Munchery spokeswoman, "Marketing budget decisions have nothing to do with the timing of fundraising rounds." As recently as June this year, weekly revenue in the San Francisco kitchen was $510,800. The document does not provide revenue for other kitchens. Simon said the company's San Francisco revenue has grown 12 percent since July.
The financials show that Munchery was having a hard time hanging onto customers, said Evan Rawley, a professor at the Columbia Business School. "It's not that hard to get a customer if you give them enough discounts, you hit them with enough advertising," he said.
In reference to the lifetime value of customers, one slide said: "This can only get better."
In August of 2015, Munchery held a party at the Line Hotel in Los Angeles to celebrate a new partnership with chef Roy Choi. He's known for his Korean taco fusion food truck, Kogi, and for his L.A. restaurants, including two in the Line Hotel. Choi's new contract promised him more than $100,000 a month to design his own line of meals. He was also consulting on branding.
At the party, people lined up around the block for free kimchi pork fried rice served in Munchery's cardboard containers. Pishevar, Munchery's chief hype man and a major investor, arrived wearing a black cowboy hat. Hollywood filmmaker Jon Favreau attended.
By the end of the year, the startup ended Choi's contract. It cost the company more than $500,000, according to people familiar with the matter. Choi had provided Munchery with just two recipes. An agent for Choi declined to comment.
Around the same time, Munchery also terminated a contract with marketing agency West, according to former employees. The firm had helped Munchery offer free meals to attract new customers and to strategize about its branding.
Munchery spent heavily on direct to consumer marketing ahead of fundraising rounds, former employees said. In a month, the company could easily spend hundreds of thousands of dollars putting flyers on people's doors offering discounts on Munchery, they said.
"It's good to focus on long term, good growth. I do not believe that it's the best use of anybody's time to chase artificial growth alone," said Rigo, who has since revived La Boulangerie, a chain of bakeries in San Francisco.

Housenbold, the board member, said the company's finances have been improving. He said the company had seen a 30 percent to 50 percent reduction in costs over the past five months, and in October, Housenbold put Munchery's losses at less than $3 million a month. He declined to share the company's financials, but said: "The costs are coming down meaningfully."
In September, Pishevar went on CNBC and said, "Munchery is at a major inflection point in its expansion across the country. The business is doing incredibly well."
That unflagging optimism has upset some current and former employees. "I'm very surprised that some statements from some large investors or members of the executive team are not challenged by anyone, including the press. Being a private company does not force you to show your actual numbers, but I do not believe that it is a ticket to embellish them either. It can hurt other smaller investors and some employees that leave their job for what they believe could be a better opportunity," Rigo said. "Those people leave their job and make a new commitment for what? That's not fair. That's not fair at all."
Before it's here, it's on the Bloomberg Terminal.
LEARN MORE