Theresa May Wants Business to Change Capitalism
By
Businesses must adapt to change signaled by Brexit, she says

Premier vows 'genuine consultation' on corporate governance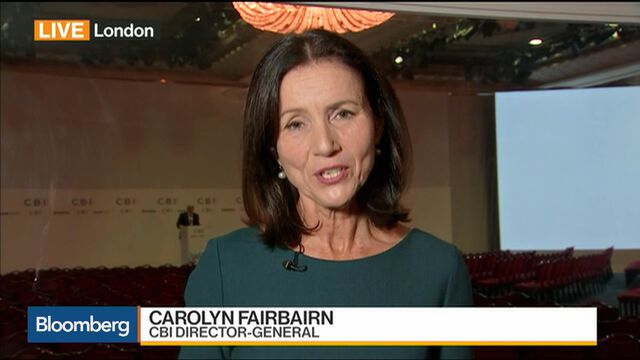 U.K. Prime Minister Theresa May will urge businesses to work with the government to adapt and change to ensure the benefits of capitalism are shared more equally, underlining her belief the vote for Brexit was the people's call for a fairer economy.
May will use a speech to Britain's biggest business lobby group on Monday to set out the need for executives to play by the rules in terms of tax and behavior, and for prosperity to be shared, according to excerpts released by her office. The prime minister will also commit to having the lowest corporate taxes of the 20 biggest economies, The Daily Telegraph reported, without saying how it obtained the information.

"If we support free markets, value capitalism and back business -- and we do -- we must do everything we can to keep faith with them," she will tell the Confederation of British Industry's annual conference in London. "That's the kind of change people voted for -- not just to leave the European Union, but to change the way our country works -- and the people for whom it works -- forever."
The prime minister's speech comes as political leaders grapple with the fallout from Britons' decision to leave the EU in June 23's referendum, and the election of Donald Trump as U.S. president in the Nov. 8 vote. She made her pitch to lead the Conservative Party by promising a fairer conservatism, and roiled markets by taking a swipe at global elites and criticizing loose monetary policy.
Watch more: Theresa May's conference speech
'Sharp Challenge'
May's call for change comes as her Chancellor of the Exchequer, Philip Hammond, on Sunday warned that businesses face two years of uncertainty and said public finances face "a sharp challenge" as Britain negotiates its EU exit. Hammond pledged to set out in his budget report on Wednesday a new fiscal framework to give the economy room to absorb coming shocks, as well as a targeted investment program to boost productivity.
Britain's businesses are "100 percent committed to making the best of Brexit," CBI President Paul Drechsler said on Monday in a BBC radio interview.
"The best of it means maintaining tariff-free access to the European access, it means maintaining the best possible global trade deals; it means making the best opportunity of talent available globally so that we can compete globally, and finally, what is critically important, is that we see beyond Brexit," he said. "We do need transition arrangements that give us confidence not just about the next two years, but what happens at midnight; how do we ensure that we can plan for the future and make critical investments today."
The prime minister will tell executives her government is seeking comment on corporate governance proposals in a process she said "will be a genuine consultation."
"We want to work with the grain of business and to draw from what works," she will say. "But it will also be a consultation that will deliver results."
May will also reiterate her plan to set out an Industrial Strategy to help rebalance the U.K. economy, targeting priority technologies such as robotics and artificial intelligence, industrial biotechnology, and advanced materials manufacturing.
She will announce that Hammond's Autumn Statement will include an extra 2 billion pounds ($2.5 billion) a year of government investment in research and development by 2020. She will also suggest innovative businesses may benefit from future tax breaks, and said the Treasury will lead a Patient Capital Review to boost investment.
Follow @Brexit for the latest news, and sign up to our Brexit Bulletin for a daily roundup.
"It is about government stepping up, not stepping back, building on our strengths, and helping Britain overcome the long-standing challenges in our economy that have held us back for too long," May will say. "It is about making the most of the historic opportunity we now have to signal an important, determined change."
— With assistance by Alex Morales, and Steven McPherson
Before it's here, it's on the Bloomberg Terminal.
LEARN MORE