How India's Cash Chaos Is Shaking Everyone From Families to Banks
By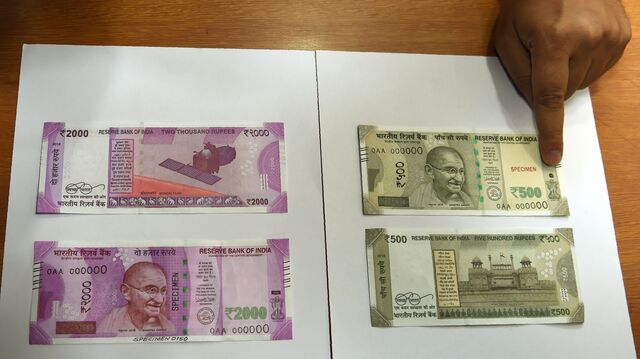 Serpentine queues spilling from banks. Parents worried that they can't provide for their families. Prime Minister Narendra Modi appealing to Indians to bear the pain for just a little while longer.
These pictures continue to dominate media coverage in Asia's third-largest economy, even two weeks after the government's shock clampdown on cash. While supporters of the move say it will help root out tax evasion and graft in the years ahead, critics question the administration's planning and execution.
What many outside the country can't comprehend, though, is the reason for the chaos. Surely global governments in the past have suddenly banned certain currency denominations, too, haven't they?
Why India's Cash Clampdown is Different
As most Indians gathered around for dinner Nov. 8, Modi blindsided citizens by announcing on national television that their 500 rupee and 1,000 rupee ($15) notes would be worthless come midnight. The step was essential to clamp down on "black money," he said, the local term for cash stashed away to avoid tax.
In terms of the share of currency in circulation, Modi's move was akin to sucking out from the system all U.S. dollar bills except about half of the $1 notes.

The decision rattled the world's second-most populous nation, where cash dominates day-to-day life. Strange tales were whispered around neighborhoods that night, of the wealthy rushing to purchase gold and luxury watches to extinguish unaccounted cash, while housewives stocked up on groceries.
Morning dawned to even more confusion, and when banks reopened the next day people lined up to exchange their now worthless currency. Newspapers reported that sacks of torn notes turned up across the country as people destroyed and abandoned them to avoid prosecution.

It's not as if the notes would turn into paper at the stroke of midnight. They'd still retain their value, the government ruled, but only if they were deposited into bank accounts by Dec. 30. Strict caps were imposed on the exchange of physical bills into new notes, and those depositing the old notes had to submit signed declarations and come armed with identification.
That doesn't sound so tough, you may say. Try this: as many as 600 million Indians probably don't have bank accounts, central bank data show. A disproportionate number of these live in more than 600,000 villages, earning daily wages in cash.
Sowing season is also starting for farmers, who account for about half the population. The government will fully concentrate on rural areas now and will boost currency in supply soon, Finance Minister Arun Jaitley told reporters on Tuesday.

To meet demand, banks stayed open for longer hours, offering water and coffee to hassled clients. Reports began trickling in -- several disputed -- of Indians collapsing as they waited to exchange their bills under the biting sun, as well as bank staff dying under the strain of the job.

Tourists were left stranded without money and touts fleeced visitors who had been until then enjoying the beaches of Goa or the shrines of Rajasthan. Part of the reason for the trouble is that India is woefully under-banked. Cash machines are few and far between, even though demand for services has been surging over the years.

Amid rising public anger, Modi appealed for understanding. Give me 50 more days, he requested Indians in a teary-eyed address on Nov. 12. "After that, if any fault is found in my intentions or my actions, I am willing to suffer any punishment given by the country."
Modi's motive was clear: he sought to take account of each of the big bills in circulation. Of the 15 trillion rupees that needed to be turned in at banks, about a third wouldn't be deposited, the government's lawyer told the Supreme Court.
However, as the days rolled on, it became increasingly clear that the logistics weren't completely thought through. To pump out the new notes, cash machines needed to be refitted, which banks scrambled to do after being caught unaware. Printing the required number of new notes could itself take as long as six more months, according to some estimates.

Alternative payment providers saw their window of opportunity. Mobile wallet companies such as Paytm and Freecharge.in reported a jump in transactions. Again, most of this came from cities and towns. Most of India, data show, is unfamiliar with the available options.

One reason for the lack of technological options is that the availability of third-generation mobile spectrum and broadband is limited. Of India's 1.3 billion population, less than 300 million use the Internet. Of the total number of Indians who own a mobile phone, only about 26 percent have smartphones, which are essential to run payment apps.
The relatively low penetration of smartphones in India is because the cost of a smartphone is prohibitively high in the nation with the lowest living standards among major emerging markets.

That leaves Indians back where they started -- relying on cash for their daily survival, but not getting quite enough of it.
"Like everyone else, we were surprised by the dramatic action," former U.S. Treasury Secretary Lawrence Summers and Natasha Sarin wrote in a blog post on his website. "This is by far the most sweeping change in currency policy that has occurred anywhere in the world in decades."
— With assistance by Adrian Leung, Hannah Dormido, and Subramaniam Sharma
Before it's here, it's on the Bloomberg Terminal.
LEARN MORE