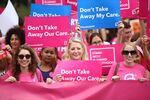 The morning after Donald Trump's victory, a picture of his face was splashed across the front page of the American Civil Liberties Union website next to the words "See you in court." Beneath the all-caps declaration was a donate button. Within 24 hours, 14,000 people had given more than $940,000 online, far exceeding the organization's record for contributions in a single day, according to Mark Wier, chief development officer at the ACLU. By Monday the following week, that figure had reached $7.2 million from 120,000 donors.
Planned Parenthood received 128,000 donations within those same five days, 30 times the normal number for that span. The organization's donors included Sarah Wexler, a freelance writer in Portland, Ore., who also gave to a handful of other nonprofits. (Bloomberg Philanthropies, the private foundation of Michael Bloomberg, provides financial support for Planned Parenthood. Bloomberg is majority owner of Bloomberg LP, publisher of Bloomberg Businessweek.) "It felt a little like playing Oprah," says Wexler. " 'You get $100! And you get $100!' "
In addition to Planned Parenthood, Wexler gave to the ACLU and the Council on American-Islamic Relations (CAIR). Ibrahim Hooper, CAIR's national communications director, says the group got 500 volunteer applications after the election—it usually gets maybe one a day. "It's clear that we are going to need additional resources under a Trump administration if he plans to carry out the policies that he proposed during the campaign," says Hooper. "If it was all just campaign talk and he acts like a normal president, that's one thing, but we have to be prepared for him trying to implement his Islamophobic policies."
During President Obama's two terms in office, conservative groups benefited from similar spikes in support. Annual giving to the National Rifle Association went up almost 12 percent in the aftermath of the 2012 shooting of 20 children and six staff members at Sandy Hook Elementary School, which prompted debate in Washington and state capitols about banning military-style weapons. The NRA solicited donations with fundraising letters such as one sent in January 2013 by Chris Cox, head of the organization's Institute for Legislative Action, warning that Democrats planned to "ban your guns and abolish every last sacred right you have under the Second Amendment."
Much of the outpouring in the wake of Trump's election has flowed to environmental groups. At the Sierra Club, 11,000 new monthly donors signed on within the first week, more than nine times as many as the advocacy group enrolled in December 2015, its previous best month. "I'm the fundraiser, so I'm usually the person initiating the conversation," says Mary Nemerov, the Sierra Club's chief advancement officer. "Right now, donors are reaching out to us to initiate that conversation."
The National Resources Defense Council, which is asking supporters to help "gear up to defend our environment and climate from the Trump presidency," has also seen an uptick in giving. "We would be delighted to find that we were exaggerating the threat," says David Goldston, the NRDC's director of government affairs. "We are going by what Trump said verbatim."
The Anti-Defamation League (ADL), founded to combat anti-Semitism in 1913, received 50 times the normal number of online gifts on Nov. 9, more than three-quarters of them from new donors. While Trump's victory has been cause for jubilation among white supremacists, ADL Chief Executive Officer Jonathan Greenblatt says he plans to take a measured approach.
After Trump announced the appointment of Breitbart News chief Steve Bannon as his special adviser, Greenblatt criticized Breitbart as a website catering to "unabashed anti-Semites and racists." But he also commended Trump's selection of Republican National Committee Chairman Reince Priebus as White House chief of staff. "We don't want to be exploitative," says Greenblatt. "Our posture is one of optimistic engagement with the new administration."
The bottom line: Planned Parenthood received 128,000 donations in the aftermath of Donald Trump's election.
Before it's here, it's on the Bloomberg Terminal.
LEARN MORE