Trump to Meet With Romney as Critic Said a Contender for State
By
Meeting signals attempt to mend rifts in Republican Party

Billionaire Wilbur Ross said to be potential pick for commerce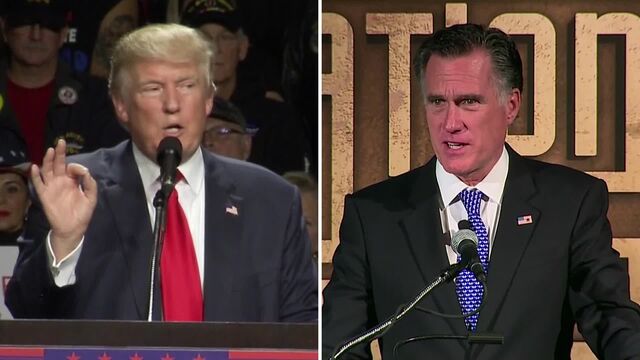 Donald Trump plans to meet Saturday with Mitt Romney, the Republican standard-bearer in 2012 and a vocal Trump critic earlier this year, who the president-elect now is considering for the job of Secretary of State, according to a transition official.
Romney joins a list of contenders to become the nation's top diplomat that includes former UN ambassador John Bolton, South Carolina Governor Nikki Haley, who also was critical of Trump during the campaign, and former New York Mayor Rudy Giuliani, a top Trump surrogate.
Trump and Romney began talking about meeting last week when the former Massachusetts governor called to congratulate Trump on winning the election, said transition officials who spoke on condition of anonymity because the schedule hasn't been made public. It may signal that the pair are trying to mend rifts in the Republican Party.
Trump has met with a string of Republicans, business leaders and others at Trump Tower in Manhattan as he sets about filling staff and cabinet positions before taking office in January. Some are candidates for administration positions and others are offering advice.
Senator Jeff Sessions of Alabama, who met with Trump Wednesday and is a potential candidate for defense secretary or attorney general, said it was a good idea for Trump and Romney to have a face-to-face talk.
"He's meeting with a lot of talented people that he needs good relationships with," Sessions said of Trump. "And I think Mr. Romney would be quite capable of doing a number of things."
Early Opponent
Early on during the primary campaign, Romney led opposition to Trump within the Republican Party and warned against his selection as the nominee. He continued even after it was clear that Trump had secured the nomination. In a June interview on CNN, Romney said Trump would fundamentally change the character of the U.S.
Trump's election would mean, "Trickle-down racism, trickle-down bigotry, trickle-down misogyny, all these things are extraordinarily dangerous to the heart and character of America," Romney said at the time. Trump, in turn, repeatedly needled Romney for losing to Obama in 2012, calling him a loser and saying he "choked like a dog" in the campaign.
Trump adviser Kellyanne Conway didn't elaborate on plans for the meeting. "Happy to have his support," she told reporters at Trump Tower.
After some initial turmoil and turnover in his transition team, including the demotion of New Jersey Governor Chris Christie, Trump is packing his schedule with contenders for administration jobs.  
Many Contenders
Former Defense Intelligence Agency Director Michael T. Flynn emerged as the leading contender to be Trump's national security adviser, two people familiar with the matter said Thursday.
Billionaire Wilbur Ross is under very serious consideration for Commerce secretary, with others still in the mix for the sprawling agency, said the people, who requested anonymity because the selections haven't been finalized. Ross is chairman of WL Ross & Co., the New York investment firm, and has been an economic adviser to the Trump campaign, calling for stronger trade enforcement.
Aides named more than a dozen people who are either candidates for jobs in the Trump administration or were meeting with Trump to provide advice. The list includes Haley, who once said Trump represented "everything a governor doesn't want in a president" but more recently has said she looks forward to working with a Republican president and Congress. Haley met with Trump this morning.
Kissinger Meeting
Also on Trump's schedule Thursday were Texas Representative Jeb Hensarling, whose name has been floated for Treasury secretary; FedEx Corp. Chief Executive Officer Fred Smith; Oracle Corp. co-CEO Safra Catz; former Secretary of State Henry Kissinger; Florida Governor Rick Scott; retired General Jack Keane; Navy Admiral Mike Rogers, director of the National Security Agency; and former Ohio Secretary of State Ken Blackwell.
The transition office said Trump and Kissinger "had a great meeting" in which they discussed China, Russia, Iran, the European Union and other issues.
Trump spokesmen Sean Spicer and Jason Miller didn't specify who among those meeting with Trump are under consideration for administration posts. The transition team plans to give daily updates on the president-elect's schedule as well as progress on the transition. Miller said there's no set schedule for announcing selections.
"There is no arbitrary timetable; it's about getting it right," Miller said Thursday.
No Revolving Door
Spicer said appointees will be required to sign paperwork banning them from lobbying for five years after they leave government. Trump is seeking to prevent people from using service in government to "enrich themselves," Spicer said. Trump also intends to impose on administration officials a lifetime ban on representing any foreign government.
Trump met Thursday afternoon with Japanese Prime Minister Shinzo Abe, who became the first world leader to meet with the president-elect in person and represents a cornerstone U.S. ally in Asia. Miller said the meeting with Abe brings to 32 leaders Trump has spoken with since the election. He's being briefed by policy and protocol advisers before each exchange, Miller said.
The transition team has undergone shakeups that have slowed the progress of building the new administration. Trump last week replaced Christie, the head of his transition team, with Vice President-elect Mike Pence and ousted several other transition members. There was said to be friction between Christie and Trump's son-in-law, Jared Kushner, whose father Christie prosecuted as a U.S. attorney more than a decade ago.
Miller said the first wave of transition "landing team" representatives will be ready on Friday to meet with the State Department, Justice Department, Department of Defense and National Security Council. Teams for economic policy, domestic policy and independent agencies will be announced next week. Formation of the teams is a crucial step in toward staffing and reshaping the government bureaucracy.
— With assistance by Jennifer Epstein
Before it's here, it's on the Bloomberg Terminal.
LEARN MORE