Trump Flouts Traditions Heading Into an Office Defined by Them
By and
Going out for dinner while media left behind breaks protocol

Presidential duties regularly range from weighty to tedious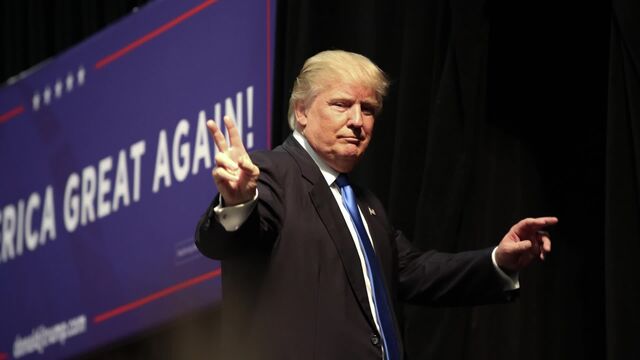 Donald Trump cast aside a long list of conventions in his unlikely bid for the presidency, and he's indicating he'll carry that approach into an office defined by tradition and custom.
The most recent sign came Tuesday night when Trump slipped out for dinner with his family at Manhattan's 21 Club -- leaving the pool of reporters assigned to shadow his every move in the dark. The seemingly impromptu outing broke with decades of practices established to keep the public informed about what the president, or president-elect says, where he goes and whether he's safe.
Most presidents chafe at the requirements of the presidency, including bringing along a dozen or more reporters wherever he goes and abiding by restrictive safety protocols set by the Secret Service. Harry S. Truman called the White House "the great white jail" and to Ronald Reagan it was "a gilded cage." For Trump, who's never held public office and is known for his off-the-cuff, instinctive style, the frustrations may be even greater.
"He has been a private person up to this point -- he has been public, but on his own terms," said Martha Joynt Kumar, director of the nonprofit White House Transition Project. "He has not been an elected official so he hasn't had to deal with these kinds of issues. It takes a while."
Conforming to Custom
Trump's first days as president will test his willingness to conform to White House customs, many of which are far removed from weighty matters of state. In office, he'll be confronted with a host of duties and ceremonies that include standing for hours in the White House basement shaking hands and posing for photographs with a seemingly endless stream of visitors at multiple holiday parties for journalists and lawmakers. The president also bestows medals and awards, fetes sports teams, hosts high school students and pardons the White House turkey at Thanksgiving.
"The president spends most of his or her day doing things that he's not particularly eager to do," Brian Balogh, a presidential historian at University of Virginia's Miller Center, said. "My guess is that Donald Trump as a businessperson did plenty of things that he wasn't particular eager to do. However, in business, there is a pretty clear criteria -- it's called the bottom line."
He said Trump's unconventional rise to the presidency will make it easier for him to ditch certain practices and customs when he takes office.
Twitter and Taxes
Among Trump's unusual moves since becoming president elect is continuing to engage critics via his personal Twitter account. He's also given no indication he'll follow the lead of every president since Gerald Ford in releasing his annual tax return. Trump aides said that just a week after the election they are concentrating on forming the administration leadership and not looking much yet at the other trappings of the job.
One of the irritants that's drawn consistent complaints from previous presidents is having a group of reporters following their every move. The so-called pool -- reports are filed for all news organizations -- is there primarily in the case of a black swan event: an attack on the U.S., an assassination attempt or to relay the president's response in a crisis.
It also is a guard against misinformation. On April 23, 2012, hackers hijacked the Associated Press Twitter account and posted a report that Obama was injured by a bomb attack on the White House. In the seconds before Bloomberg and other news organizations debunked the claim and reported the hack, the Standard & Poor's 500 Index dropped about 1 percent, wiping out $136 billion in value, before quickly rebounding. Yields on 10-year Treasury notes and the dollar also fell before the tweet was revealed as bogus.
Bloomberg News is part of the White House pool along with the Associated Press and Reuters. Other members of the pool come from a rotating cast of journalists from print, broadcast and digital media outlets.
Protective Pool
Former ABC News correspondent Ann Compton, who covered the White House for 40 years over seven presidencies from 1974 to 2014, said she isn't aware of any major party nominee or president-elect going without a protective pool, a practice that predated her time on the beat. 
"The protective pool is incredibly important because anything could happen to the president at any given time, and the American people have a right to know," said Compton, a former White House Correspondents Association president and now a fellow at Harvard's Institute of Politics. "The tradition of full disclosure of where the president is and what he is doing is so basic we've always taken it for granted."
For investors, knowing the president's whereabouts matters.
"If the market feels like they don't know where the president is and something happens somewhere, there's a greater concern that it could involve him," said Jeffrey Kleintop, chief global investment strategist at Charles Schwab & Co. "We've got this two mile no-fly zone around Trump Tower. The street is blocked off all around it. With all of that going on, it's potential for market events if you're not sure where he is."
Hillary Clinton also skipped having a protective pool with her immediately after accepting the Democratic nomination and it contributed to a political headache for her campaign after she fell ill during a Sept. 11 commemoration in New York. The reporters covering her weren't informed that she left and Clinton's campaign remained silent for almost 90 minutes. Meanwhile, a video of her stumbling as was helping into her van circulated on the internet. The episode renewed discussion and speculation about her health.
Trump's Aides
Trump's campaign aides have said for weeks that they would eventually organize a protective pool for the president-elect and follow protocol in office. However, that wasn't in place on Tuesday.
A little more than an hour after Trump spokeswoman Hope Hicks told reporters staking out Trump Tower in New York that the president-elect would have no more public activity or travel on Tuesday, Trump decided to have dinner at the 21 Club. Bloomberg News reporters who were dining at the restaurant spotted Trump and tweeted about his arrival. After learning of Trump's location, other journalists later crowded outside the restaurant.
Trump spokesman Jason Miller told reporters Wednesday that there could've been better communication about Trump's movements on Tuesday, and that he was working to make sure a similar mix-up doesn't happen in the future. At the same time, he said, it's important to protect Trump's privacy.
"For some in the media, unless they're actually sitting at the table, seeing if he's getting the chicken or the fish, that they will never be happy," he said.
Press Access
White House Correspondents' Association President Jeff Mason, a reporter for Reuters, said in a statement that Trump's incoming administration should "respect long-held traditions of press access."
"It is unacceptable for the next president of the United States to travel without a regular pool to record his movements and inform the public about his whereabouts," he said.
After Trump's motorcade traveled to the White House last week without the pool of reporters and photographers that would normally document such an event, White House press secretary Josh Earnest said he would encourage the president-elect to abide by precedent.
"Having a pool of reporters follow you around everywhere you go is inconvenient, occasionally annoying, and takes a long time to get used to," Earnest told reporters on Nov. 10. " But it serves an important purpose."
As president in waiting, Trump has continued to defy convention in other ways as well, such as his use of Twitter.
The president-elect sent out a series of tweets attacking the New York Times for negative reports about his transition. Trump also sent out a tweet Wednesday denying news reports that he has sought top security clearances for his adult children, another major departure from presidential norms.
Trump has said he's grappled with how often he might use Twitter and other social media tools to communicate as president. In an interview that aired Nov. 13 on CBS's "60 Minutes," Trump said that while he would continue to use Twitter, he would be "very restrained."
"I'm not saying I love it, but it does get the word out," he said.
Kumar said that Trump's use of social media likely will be cut back as he realizes the power of presidential words.
"Your voice can move markets," she said.
— With assistance by Jennifer Epstein, Jennifer Jacobs, and Dani Burger
Before it's here, it's on the Bloomberg Terminal.
LEARN MORE